Jay Z and Beyoncé have apparently been helping the cause of Black Lives Matter – namely, they've donated "tens of thousands" in order to pay the bail of numerous protestors arrested in the Ferguson and more recent Baltimore protests.
According to the now-deleted tweets of writer and activist dream hampton, the couple were on hand to offer not only the protestors' bail, but also "infrastructure money" in the form of a "huge check" to help the BLM movement grow.
hampton added: "...and more stuff, too much too [sic] list actually, that they always insist folk keep quiet."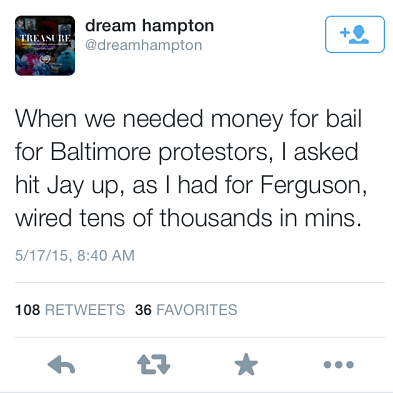 The tweets (one of which is above, via Complex, where you'll find all of them) were then deleted by hampton herself, who explained that Jay Z "would be pi-issed to see I was offering evidence" about his involvement in BLM.
And in other news, Jay recently held a concert via Tidal in which he freestyled choice disses like, "Spotify worth nine billion and they ain't say shit!" and more.