It's rather rewarding being a Saint Etienne fan. True, Bob Stanley, Pete Wiggs and Sarah Cracknell are not hugely prolific as far as studio albums are concerned but they do keep fans' interest piqued with special editions, reissues, films and vinyl odds'n'sods. Two years after the release of their critically-acclaimed album Words and Music by Saint Etienne, the trio have teamed up with First Third Books, an independent publisher specialising in high-end music photo-biography, to present a collection of photographs spanning their time-honoured career, bound in a rather fetching hardcover.
Photographic nostalgia is the watchword for this monograph but there's also various tidbits of fact and anecdote thrown in for good measure. You'll even find a foreword by Lawrence (a.k.a Felt's Lawrence Hayward), who poetically and eruditely sums up the band's charm in 455 words. Here's a sample nugget: "The brown stuff we drink is a right murky brew - it helps us to work and see the day thru - NORF LANDAN is where we made our mark - to be more specific Tufnell Park." It's rather lovely.
The book is out next month but you can pre-order it now, which is probably a sensible course of action, seeing as the Deluxe Edition has already sold out and the standard one is limited to a run of 1,700.
We got Sarah Cracknell on the wire for a telephonic stroll down memory lane and heard a bit more about this project and how it came to be.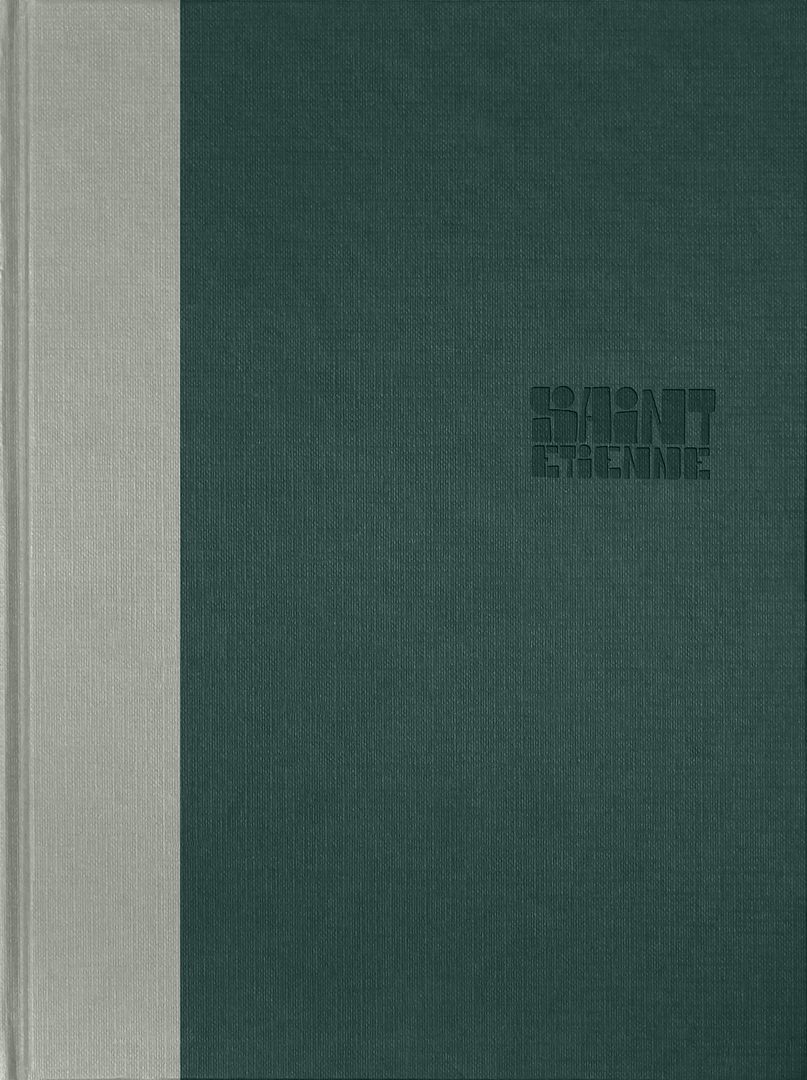 What have you guys been up to since Words and Music... came out a couple of years ago?
Well, we toured that record quite a bit, going all over the place, really, and more recently we've worked on a film with Paul Kelly called How We Used To Live. It's got footage of post-war London, lots of rare colour images from the BFI National Archive and Pete did the music for it. Ian McShane narrated it. And also Bob has had a book published [Yeah Yeah Yeah: The Story of Modern Pop] which he's promoted on a book tour.
How did the idea for the new photography book come about?
First Third did a similar book on Felt, whom I love, and I thought it was such a good collection and then the opportunity came for us to do a similar thing, which we thought would be a great idea. We all met up and brought loads of photograph - I have so many - well, we all do, really, and we just sat down and sifted through them and picked the ones that ended up in there. It's funny because sometimes we'd struggle to remember where a particular photo was taken or - with some of them - I'd entirely forgotten them being taken in the first place. But someone would always have some recollection and say - oh, well, actually this one was taken at London Zoo or in Malmö or wherever.
Speaking of Malmö, there's a few photos of you guys from the Good Humor sessions in Sweden and you talk about staying up late playing Jenga in Malmö.
[Laughs] Yes, that's right...
People imagine the rock'n'roll lifestyle as one laden with drugs and alcohol, rather than, well, you know... playing Jenga. These images show a different aspect of life in a band.
[Still laughing] Yes, I think what you see is just how much fun we do actually have together. And it's not just the three of us, there's other people who come with us on tour and it's that feeling of camaraderie and genuinely enjoying what we do.
So would you say that touring for you is pleasure rather than a chore?
Oh absolutely, it's a great adventure and also I always try to go out and explore whatever places we are visiting because, well - you know, I used to worry that I might never get to visit some of those places again so there's that thing of wanting to make the most of the opportunity.
The book mentions your first visit to Japan which, by the sounds of it, could have gone better...
Oh, yeah, I don't think they were very happy with us. We were supposed to be doing PAs but the promoters were actually expecting us to do a three hour set and there was the expectation that the whole thing was going to be done completely live, whereas there's always a pre-recorded electronic element to our live shows.
One of the standout shots in the book is from the session you did with Pierre et Gilles for the Etienne Daho collaboration in 1995. What was that like?
It was amazing but I really did feel sorry for Bob and Pete. We'd all arrived at the studio only for them to have to sit around for hours while I was having my hair and make-up done, which took hours! They gave me very bouffant hair. And, you know, they spent quite some time setting up the shot, there was a lot of attention to detail. There was no taking lots of different shots trying to get the right one, it was just one pose, one shot, but a lot of preparation beforehand. And after all that poor Bob and Pete ended up hidden in the bushes [laughs].
Is there a particular image from the book which you are fond of?
Let me think. That's a really difficult question. Ummm... I have fond memories from the shoot we did for the NME -
The one with the trouser suit and Bob's Estonian flag top?
[laughs] Yes. You know, it was a big thing for us to be in the NME, it was something we were definitely striving for and so that was quite a big thing for us. We felt like we'd made it.
One of the most exciting parts of the book for any Saint Etienne geek like me is the end bit where you've listed all your discography with photos of the artworks, even for the rare fan-club only releases.
Oh yeah!
It's noticeable how you've consistently had a very particular aesthetic and a passion for design in your artwork.
Yes, I think it has always been important for us to make sure that everything was thought out. It's not just about the music but also about how you present it and the imagery and even the fonts you choose for the artwork and we've always been very conscious of that.
I think my favourite artworks were for 'So Tough' and the 'Avenue' single cover. Do you have a favourite?
Which one is the one with the cat on it?
Do you mean 'I was Born On Christmas Day'?
Yes, that's the one. I also really like the one for 'Join Our Club' with the green waves. I think that was inspired by an actual soap bar or detergent packaging.
The Deluxe edition of the book comes with a limited 7" single which has two previously unreleased recordings. The A-side is a song titled 'Pocket Call' - what can you tell us about this track?
We went to Sweden to work with the guys who write and compose for the Melodifestivalen. It's a sort of pre-Eurovision song competition on Swedish television, where they choose who they're going to send to the Eurovision song contest to represent Sweden. We did some recordings with them and this was one of the songs they had, which they didn't feel was quite right for the Eurovision but we absolutely loved it and thought it would work for us.
Is this something you did a while back or quite recently?
No, this was a few months ago.
So, can we deduce from this that there may be a new Saint Etienne album in the offing?
No, not really. These were just some sessions that we did without it necessarily being songs for an album. We are not planning a new album as such, yet, but it was good to record some new stuff together again.
So what is next for you guys after this book?
We are actually going to do a gig in Sheffield next month with a screening of How We Used To Live. We'll be doing the soundtrack live together with Debsey and some other musicians. It's part of the Sheffield Doc Fest, where we had Finisterre screened as well. I think Bob is also going to be DJing and we're going to do a Q&A afterwards. It's kind of daunting playing the soundtrack to the film but also quite exciting.
The book, Saint Etienne, is out on First Third Books on 3 June. It is available to pre-order here.