"I just got here from New York last night, and I'm fucking all over the place."
Jessie Ware is in Los Angeles, fulfilling some early U.S. press commitments for her new record, Tough Love. I say early because Ware only officially announced its existence, by posting the artwork on Instagram, half an hour before I speak to her. "I don't know what bloody time I'm on, so I'm sorry if I'm rambling and not making much sense. Shall we talk about you instead? You're from Manchester, aren't you?"
The fact that she's sharp enough to pick up on my accent - not all that strong, honest - should serve as proof enough that she is, in fact, perfectly coherent; a brief discussion of my home city reveals that Ware's mother also hails from there. The primary purpose of our chat, though, is to cast some light on Tough Love; unusually, her PR people either couldn't or wouldn't provide me with a press copy, leaving the recently-released title-track as my only starting point, and forcing me to shape my questions in a manner that will illuminate the album for myself, first and foremost, as well as the reader.
"I've been pretty perfectionist about it, really," she says. "We've had the songs ready for about three months now, but I wanted to make sure that everything made sense; the timing of putting it out, the artwork, the mixing, the tracklisting...I wanted to be totally happy with every aspect of the record. And I am, now. I really am."
The album's seeds were sown early last year, whilst Ware was still out on the road in support of her debut, Devotion. "I'm quite an impatient person, to be honest, so I really needed to write on the road; I definitely didn't like the idea of having to wait until I could set aside a certain block of time to work on another album. Plus, you know, it really broke up the monotony of touring, and because I was doing things so far in advance, there was no real pressure; it was a really nice way to begin the process, I think. I didn't know that I'd end up using these songs for anything, but writing was just a way of helping me get through all these long flights and drives, and the fact that I was doing the same thing every night."
As with her first album, Ware collaborated pretty widely during the writing process, on both sides of the Atlantic. "It was last April, I think, when I really got started on it; I was in New York after I'd just finished an American tour. I wasn't necessarily expecting to come away with anything, but we did 'Tough Love' out there, and another two that are on the album - a track called 'Champagne Kisses', and another song I did with Dev Hynes. It came together really quickly. By the time I was off the road properly, in late November, I did some more writing back home with James Ford and Dave Okumu, and then headed out here, to L.A., the following January to really get the bulk of it finished. It was a relief that it seemed to go so smoothly, to be honest, because the last record was the total opposite; I was constantly scared of writer's block."
'Tough Love', of course, has already made it into the public domain; Ware posted it up on SoundCloud in June, with an elegantly-shot video following last week ahead of an official release on August 3rd. She's opted for an effects-tinged falsetto on the track, backed by choppy beats and hazy synths, but when I ask how representative of the album's overall sound it is, she's on the fence.
"God, it's so annoying that they didn't send you the record, because it isn't easy to describe. I mean, it was definitely the track that, A, I felt like I wanted to put out first, and B, name the album after, because writing that song was the point at which I was starting to get genuinely really excited about the direction of the record. It was like the blueprint, I guess, especially with the kind of register I was using. I've played around with my voice a lot on this record; I think I've become a lot more confident with it. I wouldn't say the rest of the album's as dreamy as that song, though. It's pretty diverse."
"I like to use other people as soundboards. I need to, really, because I think I often rubbish a lot of my own ideas when actually they're pretty good, and sometimes I think a bad idea's brilliant and I need someone to tell me otherwise."- Jessie Ware
Part of the reason I didn't chase an advance copy of Tough Love all that vociferously was because, at the time, it was yet to be properly announced; honestly, I didn't know whether it was even finished, with the decision to release the title track devoid of any other information about the album striking me as unusual; as it turns out, though, it wasn't part of some promotional masterplan. "It was kind of impulsive, I think; I just suddenly felt as if I needed to say "Hi! I'm back!" I didn't think about it too much; I just love the fact that I can throw it up on SoundCloud and not worry about everything else that goes with it. I suppose I just wanted to give everybody a taster, but I'm probably just getting on people's nerves, because I still haven't announced a release date. I mean, the only reason I announced the title today was because the Evening Standard were going to do it anyway, which is fucking annoying. I need to be in control of everything myself."
Tough Love, like Devotion, has been co-written with a slew of collaborators, and it's something that Ware is forthright about; as a burgeoning musician, she's convinced that working with other people remains the best way forward for her. "The truth is, I don't really trust myself," she admits. "I like to use other people as soundboards. I need to, really, because I think I often rubbish a lot of my own ideas when actually they're pretty good, and sometimes I think a bad idea's brilliant and I need someone to tell me otherwise. Never say never, though; I've got a new keyboard player in my band, and we've got a little arrangement. He told me if I wake him up every morning on tour and make him come and work out with me, he'll give me piano lessons - so, you know, if I get good at piano, I might be able to start doing a little bit more on my own."
Even if Ware ends up a virtuoso piano player, though - and her keyboardist winds up leaving the band to become a professional bodybuilder - there's still the challenge of making sure that a record full of collaborations on the writing front doesn't sound too fragmented; the cohesiveness to Devotion's sound serves as evidence that she managed it last time out, and the fact that most of the same people worked on Tough Love therefore augurs well.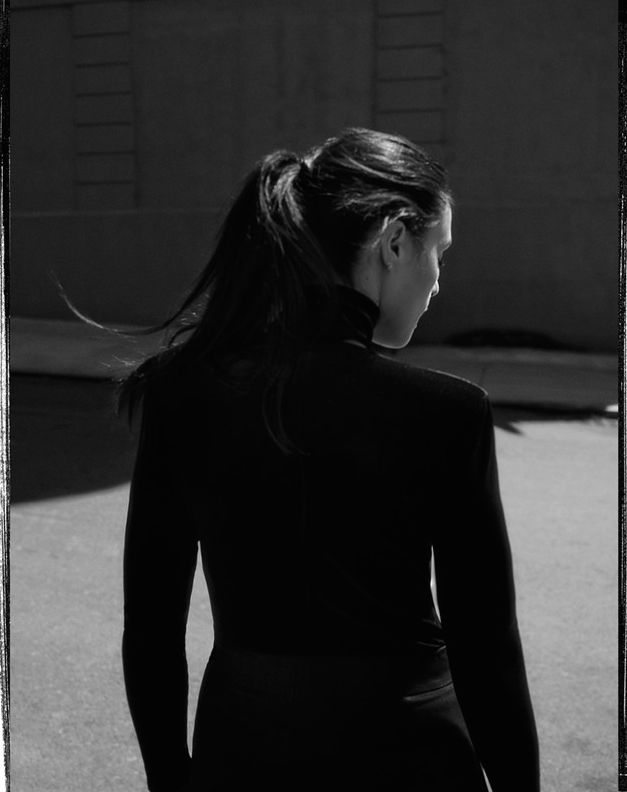 "There aren't really too many new faces, this time round. It might look like that, but it's just the same lot from the last album, really, and a few extra friends. The main new collaborator, I guess, is BenZel; they kind of exec'd half the album, but I've known both of them, individually, for years. If there is one voice to the record, it has to come from me; I think I've managed it, too, because I really had grown in confidence. I was able to put my foot down a little bit more, and just say "that's what I want." I know if it sits right with me."
Whilst Ware goes a way back with both halves of BenZel - Ben Ash, of Two Inch Punch, and Benny Blanco - she hadn't actually been in a position to release any of their work together until now, with already signed off on by the time they actually managed to get themselves into the same room. "Benny and Ben - they're both called Ben, which is irritating - have known each other for a long time, and I think it was probably a couple of years ago that Ben - Two Inch Punch Ben - called me and said, "I'm in New York, you should come out, I'm making some really good stuff with my mate, Benny." I flew there on a whim, really, because my sister lives there, and I thought I could kill two birds with one stone. At this point, Devotion wasn't even out, but I was really curious to see what they'd been cooking up. We had such a laugh working together, and it all came together so easily, that I knew I wanted to go back to them when I finally did get around to making more music. We wrote 'Tough Love' pretty much straight away, and it just made sense to carry on together, as long as the songs were that good."
"Touring gave me some kind of perspective, because I had the audience in mind when I was writing, you know?"- Jessie Ware
Ware's background is quite clearly rooted in dance and electronic music - collaborations with SBTRKT, Disclosure and Julio Bashmore attest to that - but there was certainly a sense, with Devotion, that she'd crossed over into the mainstream a little more; 'Wildest Moments', for example, is pretty much a straight-up, chart-ready ballad, albeit with a little bit of a twist on the basic formula. I was intrigued to find out how Ware had come to view herself, after a whirlwind couple of years that had seen her play to such big crowds, and experience genuine commercial success; does she feel like a pop star, now, or is she still in touch with the scene that she emerged from?
"I guess I feel like I stepped away from the dance thing. The appeal, to be honest, was always really the electronic side of things; messing around with synths, and programmed drums, and that kind of stuff. I do always want to be involved in that world, to be able to work with people like Bashmore, but I started gravitating towards more of a soul thing on Devotion, and it made sense to follow that. I think this new album is even more pop, if anything, but in the best way possible. I think you can do both; Disclosure have done both. I've done PAs with those boys at festivals where we've been on the same bill, and you can see that they've managed it; there's a pop crowd there, and there's a dance crowd there."
For now, Ware's attentions turn to Tough Love, a record that should mark a real coming-of-age for her; you get the sense that there's still a part of her that feels as if she was thrown in at the deep end on Devotion, but this time around, she's been able to draw upon the experience of the last couple of years to turn out a sophomore effort that she's genuinely comfortable with. "I've loved making this record," she says, "apart from being petrified that I wouldn't be able to sing half of it live, but the rehearsals have been going pretty well so far. I think I've been able to open up a little bit; I've been a bit more playful with the lyrics, and I've messed around with a lot of different sounds. Touring gave me some kind of perspective, because I had the audience in mind when I was writing, you know? It still feels like a Jessie Ware record, but it's more direct, and I'm feeling really good about that."
Tough Love will be released later this year via Island Records. Jessie Ware plays two UK dates in September (head here for the US/European dates):
2 - London - St. John at Hackney Church
3 - Manchester - Cathedral