The following feature is taken from Ji Nilsson's takeover day on The 405, which focuses on all her current obsessions. Head here to find out more about about why we decided to hand over the reins to this incredible lady.
When I make my own music it's all me - the writing, the recording, the mixing - and sure it can be a lot of work for just one person, but I love to be in charge of all that. I don't ever need to wait for some producer to finish my song or for someone to help me record one last ad-lib.
When it comes to music videos I've had the great pleasure to work with my close friends and that is super inspiring. It's liberating to have someone else calling the shots. I completely trust Joanna Nordahl and Karolina Bengtsson (BoomBossGäris) who did the videos for 'Heartbreakfree' and 'Encore'. With both videos it's like they've dived into my brain while I was sleeping and created something amazing based on my dreams. So yes, I definitely put a lot of myself in the videos but I also portray the vision that the directors have, and that's super exciting. Some people just make you a better version of yourself.
Let me present BoomBossGäris:
Who are you and how would you describe what you do?
We are Joanna Nordahl and Karolina Bengtsson. Joanna is a film and video director and Karolina works as an editor. We travel to San Fransisco and work from there as often as possible cause of the great vibes there, but we're actually based in Stockholm. Together we form a creative duo and co-director collab called BoomBossGäris. In this collaboration we create videos from start to finish and never hesitate to take on crazy projects. We also live together, share the same bed, say the same thing at the same time, you get the picture - we're pretty much becoming one being. New ideas come to us late at night after hours of hanging out on YouTube, or when partying in our living room with pangers (the cheap kind of beer you get from the corner shop) while pumping loud Danish hip-hop. Together we aim to create fun and interesting art, while also sharing our political views.
If you could pick any artist in the world to work with, who would it be?
Karolina: Except from working with dearest Ji forever (<3), I would love to work with Dam funk. He's got just the right hair and just seems like a really cool guy. Oh and also I love his music!
Joanna: I'd like to work with Daft Punk, they've just always been a huge inspiration music and video wise, and I adore their full length film Electroma. It's dark, epic and mysterious and I live for that kind of stuff.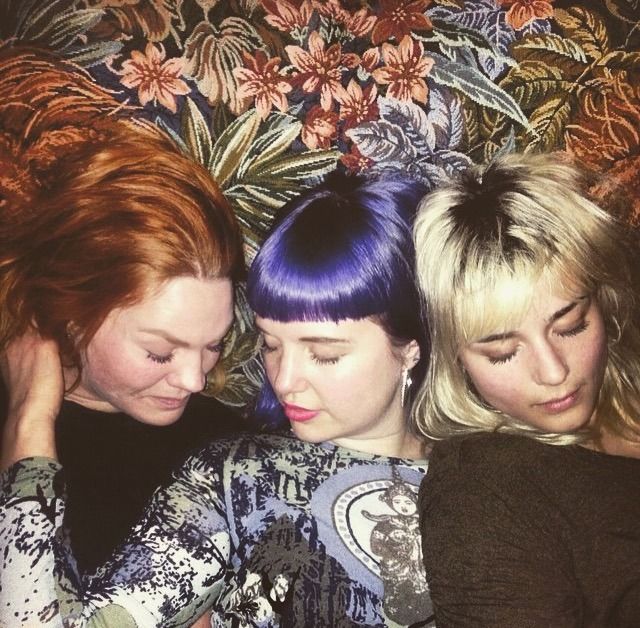 What do you find most challenging/fun about working with music videos?
The most fun with our work is that there is basically no limits and you can decide however you want to portray a song. There's something very delicate and challenging in a great way about getting a beautiful track and start discovering how to make it come alive through visuals. It's like a treasure quest almost. You want to complement the song, without taking away any of its personality. It's a very exciting process and watching the vision grow into something real is super exhilarating. That feeling becomes an addiction.
The flip side off no limits, is that there are limits… Cashmoney is always an issue, at least in Sweden. Pretty much since the early 2000s there's been a huge gap between the music industry and the music video industry over here that doesn't really work. A situation where film people work for free and it's totally accepted, you should sort of be "grateful" every time you land a good video project, or at least that's what the record labels seem to think. This is of course very fucked up - it's our job, we've trained for many years to become good at it. So even though that's a major struggle we do think that things are slowly changing. It's unlikely that the labels would suddenly start giving us higher budgets out of nowhere, but we see possibilities in getting paid through content marketing / sponsors and the artists themselves taking more control of their PR budgets. Better times are coming.
Sex, marry, Kill: Frank Ocean, Rihanna, Beyonce
Karolina: I would hmm. Damn this is hard... I would marry Beyonce, cuz there is no other way. Have sex with Frank Ocean, yeah hmm I would do that and then I'm sad to say that I would have to kill Rihanna.
Joanna: I actually dreamt that Rihanna seduced me last night (it was great). So I guess I'd have sex with her, and then I'd marry Beyonce - she deserves better than Jay Z and she's just an amazing human being. Which means I gotta kill the boy. Soz.
'Heartbreakfree':
This video is a remake of bossy lady Eartha Kitt's video 'Where is my Man' from 1983. We love her style, powerful sassiness and the awkwardly awesome editing and retro fun effects in the vid. Unfortunately the video is filled with these silly men in tuxedos doing things for her. We decided to ditch them, and let Ji be the only star of the show. It's about portraying the ultimate, life enjoying bossy diva without the need of confirmation from others.
'Encore':
In 'Encore' we wanted to pay a tribute to the epic and unapologetically dramatic ballad videos of the early nineties and late eighties. We love the reoccurring visual traits of that time: blue silhouettes, glowy wedding light, smoky mystical rooms and flowy fabrics. In this story Ji plays the heart broken diva (being heartbreak free didn't work out for her), reminiscing the powerful women who taught the three of us about love. Whitney, Mariah and Marie Fredriksson of Roxette all served as our inspiration. We wanted to capture a fragile moment in time when things are almost too good to be true, and you can feel that change is around the corner.