All Tomorrow's Parties always have the habit of pulling off amazing line-ups and they've strengthened this case by announcing Joanna Newsom, Thurston Moore, Sebadoh, Sun Ra Arkestra, The Mountain Goats and Tall Firs will play the ATP Festival curated by Jeff Mangum (Neutral Milk Hotel) on 2nd-4th December 2011 at Butlins Holiday Centre, Minehead.
Full Line-up:
Jeff Mangum (from Neutral Milk Hotel)
Joanna Newsom
Fleet Foxes
Boredoms
Yann Tiersen
Thurston Moore
Low
Scratch Acid
The Fall
Superchunk
The Mountain Goats
Young Marble Giants
The Magic Band
The Olivia Tremor Control
Sebadoh
Mike Watt & George Hurley perform the songs of the MINUTEMEN
Sun Ra Arkestra
The Raincoats performing The Raincoats (debut LP)
Robyn Hitchcock performs I Often Dream Of Trains
Group Inerane
A Hawk & A Hacksaw perform a new & original soundtrack to Shadows Of Forgotten Ancestors
Elephant 6 Holiday Surprise
Half Japanese
Tinariwen
The Apples in stereo
Tall Firs
Colin Stetson
Micachu And The Shapes
Lost In The Trees
Tickets for ATP Curated by Jeff Mangum are priced at £170.00pp for room only apartments and £180.00pp for self catering apartments and are on sale now via www.atpfestival.com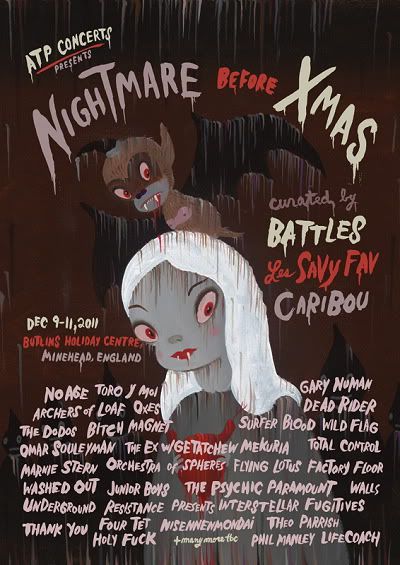 Not only that, but Hot Snakes, Pharoah Sanders, Cults, Violent Soho, Simian Mobile Disco DJs, The Field and Matias Aguayo have been added to the Battles, Caribou & Les Savy Fav curated Nightmare Before Christmas Festival (9-11 December 2011 at Butlins Holiday Centre, Minehead, UK). More info can be found by heading to www.atpfestival.com.