After our tour with British Sea Power last May, I realised how much having a good merch stand is important. Each day before the show, I was taking a solid hour just to install the stand, decorate and manufacture new handmade "Bonus Tracks" CD's to give to people with their purchase. I'm quite proud of our merch as it is now: we have nice John & Jehn tattoos, blue t-shirts, blue posters, black vinyl's and CDs... Because many of our albums' artwork are black & white, I was using a big white fabric so the objects would stand out. You also have to think of where you put your stand in a room for people to see it well when they come in... I became quite technical about it actually!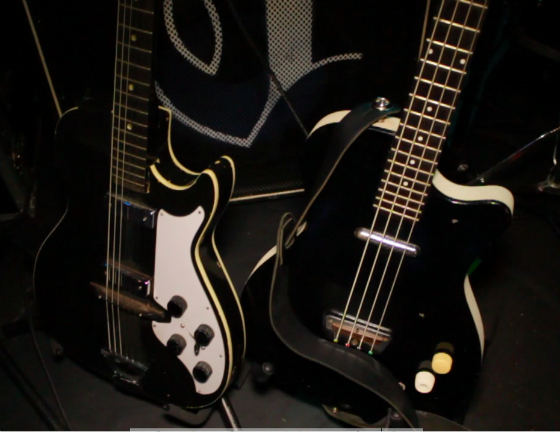 Another technical thing is our gear. We take extra care of our equipment as it is often old and hard to find in the market. Especially our drums which is an old grandma: a transparent Ludwig Vistalite from the 60's! Having original and vintage instruments has always been very central in John & Jehn. One of the main reasons is the way we write our music depends a lot on the instruments we use. For years, John was involved into the French 'music concrete' scene; so the exploration of new sounds is always the key start to a new John & Jehn song. Here on the picture there is our dearest Silvertone Bass and Guitar -all our guitars are black and white.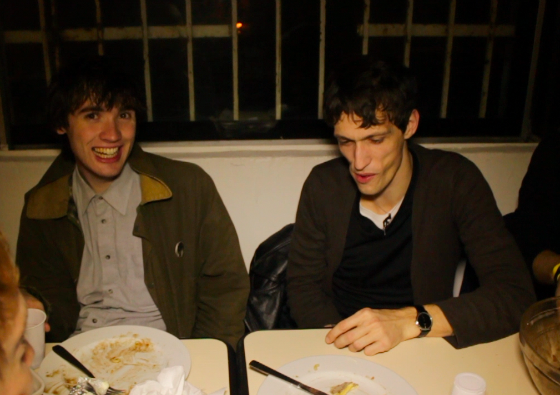 Two geniuses sitting at the same table! John with Meilyr Jones (singer from the band Race Horses) in Paris at La Fleche d'Or. We invited Race Horses to play with us in Paris for our new special show called "John & Jehn and friends". It's an event we put on in the capital and invite a UK band who has never played in France yet (or too rarely). The venue was packed, 500 people turned up. Race Horses just blew our minds that night, they had the most incredible sound and performance.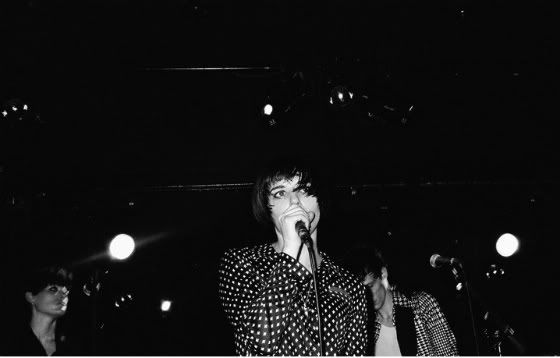 London at the Old Blue Last where a good crowd turned up thanks to Steve Lamacq who played our new single 'Down our streets' a couple of times before the show. The song we are playing at that exact moment must be 'And We Run'.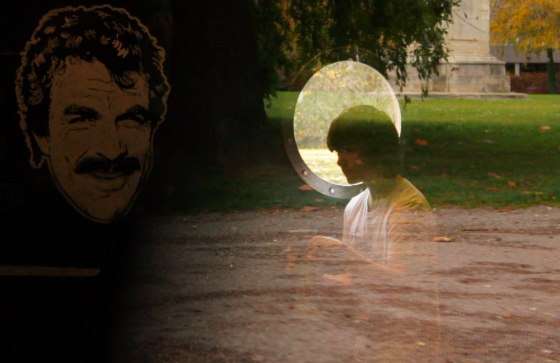 We met Niall Kavanagh only 2 months before the tour. He wrote us a letter when he heard we were looking for a new drummer to say how much he'd like to join the band. He's a student at Westminster University in London and he's only 21. He's the most patient and quietest drummer you'd ever meet, he never plays his drums when you speak, which is pretty rare for a drummer! In the van, he studies his books and write essays on his computer. I took this photo in Dijon, France, where we played on a boat; the show was sold out.
Gemma Thompson is our new guitarist, we found her 9 months ago on the internet. We saw videos of her playing on Youtube and stalked her on Facebook, she was pretty afraid of us at first! Having Gemma as a guitarist is priceless, she's like a female Johnny Marr Mixed with Blixa Bargeld, amazing guitarist and human being. She said to me that playing in John & Jehn saved her from a very crappy year 2010. I can say the same and even more, Gemma Thompson is the official John & Jehn guitarist for a long time!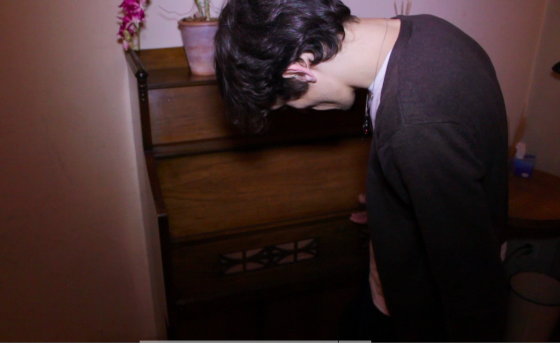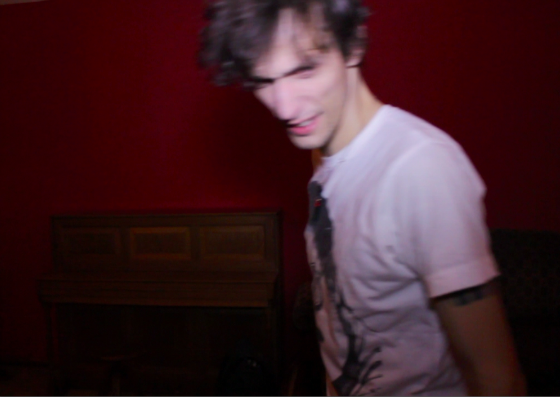 I took this picture in Bern, Switzerland. We had a massive backstage room just for ourselves with a piano and a harmonium. Harmoniums are very peculiar instruments, you need to use your feet so the air produced makes a sound when you press the keys. Very ancient! We used that instrument lately for a film soundtrack, doubled with the crystal sound of an autoharp, magic!
We take the Eurotunnel so often that it truly feels like home now. Inside, it looks like an old 70's science fiction movie and it only takes 20 minutes to cross the channel.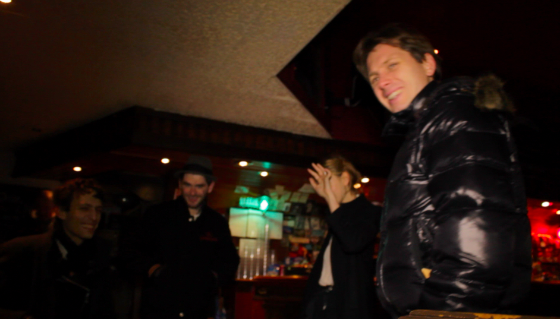 This was taken at The Captain's rest in Glasgow after our show. Paul from Franz Ferdinand was so kind and invited us all to sleep in his house. Him and his wife was very nice and we had a massive breakfast with them in the morning. It was our first time ever in Scotland, people there are genuinely very relaxed. We finished the night at Paul's house, drinking tea and eating cheese, Alex joined us too, what a great evening!
Gemma and I often share the same room together -so John can have his own room and peace for the night. We watch the news on TV or animal documentaries and comment what we see. Gemma loves animals. One morning, as she was sleeping by the window, we were woken up by a massive crow who came and knocked 3 times against the glass. He made so much noise! It truly sounded like he was calling Gemma, but she was too sleepy, she told him to fly away and fell asleep again.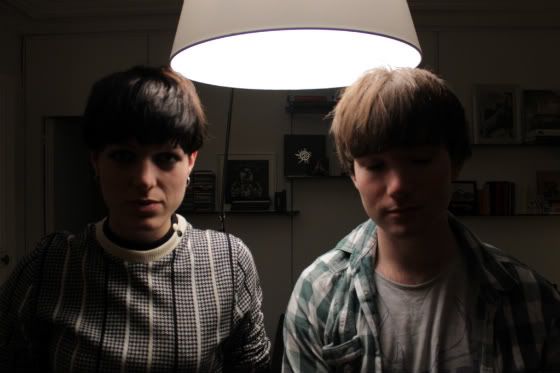 Before our Paris show, we asked a friend to cut Niall and Gemma's hair. It was like taking our 2 kids to the hairdresser. Don't they look happy?!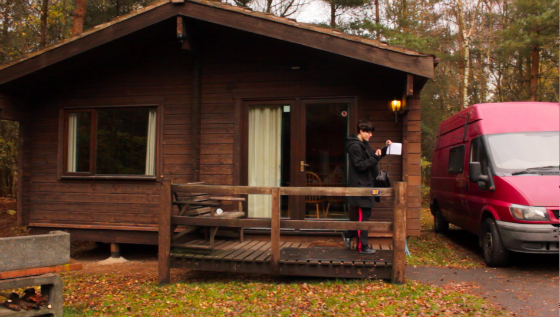 For 3 days we rented that wooden house in the Sherwood Forest, closed to Sheffield and Nottingham where we had to play. It was cheaper than hotel rooms and so nice to relax in the middle of the tour. At that time we were exhausted! Especially by the travelling and driving in that beautiful van you can see on the picture...grrr.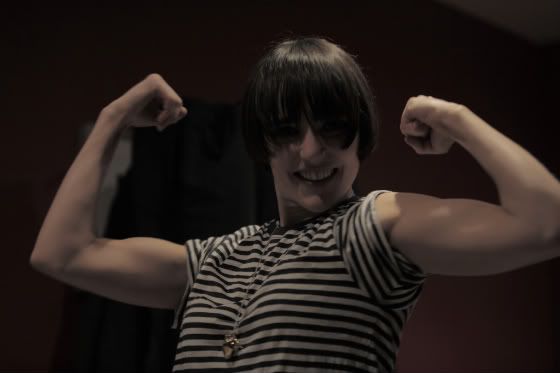 This is how Jehn's arms look like after one month of touring and carrying the gear! impressive !
You can visit the band by heading to http://www.myspace.com/johnjehn