It's always an interesting combination when pop music shakes hands with the dark side. Things can get freaky and my god do I like it when music gets freaky. So I was pretty excited when I heard about a Swedish popstar who already has a Norwegian Grammy on her mantelpiece releasing an EP and an album produced by Christoffer Berg of The Knife and Fever Ray fame.
Karin Park was that Swedish popstar. A daughter of missionaries, she spent a few of her formative years growing up in the jungles of Japan and latterly in a small town of 400 people called Djura in Norway. In the time since her award winning album in 2004 she has evolved into something of an artist, mixing pop laden hooks, with dark electro riffs and eerie vocals.
With all of this in mind I headed down to The Queen of Hoxton where Karin was promoting her upcoming EP Tiger Dreams that is released on September 19th through Portsmouth based State Of The Eye Recordings.
Karin Park - Tiger Dreams by Stateoftheeyerecordings
Free Download: Karin Park - 'Tiger Dreams'
She played a great show with her brother David Park (a proper Viking if I ever saw one) accompanying on live drums and midi pads. They perform as a duo (like The Knife) but the onus is most definitely on Karin, she holds intense eye contact with her audience and even manages to get everyone to sit down on the floor for her last song, somewhat of a feat anywhere but especially in London.
I caught up with her backstage after the show...
Hi Karin, how are you?
I'm great thanks.
How did you enjoy the show, playing to the notoriously difficult London crowd?
I really enjoyed it, I could see people moving their heads and a few dancing along which is always a good sign, although I did have to get everyone to move closer to the stage at the beginning. Otherwise it makes things much more difficult.
It must be a great experience to be playing this new record with your brother, you look like you get on really well?
When we were young we didn't actually get on so well. When I decided to do this record I needed someone who could engineer, play live drums and activate midi tracks. He could do all of those so I asked him if he would do it. I did make it very clear that I was the boss though!
What was it like growing up in Japan and do you think that's influenced your music at all?
It was great, we lived in a very remote part pretty much in the jungle. I have been back quite a lot and always love it. It's definitely been inspirational and I'd like to spend more time there.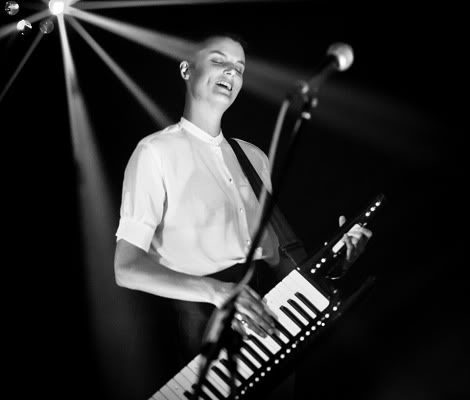 You also spent some time living in Norway, where you first found success how did that happen?
I decided to live in Djura a small town, mainly because I really like the dialect and how they speak there. I started singing at open mic type nights and met a producer at one of those nights who I ended up making records with.
So how did you move on to the darker edged stuff and working with a British label?
I just enjoyed playing music in that way, the label heard some stuff I'd done then just emailed one day… and it all went from there. So far it's been great.
What can we expect of Karin Park in the future?
I'm releasing the EP Tiger Dreams in September then I'll be releasing the full length album called High Wire Poetry in 2012. When that happens we'll be travelling all over and playing a lot of shows, I'm sure we'll be back in the UK then.