'Shake your asses!" - a husky, powerful voice is commanding the crowd in the basement of Concrete in Shoreditch. We're reserved, British, and not yet drunk enough to move like we want, and so the beautiful pint sized pied piper in a bright jacket, shorts and '50s style round-rimmed shades on the mike is showing us with the ease of a seasoned carnival queen how to manoeuvre the junk in our assorted trunks: introducing Karol Conka, Brazil's newest, hottest musical export, and ambassador to the new school of hip hop currently exploding in underground scenes across cities in the vast nation.
Just before her set, a DJ from record label Mr Bongo (brilliant specialists in vinyl and Brazilian music, who have released her album internationally this week) was spinning an uptempo remix of Sergio Mendes' 'Mas Que Nada', the ubiquitous 'go to' track for a reference to Brazilian music. It would be easy to presume - with the exception of a few, normally male artists - that the nation's music has remained fixated around particular artists and particular styles. But if ever there was an artist with an album to provide the perfect snapshot of modern, evolving, underground Brazilian sounds, then Conka's debut Batuk Freak is just what you need.
As far as her debut show in the UK was concerned Ms. Conka came, saw and conquered the packed venue for the opening night of La Linea, the renowned Latin American music festival. Opening with the trap tinged number 'Gueto ao Luxo' (roughly Ghetto to Luxury), it mattered not that most of the crowd couldn't understand Portuguese: booty shaking bass needs no translation: hence her album being released by Vice last year; her anthemic track 'Boa Noite' featuring on the soundtrack to the FIFA14 game; and as she recounts with a smile during our interview before her show, the legendary Angelique Kidjo attempting to sing along to her tracks when the pair met in Paris last week.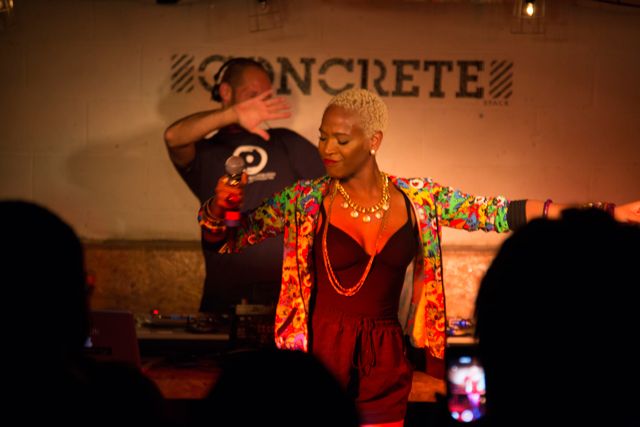 A few tracks into the show, her shades are off and Karol has hit her stride. The crowd are swaying along to 'Bate A Poeira' a hip-hop track showcasing her hoarse, rapid fire delivery its best, with a groove that would work well in a big truck bouncing along to hydraulics in downtown Atlanta, before switching to another choice style du jour of the Brazilian underground with the raga/reggae infused 'Sandalia', a song charged with a dirty marching bass and roving horns that would slot right in to a club night in Kingston, Jamaica or Hootenanies, Brixton.
Born Karoline dos Santos Oliveira in Curitiba, a southern Brazilian city known more for its rock scene than its hip-hop, the artist began her musical forays began when she was six, she says with the help of her manager, "I used to write love poems to my father, I got into rap when I was around 16 and performed for the first time when I was 17, I got a good reaction so I decided to continue." It's a modest, brief account of a journey that has been 10 years in the making: rising through the ranks in a by performing at slams and shows in a very masculine sphere, gaining the respect of and sharing the stage with contemporaries - including the legendary hip-hop collective Racionais MC's and internationally acclaimed star Criolo - all before being nominated for an MTV Brazil award.
Despite her demonstrable ability to throw a good party, Karol takes her position as one of the few female artists to break out into mainstream music, let alone outside of Brazil, very seriously "It's a big responsibility, hip-hop is very macho: I am representing women who couldn't reach their goals, but I am doing it, proof that it can happen."
Aside from her gender, she's disrupting the status quo stylistically too. Hip hop in Brazil, normally centred in Sao Paulo, has traditionally fallen into one of two camps – fleeting American imitations or the more stalwart underground school of serious social commentary. Karol's part of a new generation of musical innovators and global bass citizens unafraid of experimenting with different styles and genres whilst refusing to adhere to either camp. The stand out moment of the night came with the drop of Boa Noite – which features rough, raw cuts of African chants from Bahia, the state with the strongest African heritage in Brazil. When the opening ancient refrains dropped, the crowd went wild and the basement became a sweltering outdoor street party in Salvador, a sense which lingered for the remainder of the night. When working on the album with Brazil's producer of the moment, Nave (he's also worked with Brazil's Emicida and Marcelo D2), she remarked that she wanted these flavours woven into her album in homage to her grandmother, who was from the region.
Her musical influences go some way to explaining her music too: "When I was a child I wanted to be white, because I thought it would be cooler and easier. Brazil is really racist place - and it's hidden, but discovering Lauryn Hill and Erykah Badu helped me to feel stronger as a black woman and an artist." The simple act of infusing Afro-Brazilian flavours from Bahia is an act of rebellion, and her lyrics about self-acceptance in the same breath as having a good time make for a different kind of introspective, understated activism that has struck a chord with many, including the nation's LGBT community, breaking more yet more barriers for hip-hop.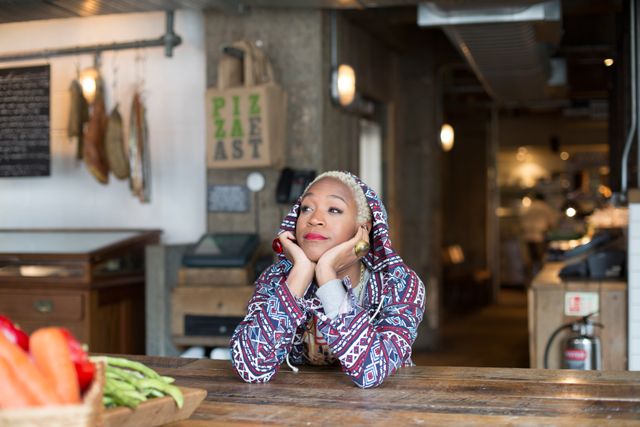 Rounding off the night with Caxambu - a record of scintillating synths, hand claps and layered percussion, the crowd are now tipsy enough to follow her lead, moving with wild abandon, she's proved that she's a welcome addition to a thin crop of international female hip-hop stars. Comparisons to Azealia Banks are understandable (not that Conka minds, she's a huge fan). She's got the electrifying performances down, an irresistible sense of fun and big bass soundtracks; but that comparison doesn't go far enough when we have an artist who also brings a sense of responsibility and grit that adds a much needed kick of integrity to the rap game - especially for women - in this sense she's more aligned with acts like MIA and Nneka. Not that it matters, as comparisons aside, she's causing a necessary ruckus with her unique blend of sass, bass and brains. It's genuinely innovative, intelligent, fresh and has set her star firmly on the rise.
Batuk Freak is out now on Mr Bongo Records.
The La Linea Festival will be running throughout April and May.