For a festival that promotes itself with the tagline "It's more than just a music festival" the organisers of Latitude Festival are going all out to make the music line-up stronger than ever this year.
Don't read that wrong, we will more than likely end up watching a theatrical piece that we've never heard of at ridiculous o'clock and absolutely adoring it, but that is not our area of knowledge. That is the beauty of Latitude. You have comedians like Tim Minchin and Rich Hall alongside political activist heroes like John Pilger and Mark Thomas. Lets be honest, where else can you watch John Cooper Clarke in the same tent as Scroobius Pip?
That is the strength of the festival, if you can begin to tear yourself away from what is a massive music line-up across four wonderfully diverse stages, then you will enter a whole new world of fun. We will report back on all that we stumbled upon next week, after all, Latitude is now merely two sleeps away.
To aid your excitement, we've provided a little day by day guide to what we feel are the musical highlights, the hidden gem's of this year's festival and also the big musical clashes of the day. Let's face it, a festival wouldn't be a festival without some massive decisions to make, whether you plan a meticulous schedule or you leave it to the last minute it's worth knowing where the big clashes are going to be in advance. We've also embedded our Latitude playlist so that you can listen while you read because we are massively helpful and kind.
Here are our top five bands from Fridays line-up:
Iceage
We honestly cannot think of a better way to start a festival than watching the Danish lo-fi punk noise mess that is Iceage explode or implode before midday. There are several incarnation's of this band that can turn up on stage, mostly good, occasionally terrible, but always fun to watch. We always end up drinking too much on the Thursday night of festival's, always, so we're hoping that Iceage blast the single malt mist clear out of our brains and set up the day.
Iceage play in the i Arena at 11:45am
Polica
The unfortunate truth is that those old enough to have been partying in the '80's will probably be found lounging by the main stage or chasing their kids around the site wiping mud from little faces. Away from the main stage, Friday afternoon at Latitude hosts a positive wealth of 80's revivalist bands, such as Kindness, Twin Shadow, Chairlift, and our pick of the bunch, Polica. A Minneapolis band formed by the songwriters behind the Gayngs project. They make smoky pop music which draws you in and without you even noticing will have you dancing, it's subtle like that. Debut album Give You The Ghost is one of our favourite releases of the year so far.
Polica play in the Lake Stage at 4:55pm
Alt-J
We are going to keep talking about Alt-J until you have all paid attention. Their debut album An Awesome Wave, really is. It washes over you and leaves you clean-faced and smiling. It's indie music, but not as you know it, not even as we know it. Listen to it and try to describe it for us because we ran out of adjectives a few month's ago. We don't want them to end up being another critically acclaimed band that splits up without the world taking notice, so please, in the name of all that is holy and true in your life. Go and see Alt-J. We'll vouch for them. You won't regret it.
Alt-J play in the Lake Stage at 7:30pm
Yeasayer
Yeasayer are back! Fresh from recording their highly anticipated new album, Fragrant World, the Brooklyn three piece will be using Latitude to give their new material its live debut on our beautiful little island. From what we've heard of it, that alone is reason enough to include the band amongst our highlights, but when you think about their previous two album's and the catalogue of songs they now possess, you realise that Yeasayer are genuine headline contenders. It should be a really special set.
Yeasayer play in the Word Arena at 8:40pm
The Field
While the world and his wife are singing along to Bon Iver on the main stage, we will be in the woods having our faces melted by the minimal techno joy that is The Field. The more discerning music fan's amongst you will already know that From Here We Go Sublime is one of the highlights of modern dance music, leading the charge within the modern movement over the course of two further album's The Field is one artist that we do not want to miss.
The Field play in the i Arena at 9:45pm
Friday's big decisions
First Aid Kit / Destroyer / Kindness // All three bands start just before 3pm.
The Antlers / Chairlift / Polica // These three bands clash at around 5pm.
Kurt Vile / Alt-J / Lana Del Rey // These three all kick off around 7:30pm.
Metronomy / Yeasayer / Tune-Yards / Clock Opera // All four of these bands kick off between 8pm and 9pm.
Here are our top five bands from Saturday's line-up:
Sharon Van Etten
We all know the story of Tramp right? Van Etten spent the best part of 14 months documenting a failed relationship onto tape with Aaron Dessner of The National and a whole host of American Indie superstars make appearances on it. While they won't be appearing at Latitude with her, its worth noting that you won't miss them. They pale in comparison to her on the record, her personality shines brighter and with such a strong absorbing presence on record, it will be an absolute joy to spend time drifting through her early afternoon set.
Sharon Van Etten plays in the Word Arena at 12:40pm
Bwani Junction
Having had the good fortune to stumble across this band at The Great Escape back in May on a massive hangover and two hours sleep, we can assure you that there are other ways to start a day at a festival, but not many are more enjoyable than watching this young Scottish band. Playing at the almost unreasonable time of 11 in the morning we can assure you that these guys are worth dragging yourself out of your tent for. I mean, you can always sleep during Elbow, right?
Bwani Junction play in the i Arena at 11am
Of Monsters and Men
The Sunrise stage in the woods is set to host two of our favourite new bands on Saturday afternoon in the form of Team Me and Of Monsters and Men. Parallels can be drawn between the two in that they both deal in ethereal Indie music with massive gang vocal choruses, they both leave you grinning from ear to ear, and they are both absolutely amazing. We are choosing to dwell on Of Monsters and Men for this piece only because we have written so many words about Team Me this year but even now the Norwegians are bleeding into it aren't they? As a combo, we think you'd be hard pressed to find a more suited pair of bands to play after one another, so maybe watch them both with us. We'll be the one's freaking out at the front, dancing all crazy, lost in the music. Don't judge us, come join us.
Of Monsters and Men play in the i Arena at 3:20pm
Tall Ships
Last week Tall Ships announced the release of their long awaited debut album, which is to be called Everything Touching and is out on October 8th. Until then, you will have to whet your appetite with their tremendous live show, which we featured as one the highlights of The Great Escape earlier this year. This young, talented band can turn their hand to any number of styles, from complex math rock (which is how they are often lazily pegged) through to the catchiest of pop music. Although their music always stays engaging and expansive enough for you to drift into dreams from their thoughtful, philosophical lyrics. Consider Tall Ships a must see band on the festival circuit this summer.
Tall Ships play on the Lake Stage at 4:50pm
Low
Every movement has pioneers. Low are exactly that. Low go beyond that for a generation of listeners, into the realms of bona fide legends. Developing their minimalist arrangements, with heartfelt lyrics and an ambience that has to be felt, they sound like nothing else you've heard. Despite being part of arguably the biggest clash of the weekend, they play at the same time as both Kwes and I Break Horses, we think its probably the easiest decision to make. Which says a lot about how highly we rate the band.
Low play in the Word Arena at 5:45pm
Saturday's big decisions
Of Monsters and Men / Josh T Pearson // Both artists start around 3:30pm, do you choose euphoric indie pop or everyone's favourite miserablist?
Low / i Break Horses / Kwes // Between 5:30pm and 6pm you get the honour of choosing between slowcore legends, transcendent noise fiends or glitchy electronica.
Django Django / Toy // Both bands kick off at around 7:30pm
SBTRKT / Zola Jesus / Los Campesinos! // All three start playing around the 9pm mark.
Here are our top five bands from Sunday's line-up: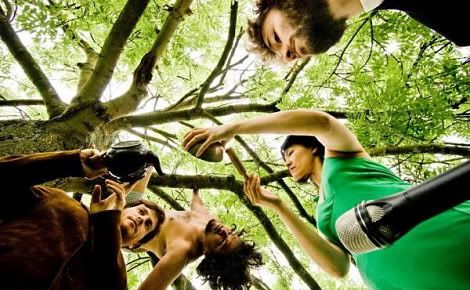 Zun Zun Egui
By this point on Sunday afternoon you should be completely locked into the festival experience. One eye on the fact that it will all be over soon, and the other on all the aches and pains you have picked up from excessing yourself all over the countryside in ways you really shouldn't. Zun Zun Egui are the perfect band for this point. They will throw you into a trance, they will hold your attention and repeatedly and rhythmically slap some life into your face, making you forget about that sore leg you got falling over someone's tent in the dark and the fact that you will be back at work/school the following day. If you have even a small interest in experimental guitar music, or even guitar music at all, you should head over to check out this four piece from Bristol who are widely considered to be one of the best live bands in the country. It will be a completely invigorating and exciting experience, there simply aren't any bands like Zun Zun Egui.
Zun Zun Egui play in the i Arena at 3:30pm
St. Vincent
Surely now is the time to stop mentioning that Annie Clark was in Polyphonic Spree and Sufjan Stevens touring band? Apparently not. We've just done it. More than an artist in her own right, St Vincent is an artist all on her own. Last year's Strange Mercy was one of our favourite records, and lets face it, it still is. It is borderless, genre-less beauty. Her collaboration's in the studio with John Congleton are fantastic works of art. We are massively excited about the prospect of seeing them played live.
St Vincent play in the Word Arena at 4:35pm
Battles
What can we say about Battles? These are three of the most talented musicians on the planet pushing themselves to their very limits. Will that do it? Battles are plain ridiculous, if you play their music at the right point at a party, you can watch people's entire worlds melt around them. They transcend math and hit on pure rhythm. We strongly advise that you come shake your booty about to them. This will be the pinnacle of the entire weekend. Will that do it?
Battles play in the Word Arena at 5:40pm
Perfume Genius
There is only way to recover from Battles, and once you have started to wake up to the reality of it all, grown tired of running around the festival site naked and the red paint on your torso has begun to dry, then it's time for Perfume Genius. Mike Hadreas specialises in piano led haunting lullabies that ease into your brain and take you over. Its pretty much perfect music for the end of a festival so the Sunday night slot is a no-brainer for us. Wander into the woods and your brain wander even further.
Perfume Genius play in the i Arena at 8:35pm
Wild Beasts
Over the course of three albums Wild Beasts have established themselves as an important voice in the landscape of British music. Refusing to be categorised, almost beyond genre description, the four piece have developed and honed their distinctive sound as they've won over audiences across the globe. For an album that sounds so huge, that Smother manages to sound so intimate is a testament to the bands talent. We are intending to close the festival with our eyes closed and our arms aloft, blissed out, covered in Wild Beasts transcendent brand of pop music.
Wild Beasts play in the Word Arena at 10pm
Sunday's Big Decisions
St. Vincent / The Cast Of Cheers // If by 5pm you are not fully engrossed in St Vincent, you can run off to see The Cast Of Cheers.
M83 / Bat For Lashes / Slow Club // You could, if you wanted to run, watch a little of all three sets. As they are staggered around the 7pm mark. If you wan't to enjoy a full set however, you'll have to decide on one.
Wild Beasts / Apparat // We made Wild Beasts one of our festival tips, but if you have the stamina you could take on Apparat's brand of techno.