As any unsigned band knows, it takes more than just good songs to progress in the music industry. This feature offers a short interview with the winner of 'Cloudcorner' - a feature that shortlists our favourite songs submitted via Soundcloud. 'Lessons from Cloudcorner' offers to do just as it says: offering unique advice and insight from an unsigned band. This first edition takes a look at Swedish four piece,
Le Fever
. The band combine perfectly crafted atmospheric folk music with forever-appealing Scandinavian pop sensibilities.

Tell us a little bit about the band
Le Fever is the collected feelings of seven individuals from Stockholm, Sweden expressed in text and music by me (Tom Lagerman.) We found each other on stage during late 2009/2010 after recording our debut album during three intensive summer days in my living room. When it comes to the songs I write I would say that my biggest influences are mainly non-musical. Early mornings/late nights, riding my bike, dancey disco and soul 7 inches, nice breakfasts, sad hearts, moody techno and tea is probably what gets and makes me want to write music. For Le Fever as a group and on stage it's equal parts of friendship and gin that gets us going.
What's the best and worst part of being in a band?
I don't really like the term "band", I know it sounds stupid and a bit schizophrenic but I guess I've become a bit allergic to it after growing up in Stockholm where every other person has a guitar case hanging on their back and promoting their bands page on Myspace. I guess otherwise the best and worst parts of being in a group of people are pretty much the same: that you have to spend so much time together, have to compromise about something as personal as music and so on. But the best with Le Fever is without any doubt that there are seven of us which means that we never get tired of each other.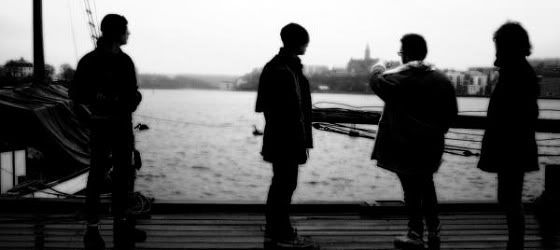 What advice would you offer a band starting out?
Try to have fun, sleep much, never go hungry to a rehearsal and be ambitious and serious about the music you're creating.
How do you feel the current music climate can either hinder or help up and coming bands?
You have to try harder and make a bigger effort to create something exclusive and unique today. Since today almost anyone with a little ambition, dreams and money can make recordings that sound great on their bedside table, and spread them over the Internet just like any other band that may be signed to a major label. In one way that is of course very good and democratic since it gives everyone a fair chance. But on the other hand I think that there is too much bad and unambitious stuff eating up the few people who really make good music. I think all this is about too change though, and I'm personally very pleased that last year was the first year since 1991 that the LP record increased in sales.
Where would you like to see Le Fever in a year?
Hopefully on a beach in India playing a concert in the sunset and drinking gin out of coconut shells. But since that probably wont happen I will be just as happy if we are still holding each others hands, creating music, and that people continues to listen to what we do and honestly like it. Maybe we even get to play a show every now and then, maybe even outside Sweden.

You can check the band out at www.lefever.se/
Send us your sounds