The same story often develops during any festival - walking too far to go to a show that's already too rammed full of people disinterested and talking. Le Guess Who? manages to somehow buck that trend and instead is the complete opposite - without hyperbole it's one of the best managed and most laid-back festivals on the scene. Everything, from the capacity of venues against acts to the complete lack of queues (for venues or bars) to the incredible booking (though it did throw up a record number of clashes) was run perfectly.
It all meant that the festival was purely for the music in a completely single-minded fashion - the incredible booking that resulted in a phenomenal lineup took center stage making it a genuinely one of a kind perfect festival.
Presented for you here are our top 5 highlights, that could easily have been doubled or even tripled:
Julia Holter
Thursday Janskerk 2000 - 2100
Have You In My Wilderness feels less like Holter's culmination of previous work as is often suggested, but a move backward in time from her cinematic minimalist compositions that have more in common with the likes of John Carpenter or Mica Levi to something akin to whatever is on the other side of the coin to baroque pop. She takes the simple, somewhat saccharine psychedelia that serves the likes of Jacco Gardner so well and feeds it back in on itself so many times that the final picture seems familiar and alien at the same time; phrases make sense but they've been dragged backwards through Holter's imagination so they stop making sense and exist in a slightly off-kilter universe of Holter's invention.
Hearing that inspiration run through herself and three others on stage is something of a spiritual experience; the exaggerated phrase of "do you know the right way to ask for a cigarette" echoing off the phenomenally grand church that she plays in for Le Guess Who? is near transcendental. Holter's world that she so expertly lays out on stage is one of pop cliché of a parallel dimension - the organic but somewhat unsettling grabbing and dropping of melodies carries you into her reality. One of the irresistible appeals of Have You... is the way she guides sounds through what feels like pop guidelines from another planet, allowing you to catch the feel for a melody before threading it down a new path with chord changes that feel familiar and obvious yet completely new and unheard of. Watching her sew 'Lucette Stranded On The Island' with her band through all of its stuttering pop glory was profound - the music feels nostalgic and new all at once.
Holter is a rare talent, there's no doubting it. Seeing her live puts into perspective her importance in the arc of modern music - she's instrumental to the reinvention and the reinvigoration of pop.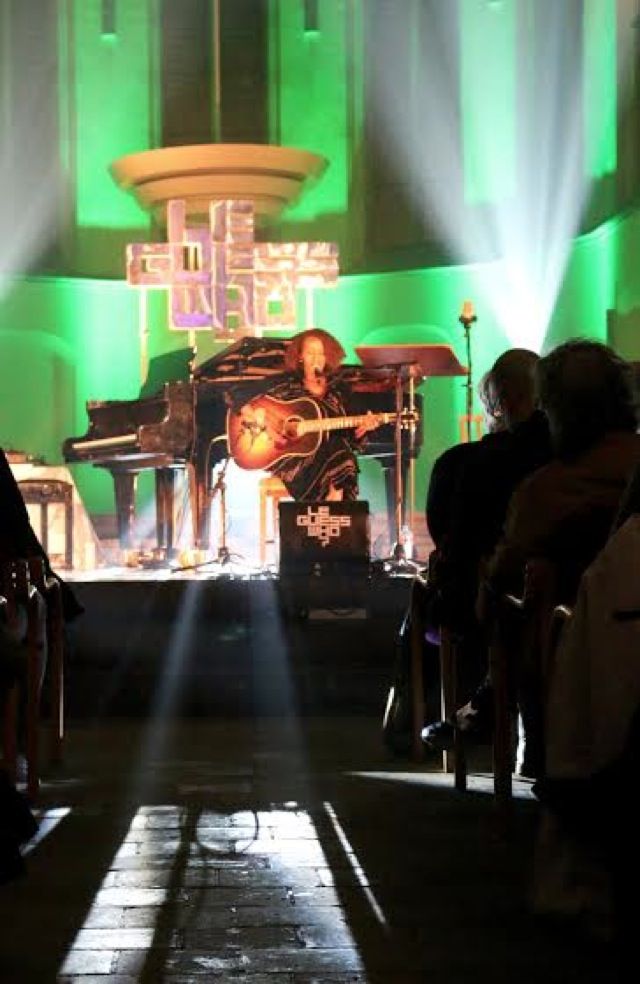 Mirel Wagner
Friday Janskerk 1900 - 1945
"Hello, I am Mirel Wagner and these are my songs." There's something endearing about watching an artist with no patter, no attempt at being a showman. It may be shyness (or a lack of something to say) but when you follow it with the haunting American gothic that Wagner's made her own it takes on its own charisma as part of the act.
Wagner's music is all an act. She's one of the most fascinating storytellers out there, eschewing the popular trend of singing songs of confession or personal tales behind a guitar. There are parts of her soul in each song, but even at her most direct you never feel that it's Wagner singing songs of grief but a character of her invention. Her adoption of gothic Americana is a lot like Nick Cave's - the gift of being able to look in from the outside gifts them a unique perspective and makes their music sound near theatrical (while no less morbid or unsettling). Wagner's music is the stripped-back, boiled down version of 'Murder Ballards' and it translates with vivid clarity in a live setting.
Watching one person with an acoustic guitar on stage ordinarily gets tiring quickly, but Wagner kept each and every member of the audience transfixed with her vivid imagery until she left the stage.
Masayoshi Fujita (pictured above)
Friday Theatre Kikker (Second Stage) 2245 - 2330
Apalogues is one of the most fascinating albums of recent years, utilising the sounds and timbres of his vibraphone to full extent to create an album with the spiritual intensity of Laraaji's Day Of Radience and the cinematic beauty of Joe Hisaishi's Ghibli soundtracks. Played live it's astonishing: his hands move at lightning speed and power with full focus on the vibraphone creating an overwhelming experience.
Fujita looked slightly gaunt and perhaps a little nervous as he introduced himself on stage, before telling us the simple story he used behind his opening track 'Tears Of A Unicorn'. He steadies himself with four beaters, two threaded between his fingers in each hand before carefully bringing them to the series of metal plates in front of him, beginning his diverse and unique performance.
After a few songs, he drew out a bow, running it along the metal plates like strings to create a haunting and aching effect that chills the listener, before later playing with two bows to create a contrastingly muted track that sounds more like a glass harp. Unlike some proponents of prepared instruments where it can feel like a novelty or to show off, Fujita takes these steps out of necessity and completes compositions with them; this isn't chucking ping pong balls on a piano for the sake of theatrics, this is genuine innovation.
His humility is a part of his appeal. He makes an audience feel completely relaxed, inviting people to get comfortable before the longest of his pieces, a combination of 'Moonlight' and a new work in progress, 'Avalanche' - adjusted for solo vibraphone performance. His way of telling a very simple story before each piece puts you in a good headspace, almost in a state of meditation - which gives you a greater appreciation for the sound, without stray thoughts or distractions.
He may have been playing to an intimate audience, comfortably sprawled across the floor at a festival, but is performance couldn't have been more high impact or sensual. His fierce technical ability, pairing a spectrum of crashing and twinkling melodies make for one of the most intimate, endearing and mind altering performances you'll ever see.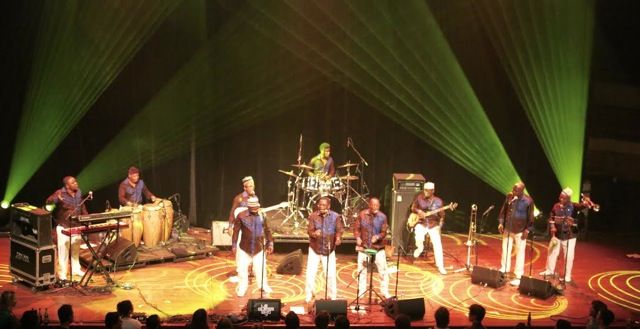 Tout-Puissant Orchestre Polyrhythmo De Cotonou
Tivoli Vredenberg Grote Zaal 2130-2230
It's slightly terrifying from a western perspective to think we nearly lost out on hearing one of the greatest party bands of all time - the 10piece from Benin are one of the most energetic and fun bands about on the live scene despite forming in the late '60s.
Everything about their performance is carefully made to invite dancing and the complete out of your head into your body experience that the entire dance scene has been working to cultivate all these years. Their high-energy fusion of funk, disco and the indigenous voodoo music of Benin itself weave perfectly making for an unstoppable mesh of percussive party music.
It'd be impossible not to grin just at the music being played, but Orchestre Polyrhythmo are the highest tier of performers too, each one engaging and creating the party atmosphere. While the music is tightly knit together with the music in perfect unison the band are loose, making the most of their stage to create the party. They're completely unmissable - their effortless generation of the perfect celebratory atmosphere is something that legions of bands have been trying to emulate for decades.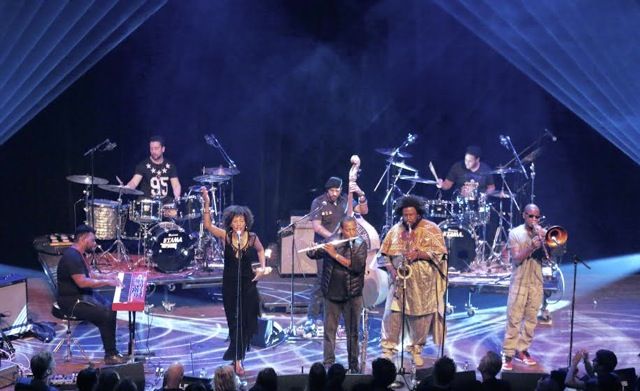 Kamasi Washington
Tivoli Vredenberg Grote Zaal 2330-0115
The Epic is a well-rehearsed, beautifully recorded masterpiece that, while feeling at times improvisational, works hard at its balance. It has to - to make an album engage over three hours is no mean feat and it takes incredible skill and subtle nuance to space it out that well. In a live setting though Washington and company come alive, consuming all the energy and unleashing it back room with alarming power.
'Change Of The Guard' is the perfect introduction to The Epic - the sprawling 12-minute opus contains hints of the rest of the album, dropping moments of spiritual jazz, swinging piano and cinematic soul into the smooth world created by Washington's mind. It's also the perfect opener to his set, translated into a 20-minute full on manic assault giving Washington his first incredible sax solo within the first few minutes. Elements of wide eyed psychedelia slip in and out as the seven on stage power through one of the most incredible tracks on the album.
It serves as the perfect introduction to the world of Kamasi Washington that unfolds over the following near two hours - an over the top world of ridiculous virtuoso playing, true genre-warping and marrying and incredible performances.
Throughout the evening the importance of the history of his band becomes apparent with the whole crew having played together since they were infants (Kamasi at one stage tells us Ronald Bruner Jr took up the drums aged 11/2 while still in nappies, showing up 3-year-old Kamasi's burgeoning percussive flair). Their tightness is a direct result of their age old bond - even if Tony Austin only joined because, as Kamasi puts it, he thought Austin was the cool older kid growing up and lied about him being in the band, leading to him actually joining after he heard the rumour. Even in their most anarchic and chaotic moments, they still sound joined by one incredible mind.
The entire performance from start to finish was a sensory overload - the sheer power and might of the saxophone of Washington battling against the erratic and free keys (and occasionally keytar) of Brandon Coleman all smashing into the percussive powers of drummers Bruner Jr and Austin was revelatory and overwhelming.
Also can we just highlight for a second that there were two drummers. Two. Two drummers who were so tight and in sync that you would think one drummer had four arms and multiple legs. Just think how quickly things could go wrong - but they didn't and it was amazing. In Kamasi's own words: "I get asked a lot - why do you have two drummers? Well why not? They're both extremely talented and I couldn't choose between the two." Watching their joint drum solo 'The Magnificent 7' play out over 10 minutes cemented his point - they were phenomenal.
It's impossible to overstate the importance of Washington - his music is more than a throwback or a niche release, it feels like a defining moment in contemporary music. Translated for stage it feels unbeatable and honed perfectly - simply put he's one of the most fascinating musicians recording at the moment and his live show is impossible to beat. Believe the hype.