On Saturday May 5th, The 405 headed down (well...up) to Leeds to cover Live At Leeds festival, which is a multi-venue city festival full of relatively new bands such as Novella, all the way through to big hitters such as Los Campesinos! (or Example if you fancied buying a separate ticket...which we didn't). With other festivals such as Camden Crawl, Sounds From The Other City, Simple Things and Land of Kings (all of which were city festivals) all taking place on the same weekend, how did LAL hold up? Read on to read about some of the bands we saw, and our thoughts on the festival as a whole.
photograph: Giles Smith
Hooded Fang
I'm not sure if it was the venues PA or just Hooded Fang having a bad day, either way, I think the ultimate litmus test of how well your show has gone is when you ask the packed crowd wether they "want one last song or two?" and the response is a unanimous "One!" hurled back at you. The venue itself was cold, dark and industrial which I imagine is fine for a late night gig but for two in the afternoon it didn't help the atmosphere. Despite showing promise of the energised surf rock I'd been looking forward to hearing live (the highlight being title-track from their second album Tosta Mista) the set failed to step up.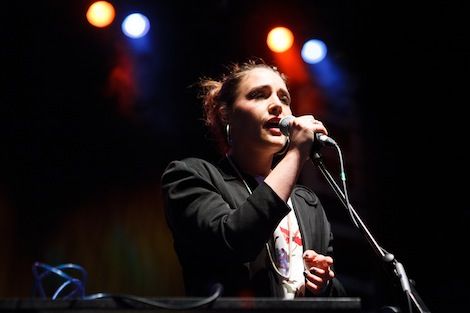 photograph: Andrew Benge
Jessie Ware
Every town has an O2 sponsored venue, and Leeds' impressive O2 Academy is one of the better I've been to. Equally as impressive as the venue is the crowd to see Jessie Ware. With hometown band I Like Trains on before just before, a lot of their local faithful stayed on to check out the sassy South Londoner. Jessie comes on stage reminding me of a Martina Cole heroine, with a cheeky confidence that sees her interact with the crowd, even pausing mid set to sign a record for one of her fans in the front row. Ware's voice is incredible, having only heard a small amount of her stuff only a few times I didn't really know what to expect. I have absolutely no doubt that her music and her voice will lead to big things, I just felt a bit sorry for her drummer who's shift would have been the equivalent of a nuclear physicist giving GCSE maths given the simplicity of Jessie's homemade beats. I look forward to watching Ware's career advance a level as she gets more experienced, and has more resources at her disposal.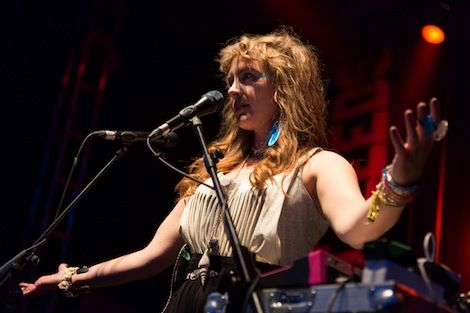 photograph: Giles Smith
Niki & The Dove
Sticking with the same venue, we managed to catch one of the past years real success stories, Niki and the Dove. The crowd doubles in size and while the band sound check Niki looks on from the side of stage like an athlete stares at the sand pit before giving everything they have to make their jump the longest possible. The music starts and the charismatic singer Malin Dahlström instantly transports into character - feeling every note of every song like a possession in need of exorcism. As her body sways and jolts in time (with glow sticks in hand) she places the audience under a spell and everyone is transfixed on the band. I already liked their The Drummer EP but by the end of this set I had completely fallen in love with Niki & The Dove, and like a lovestruck teenager I can't wait to see them again and be in that place once more.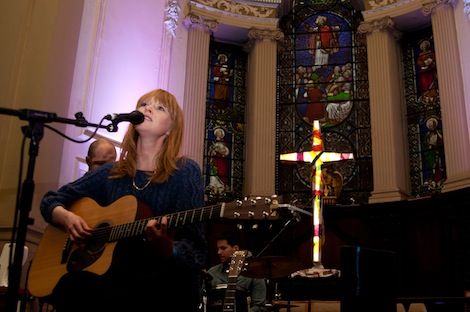 photograph: Daniel Heaton
Lucy Rose
I love churches, I'm not religious but there is something about being in a church that completely captivates me, always has, Fitting then that the likes of Lucy Rose and Alt-J are back to back in Holy Trinity church, situated in the centre of town between a Burger King, tall buildings and a building site. We quite literally take a pew where we are joined by Liane La Havas (who's show has been moved from the church to elsewhere in town following Marina and the Diamonds pulling out). Lucy Rose has had an incredible year, after teaming up with Bombay Bicycle Club, the singer songwriter has gone from strength to strength, not better exemplified by the mass of fans queued around the block to see her play the intimate venue. From the off you can see how Rose fitted so seamlessly into the Bombay team and how her sound will give the likes of Laura Marling a run for their money when she releases her debut album. Her songs are simply beautiful, and her voice is the perfect vehicle for her creativity. If anything half an hour is much too short.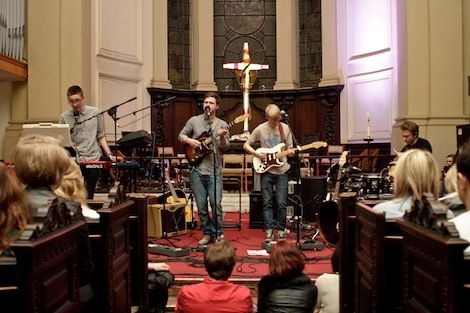 photograph: Danny Payne
Alt-J
Next up are Alt-J and they for incredible as they were (and they were really incredible) I have to say that it wasn't quite worth the wait as they spent the best part of fifty minutes sound -checking. Granted their attention to detail no doubt contributed to their set being my highlight of the weekend, but it did mean that getting to another show after was impossible. I have no problem with a band taking their time over these things if it's their own headline show, but keeping to schedule at a festival is hard enough at the best of times without having your plans scuppered by a fussy band. That said, with the congregation getting antsy, the band did amazingly well to get the crowd back on side. Their music filled every inch of the church, with the vocals on a similar level to Wild Beasts, whist sounding completely different and unique at the same time. You definitely wouldn't think that this was a band only just about to drop their first album.
Absolutely no doubt about it, Alt-J will be one of the bands of 2012 - I just hope the bigger they get, the better they get at sound checking!
****
Overall this was a great festival, with a varied line-up of new and established acts, and not too busy like some of the other city festivals out there. However, logistically it was a bit of a nightmare; the distance between venues and lack of signage directing revellers between venues was annoying for out-of-towners like ourselves. Even if there was just someone on hand at each venue to direct you to where you wanted to go next would have been useful. Perhaps if they were to extend the festival to span two days and halved the number of venues it would make navigation easier. Despite that, everyone we encountered through the day be it bands, organisers or punters, were friendly, welcoming and enthusiastic. Beers were reasonably priced compared to other similar events, and if you pick your bands/venues wisely you can get a lot of bang for your buck. With Leeds being just 2 hours or so out of London, it could prove a great alternative to the sometimes over-crowded festivals in the capital.