By the time Forward, Russia closed the Leeds Town Hall stage with usual riotous aplomb, my feet were aching, my legs jelly, and that all too familiar buzzing in my ear was once again making itself known. But all that aching was worth it considering the diverse smorgasbord of music that I'd devoured throughout the day with the same vigour as a starving cat in front of a plate of food. Now in its eighth year, Live at Leeds has become a staple of the festival calendar and, at a mere £25 for a Saturday wristband, you get a hell of a lot of bag for your buck. The city spanning festival that utilises pretty much every live venue Leeds has to offer was blessed once again by glorious May Bank Holiday weather and, from the offset, everyone was in high spirits. This was probably helped by the fact that wristband collection at the new First Direct Arena seemed a positively painless affair; less time queuing and more time watching bands is always a great start.
Live at Leeds is, perhaps, one of the best festivals to try out new bands. Seeing as how close together many of the venues are, if you don't like one band it's not a big waste of time because you can quite easily stroll over to another venue and catch someone you might find yourself obsessing over for days. I spent much of my day trying out new bands or catching bands I'd never seen before (of the 11 bands I saw, I'd only seen one before). Things kicked off in the newest venue to join the ever growing Leeds drinking scene, Belgrave Music Hall. Opened at the end of last year, it's already made a name for itself celebrating the independent spirit of Leeds, putting on plenty of great gigs and hosting a Street Feast every month in which street food vendors set up shop inside for you to indulge every sense for a good few hours. After tucking into a Dough Boys pizza, it was upstairs (up the staircases which seemed to be in pitch black compared to the bright sun outside as your eyes try adjust) to see Disraeli Gears, a four-piece with a clear love of Cream who dealt out a generous helping of dark, brooding rhythms complimented by Teia Fregona's beautiful vocals. With only a few tracks to their name, by the time final track 'Skeleton' rolled around, closing things with a spectacularly grand finish, you could already tell that this was a band to watch.
A trek up the hill to Leeds University was in order next to see Mausi who I've seen more times than I'd like to count but are still so much fun every time. Their music, the epitome of sunkissed, dance-fuelled pop, was the perfect complement to the glorious sunshine outside. New tracks had that distinct Mausi feel to them in abundance, their Italian/Newcastle origins bringing together the sun of the Mediterranean and the booming nightlife of Newcastle, while live staples such as 'My Friend Has A Swimming Pool' (which recently premiered on Radio 1) turned Stylus into one big dance party. Chicago's Ezra Furman couldn't be further from the euphoric Mausi, who could be found not too far away at Refectory, one of the other Leeds University venues. His vocals cracked and spit with the same hoarse quality as Frank Black's furiously aggressive vocals on Pixies' 'Crackity Jones' while his Boy-Friends blasted out some infectious rock n roll. Much of the crowd, myself included, was left spellbound as Furman howled his way through, what often sounded like, an unedited recitation of his deepest thoughts while the swirling rhythms careen and barrel around him.
To keep with the high energy that Ezra Furman's impressive set left me with, it felt only right to keep in the same wheelhouse as I headed down to Nation of Shopkeepers to catch Irish brother-sister duo, Southern who played their bluesy rock to a packed venue. With a drummer and bassist added to their live line up, alongside the Southern siblings, they felt like Blood Red Shoes taking on the blues; the him-her vocal back-and-forths in full effect as they furiously tore up the tiny stage with crunchy blues riffs that punctuate the likes of 'Where The Wild Are'. Next it was over to Leeds Met, where a queue snaked along the side of the building, everyone hoping to catch one of the big buzz artists of the day, Aussie anti-folk star Courtney Barnett. The room was packed out, and rightly so, as Barnett and her band proved exactly why blogs are so enamoured by her. Set closer 'Avant Gardener' is a microcosm of her sound as woozy, slacker rhythms transform into fearsome riffs while Barnett's lyrics about a not-so mundane Monday roll off her tongue with a distinct Subterranean Homesick Blues feel to them; Bob Dylan had he relocated from New York to Australia.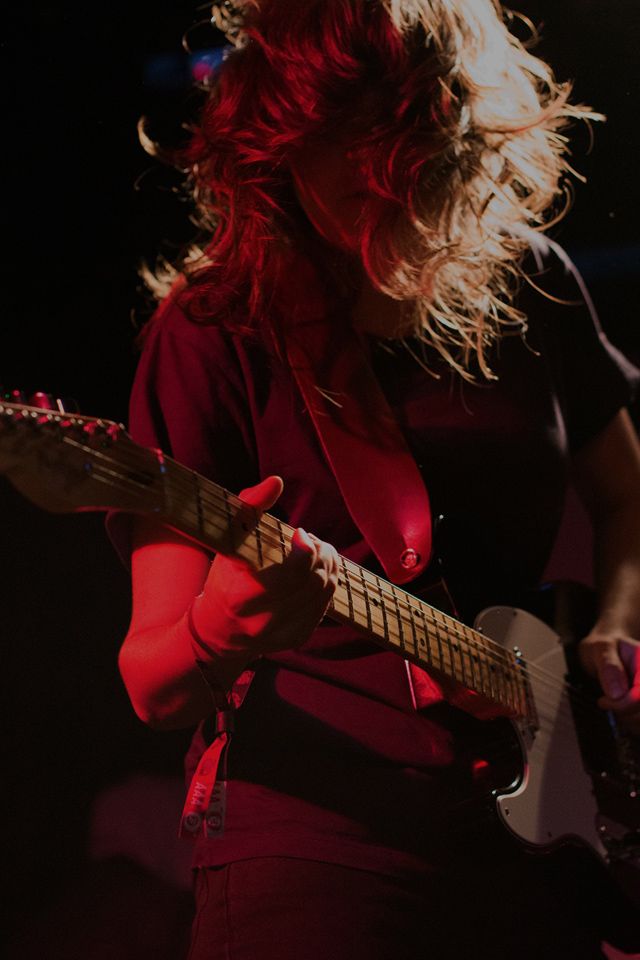 Arthur Beatrice, next on my schedule, is unfortunately at the other end of town in Hi-Fi straight after Courtney Barnett finishes, but luckily (sort of. It's a bit of a pyrrhic victory) they're late setting up so they're still yet to play by the time I get there. When they do, though, they fill the not quite full room with their beautiful brooding music; the infectious yet chilly songs a stark contrast to the beaming sunshine outside. It's a gentle break in an otherwise hectic day that left me both putting their album on repeat since and wanting to watch loads of Golden Girls. Unfortunately, because Arthur Beatrice were on a little later than planned, I didn't have time to make it over to Rosie Lowe at Leeds College of Music as planned so it was straight on to O2 Academy to see Chlöe Howl who, in the past year or so, has grown into a proper bonafide popstar, wise beyond her years with a real sharp wit to her lyrics and some addictive songs such as 'Paper Heart'. Acidic her lyrics may be but, in front of this crowd, she's just so psyched to be there which makes you warm to her instantly as she bounces around the stage spitting those lyrics filled with venom at boys who've treated her badly.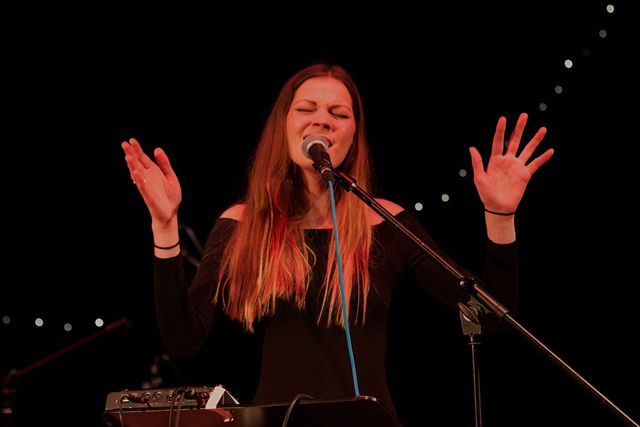 Back to Belgrave we go and, with another slice of pizza that definitely counts as my tea/something to counteract the alcohol, it's time for San Fermin. Now, my experience with San Fermin is hearing the baroque, almost Neil Young-lite 'Methuselah' on the radio. The San Fermin I saw on stage was a hundred times more energetic and lively, as though they were about to blow the roof off the place as the band packed out the stage with violins, trumpets, and more. It was a pleasant surprise that saw Belgrave bursting with energy. 9pm was a difficult time to decide, in terms of schedules, because it featured Lizzo, Wolf Alice, and Pawws all playing at the same time, but I decided to stay at Belgrave for the wonderful Say Lou Lou, the Sound of 2014 nominees turning the room into a sort of glittering disco. As fantastic as their songs really are, and they are fantastic (the new tracks from their upcoming debut album sound particularly amazing, while the live band gave the shimmering tracks we already know a great rough edge), the real highlight was seeing the twins, Elektra and Miranda, having a blast onstage in the company of each other and the crowd. It's not often these days that you see a band that are just so happy to be doing what they're doing that it just seems as though this is where they want to be. The chemistry between the two is infectious as they basically just pal around like siblings do, only these two are bursting from the small Belgrave stage, more than eager to take on the big leagues, who'd be more than willing to except them if this is anything to go by.
By this point, I couldn't really feel my feet, having probably walked the length of the city centre a fair few times throughout the day, but onwards I fought to catch Fuck Buttons at Leeds Met. When Fuck Buttons were announced, I was slightly shocked. As diverse as Live at Leeds is, it's very rare that they get big electronic acts in of the likes of Fuck Buttons. The barely half full room, which not long ago was packed to the rafters for Courtney Barnett, wasn't all that surprising then, though it was exciting that they were even here. In spite of the poor turnout, Ben John Power and Andrew Hung filled every inch of that room with their aggressive and thumping electronic output that left those in attendance hypnotised while sending one guy into a dance frenzy from the start. Excitingly loud, it may not have been to everyone's tastes but it was a real treat
Finally, things came to a close at Leeds Town Hall courtesy of Forward, Russia. I have always had a real affection for Forward, Russia. They are, perhaps, the quintessential band of the Leeds music scene and a big reason as to why it grew as much as it did in the mid-2000s. Around the time I discovered them is when a big emphasis was being placed on this West Yorkshire indie scene, with the likes of This Et Al, Grammatics, Sky Larkin, and iLiKETRAiNS (who played early in the evening at Leeds Town Hall) all spawning from this scene. Yet, despite my love for this scene they helped to nurture, I never got a chance to see them live before they went their separate ways in 2008. This gig in the beautifully illustrious Town Hall is their second since reuniting to play Brudenell Social Club last November and probably one of their last ever (though that Brudenell one was meant to be a one-off so who knows). And here they are, reinforcing exactly why I fell in love with them so many years ago. Tight as ever, they embark on a whirlwind tour of their spectacularly riotous back catalogue to the rapturous delight of the fans present (there's no-one under the age of 20 here. It's a proper Quietus reader's gig, this). What better way to end a day of running around Leeds in the beautiful sunshine catching as many bands as possible than seeing the one band that influenced my love of the music scene Live at Leeds very much celebrates. With my feet finally having recovered, it's fair to say that Live at Leeds is one of the best festivals of the year. At such an affordable price, with a ridiculous variety of bands in wonderful venues (a fair few have one a couple of awards, you know!) in a city with such a great musical heritage and a thriving music scene, it really feels like a celebration of the new and the local, with a few more well-known bands as the cherry on the top of an already delicious sundae.