Liverpool Sound City celebrated its fifth outing with a list of bands and events that was so large it seemed faintly ridiculous - around 350 acts over 3 days, along with several respectable music-industry-orientated conferences and often utilising venues that didn't actually exist until a few days before the festival. Not forgetting a football tournament and an early-bird price of £20 for the whole festival - not bad for a 5 year old.
My Sound City 2012 experience, though, began on a wholly uninspiring note with the band Sunless 97, who were so dull my notes merely say "had a hat like East 17." However the band's lone positive was highlighting the size of the Red Bull Garage, one of the impressive, unique venues for this year's festival. Existing day-to-day as a National Car Park, it was transformed via some smart lighting and a very keen soundsystem (as well as a big fuck-off stage) in to what would be agreed upon later as the best of the temporary larger venues.
Heading across the road to the Liverpool Academy of Arts stage I caught Manchester band Folks - an affable, Americana sort of rock band, like those rare Eagles tracks which are pleasant to listen to rather than like 95% of the Eagles' output which was shite. Folks also had the honour of having by far the tightest jeans of the festival; at one point I swear I could actually read the text messages on the guitarist's phone screen, safely tucked away in his pocket.
Mystery Jets followed, taking the stage in front of a capacity crowd. Opening with the blinding new single 'Someone Purer', they sounded wonderfully tight and energetically focussed. hrough the opener and new album title-track 'Radlands' the band play as if they've a point to prove - though the set seems fairly divided across all previous albums and the group's carefree, youthful attitude prevails with a singalong-friendly rendition of 'Young Love'. A smashing set that gets the festival going proper.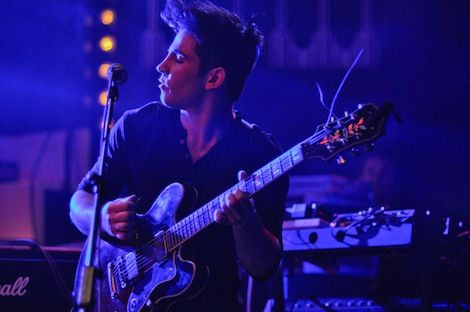 Next door at The Kazimier - arguably the city's finest permanent venue - Ghost Outift were already partway through a pounding set. Combining a scuzzy, lo-fi sound with a gruff, face-punching rhythm, this is the music I would walk out to if I was a trendy champion cage-fighter instead of an aspiring music photographer. It does threaten to become 'just noise', as my parents would say, but for the most part it holds together and sounds like noisy success.
The Brink is Liverpool's new, already hugely-popular dry-bar and on Thursday it played host to local folk act The City Walls. A relaxing change of pace, the group's melodic set - of which 'Begging You' from their recent self-titled EP is the highlight - complements well the calming attitude that The Brink exudes.
There's barely time for a virgin cocktail before sauntering back to the Academy of Arts in time for Slow Club. I'm unashamedly a big fan of Slow Club - particularly live - and at Sound City they're as vibrant and enthusiastic as ever. Last time they played Liverpool, Rebecca Taylor politely asked if I could "please stop taking so many fucking pictures of [herself]," so it was with trepidation that I positioned myself right in front of her drum kit. Fortunately there was nothing but good vibes in the air, renditions of 'If We're Still Alive' and 'Where I'm Waking' converting any doubters to their cause early doors. A typically robust set, showcasing all the not-inconsiderable talent in the band, goes down wonderfully as the band conquer the venue's lingering sound problems and deliver a resounding performance. Is it possible for Slow Club to put on a sub-par gig?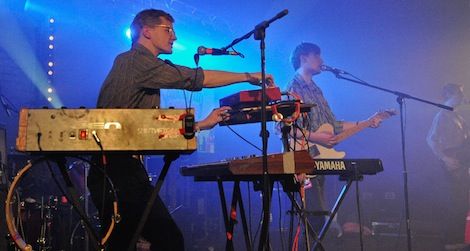 The night comes full circle as we head back to the Red Bull Garage, this time to see headliners Django Django. Beset by tech problems (and a few nerves) a couple of months ago as they opened their UK tour in Liverpool, here their introduction and first few tracks flow admirably and without a hitch. The venue is as full as it will get all weekend and the band's sunny electro-pop (like The Beta Band via The Bees) has feet tapping and heads nodding; building a crescendo for when first single 'Default' drops and the crowd collectively loses its shit. 'Skies Over Cairo' keeps the hips swaying until the thunderous, steampunk-battlemarch of 'WOR' closes the set. The venue is as full as it will get all weekend and the impressive lighting adds to a tremendous atmosphere, a gig worthy of closing the first day of Sound City 2012. Job done, lads.
I started Day 2 in The Zanzibar watching Liverpool band Cheap Thrills begin their set with a call to "fuck the Temper Trap!" What does everyone have against the Temper Trap? This isn't the first nor the last comment against Friday's headliners I'll hear today. Cheap Thrills look no older than 14 year olds but play like a particularly accomplished band of 17 year olds. It's perfectly acceptable British pop-punk but I still feel vaguely guilty admitting that they seem genuinely catchy. For their age, like.
Leaving their anti-antipodean exclamations behind I visited the Screenadelica stage for heavy-instrumental band Mind Mountain, or rather their bastardly-long soundcheck. Their first song once they got going sounded like a decent intro-riff in the vein of CKY, though the riff gets boring after what feels like 6 or 7 minutes. Here I took my leave, to Wok'n'Go for some much needed fuel.
The taste of delicious pad thai was sharply bitch-slapped out of my mouth when Wet Nuns walked on to the Red Bull stage, to be replaced by the Yorkshire duo's brand of brilliant blues-punk (and that's the most importantly placed hyphen of this entire piece). Like a bastardised Black Keys, only more interested in turning the volume up and forcing their dirty riffs and guttural vocals upon you, Wet Nuns were perhaps my favourite band of the weekend. Their music goes down like a combo meal of gristle and mean noise and I loved every second of it; superb.
Kestrels, coming all the way from Canada to play at Mello Mello, sound like Weezer: post-Pinkerton, in the lead-up to Green when Rivers started throwing up demos at a ridiculous rate. I mean all this in a good way and they keep the Mello crowd suitably entertained with their brand of 90's-smothered rock. They also deserve a mention for being bloody nice blokes throughout.
I took a brief detour to check out Hot Panda at Leaf Cafe - not a great band but admirably enthusiastic, their bassist using her headstock to hit a keyb oard while the singer shouted "HOT PANDA FUCK SHIT UP". Why not eh?
My actual destination was Liverpool O2 Academy to see Lower Than Atlantis. Do people still call music like this 'emo'? I would if I was 16, and unfortunately that was also the optimum age to enjoy this gig. Luckily for the band that was the age of the audience. It was all a bit 30 Seconds To Mars for me but the crowd seemed to love it and I can't really argue with that, even if this isn't a band I'll ever seek out again.
Unintentionally (I swear) missing The Temper Trap's set, I found myself instead watching Charli XCX. Sounding like a trance version of Gwen Stefani, her confidence was certainly impressive for her young age and she wasn't daunted by the impressively large crowd. The monotonous synths and drum machines almost detract from her natural stage presence but Charli manfully powers through her upbeat set - however, 'Hollaback Girl' aside I'm a fan of neither a fan of Gwen Stefani or Trance and so I called it a night for Day 2.
After hugely overachieving in the festival's John Peel World Cup in the afternoon (Deportivo Bido Lito! reached the semi-finals, since you asked), my Day 3 musically began with Manchester all-girl indie-punks PINS in the Wolstenholme Creative Space. WCS, the smallest of the Sound City venues, is essentially someone's front room with a lot of amps thrown to one side, creating a wonderfully cramped house-party vibe for all playing there. It's a smashing venue, though the lead singer of PINS probably wasn't as pleased as I was at there being no barrier between us as the band played a short, cool set to begin proceedings. Ones to watch, these.
I'm naturally cynical of bands with more keyboards than members, and when Kamp were delayed by 30 minutes of technical problems in Mello Mello, I very nearly wrote them off, eventually opting to give them one more chance. I wish I hadn't and it's a chore to stay for more than one song of their bog-standard electro bleatings.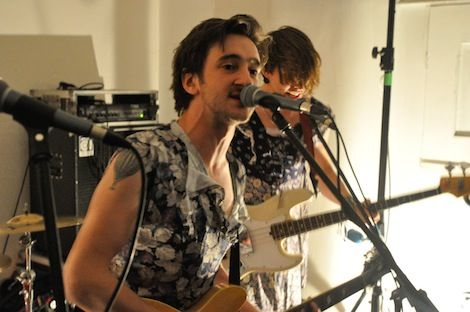 Back to WCS for a band shaping up to be Liverpool's band of 2012; Death At Sea had only played two hometown gigs before Sound City but the buzz is extreme, resulting in a packed crowd perspiring with anticipation (and perspiration). DAS rose to the occasion in particular style, each member wearing a delightful new frock for such a special show. Their music is approachable and instantly catchy, more than a bit reminiscient of Pavement at their best - and I don't say that lightly. I'd be very surprised if Death At Sea didn't eventually headline a Sound City of the future. No pressure though lads!
No let up at the WCS either - DAS were quickly followed by Bleached. Like a female Ramones (with a nod to the bloke on drums), Bleached power through their snappy set of short songs and power chords (including a cover of 'Today Your Love, Tomorrow The World' to cement those CBGBs comparisons) and keep the house-party atmosphere suitably stoked. Pleasingly, they seemed to be enjoying themselves just as much as the packed Saturday night crowd.
Over at The Kazimier, local rapper Bang On demonstrated a level of scouse that was so fast that even I couldn't follow a word; Let's Buy Happiness delivered a pleasing set in the vein of a northeast She & Him to a Red Bull Garage crowd; D/R/U/G/S, according to my increasingly dishevelled notes were like "a stage full of Jawas"; and in the Academy of Arts, Space were reminding everyone just how misleading nostalgia can be by being thoroughly shite and unentertaining. Just play 'Female of the Species' and clear the stage, softlads. And take your wholly unnerving giant holographic Cerys Matthews head with you.
The end of Sound City 2012 saw the Red Bull Garage once again fill up, this time to see out the festival with yet another local band. Somehow I'd never managed to catch The Tea Street Band live, but I'm bloody glad I finally got the chance. All plinging guitars and perfectly simple keyboard plonks along with those faux-American vocals you can only really get away with these days if you're from around these ways, the group turn the venue into one lovely great soundscape as the crowd got stuck in their finger-pointing and extreme hand-raising, with more than a couple of bucket-hats standing out in the sea of bobbing heads. It's the sort of straight-laced indie-dance music that Doves might have made if they'd kept Sub Sub going for a decade longer and sounds very much a musical product of the northwest. The lights reduce the band to silhouettes, fitting as the music truly takes over the entire venue with the audience getting right stuck in. A perfect performance.
There are few better ways to finish Liverpool Sound City than with a belter scouse band giving it beans to an adoring - and almost-certainly chemically refreshed - audience as the night closes in. It's been brilliantly knackering and I've enjoyed every minute of the festival. From where I'm standing Sound City 2013 will have to produce something very special to top 2012 - from start to finish this has been proper, proper boss.
Adam Edwards / Photographer for Bido Lito! Magazine