Emerging from a so-called "twee sensation" as one of the most exciting yet complex alternative groups of the United Kingdom in hardly three years isn't that common. As their third studio record, the brilliant and inspired 'Romance is Boring' is set to be released, The 405 catches up with Harriet from
Los Campesinos!
to talk about live shows, recording experiences and hopes and tips for 2010.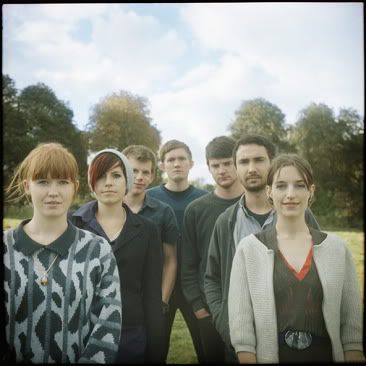 l-r : Kim,Ellen,Ollie,Gareth,Neil,Tom,Harriet Campesinos! © Jon Bergman
"I guess we've tried to be as ambitious as possible without losing sight of our identity"
.
Harriet Campesinos
seems pretty confident about her band's sophomore set
Romance is Boring
. Truth is, the album sounds like a real achievement for a band that, three years ago, was mainly seen as a bunch of teenagers making noises with as many intrument as possible.
Hold On Now, Youngster
, their first album, released in February 2008, was a sonic candy, supported by wild live sets around Europe and America and followed by an extended EP a few months later 'We Are Beautiful, We Are Doomed':
"We've always loved recording (…) Being creative, and with a receptive audience to boot, feels like an enormous privilege to me, and I just want to keep on doing it"
.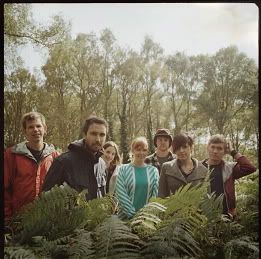 This first collaboration with
John Goodmanson
(who produced some Sleater Kinney, Death Cab for Cutie, and more recently Sky Larkin and Fight Like Apes albums) was a success, which allowed Los Campesinos to explore darker territories while maturing their sound. It's no surprise then to find him helping the band again with
"his open, friendly, level-headedness as well as technical wizadry"
on
Romance is Boring
. "He is a joy to work with", Harriet adds.
Romance is Boring
is filled with experimentations, with a strong unity within the songs, from the hopeful opener 'In Media Res' to the deeply emotional ending 'Coda: A Burn Scar in the Shape of the Sooner State'. It also shows a fully coherent band, conscious of its own particularities.
"I think structure was very important to us with this record. We wanted to make a cohesive album, but also one which allowed room for experimentation, and our individual strengths to show. I think there's room for those who want to be involved in the process, and obviously people bring their personality to how they perform their parts"
. The band dynamic changed a bit though, with Aleks (vocals/synth) leaving the band to pursue her studies, being replaced by Kim, and
Sparky Deathcap
joining them onstage during their last UK tour.
"[Kim] is making the songs her own in all kinds of fabulous ways, and I'm very excited to see where she takes it. And we want Rob [Sparky Deathcap] to be a part of Los Campesinos!"
Speaking of the tour, Harriet reckons it was
"definitely time to come home and see if people would accept us in our altered state. (…) All of the ten dates were great, but an extra-special part of the tour was our homecoming show in Cardiff as part of Swn Festival. We are full of love and admiration for lots of musicians and people from there, so it was a nerve-wracking gig, but (…) all I could feel was this great swell of positive feeling. It was a very positive experience for us, and I hope it was for the people who came to watch us too"
.
In conjunction with live experiences, the band has built a huge connection with the fans, through their blog, the infamous LC! Blog. "We are very lucky to have some devotees, but it amazes me that there are people who are that interested! I guess blogs are meant to break down the wall between band and listener, but I guess I like a little bit of mystery both ways. It's probably good we have an equal balance of introverts and extroverts in Los Campesinos! Otherwise I think it would be a case of too much information" states Harriet. To conclude, the violonist gives us some tips for the year:
"I happily predict the demise of twitter, and the rise of a new dance craze called lampshading where you put a large lampshade over your head and then swing it round like hula hoop. I think trainers are going to be big, and I am excited to listen to the music of Islet, Munch Munch and new stuff by Micachu and Battles. If you move house, try to find one on a hill"
.
'Romance is Boring' is available on February 1st on Wichita Recordings.
You can visit the band by going to
http://www.myspace.com/loscampesinos