When
Los Campesinos!
first announced a mysterious project called
Heat Rash
last year, there were various rumours bouncing round as to what it might be. A new album, a film and a live DVD were the most common suggestions, but I don't think anyone expected them to come out with what they did. When they announced that
Heat Rash
would be a zine, I was seriously excited. Stoked beyond all belief! They had already released the best album of the year in
Romance Is Boring
, a benchmark piece of indie pop, as defining and essential to now as
Never Mind The Bollocks
was in 77, or whichever Smiths album was biggest in the 80s, I don't know, I don't even like the Smiths. It was absolutely fucking nailing how it felt to be growing up as a hipster youth in decades that don't even have names yet. Then they had taken four of the album's best songs and made them even better with the
All's Well That Ends
EP. Seriously, when they released their Christmas songs to entice people to buy subscriptions for the quarterly zine, it was like they could do no wrong. And why shouldn't I have been excited? After welcoming Rob 'Sparky Deathcap' Taylor to the band full time, the group who had made what I consider to be the most important record of the last few years had grown even stronger as a collection of writers and artists, and they were making a zine, probably my favourite non-musical aspect of music. I was well within my rights to expect something special. I won't lie. I won't pretend it was everything I was hoping for and more just to save face after pinning all of my hopes and dreams on to one band only to be let down.
Heat Rash
Issue #1
is a little disappointing. There, I said it. I think it is perfectly possible that Los Campesinos! have been spoiling us as of late, and the package on offer here doesn't quite match up to the standard they've inadvertently set for themselves.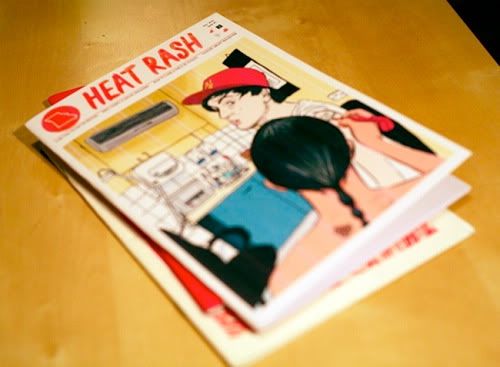 Every issue is to come with a 7", and unfortunately this is the first Los Campesinos! material in quite some time, perhaps ever, that hasn't felt like their A-Game. It feels like they're holding something back, because they obviously are! They were starting work on a new album whilst putting
Issue #1
together and I don't think I ever expected them to send out their two best tracks as what are essentially fan club-only b-sides. But the two songs on offer are ultimately just very plain. They feel like such a step back, not just from
Romance Is Boring
, but from
We Are Beautiful, We Are Doomed
as well. Which isn't to say they sound like
Hold On Now, Youngster
either; they just lack the energy and emotion that has made Los Campesinos! so perfect over the past few years. 'Light Leaves, Dark Sees' is more upbeat but ultimately feels a little more shallow, whereas 'Four Seasons' has the killer opening line of "when I come home it will be with/someone else's blood on my shirt/another country's dirt on the knees of my ripped jeans/and I won't wanna talk about it" but is actually a pretty dreary number with none of the emotional weight that Gareth usually uses to make lines like these hit home. As for the zine itself, it's absolutely beautifully designed and Taylor has really outdone himself with it. His comic at the back is gorgeous, sweet and funny. Very Adrian Tomine or Dan Clowes in style, it was easily the best contribution to the first issue. The saucy heartthrob centrefold made me laugh and it was cool to see more pictures from the
Romance Is Boring
cover shoot - everything released around that album has had the cover pictures from the same shoot which made them feel really cohesive and that little bit more special, so some big, full-page revelations were great. But, in all honesty, a lot of the articles are complete filler. Lists of top 5 Nick Cave lyrics and recipes that weren't even original, or written about particularly excitingly wouldn't make for a particularly great blog, let alone a printed zine that cost money. Some of it just felt like thrown together filler, like it hadn't been given the time it deserved from some members who are maybe less interested in the product, and not all that entertaining. Ellen's articles were good - the little short story was better than the blog-style film article, though, and is the kind of thing I was hoping to see more of. Same goes for Kim's poem – the best stuff is the stuff that feels like it was made with being something special in mind, rather than something you could find on any old blog.
I was personally, like many others, most excited for Gareth's contributions. As the frontman, songwriter and biggest online personality, he is the mouthpiece for the band and has generally seemed as the driving force behind doing a zine. His track by track guide to RIB was alright, but was frustratingly vague and detached in places, like he wasn't committed to writing it, and some of it was familiar from previous blog posts or interviews. The comment in the explanation of 'Don't Make An Enemy Of Me' that said "a request that you do not rely on us" was the most interesting part. I mean, I know I keep saying Los Camp! are a really important and relevant band and all that, but I don't hero worship them like some of their fans do, which always ultimately becomes annoying. Okay, I'm well aware that the majority of them are not writers. They're musicians. But I was hoping for something (especially from Gareth, but now from Kim, Ellen and Rob in future, because they're clearly capable of it), a little more in-depth, insightful, and not quite so throwaway. Something that would make me think. That maybe they'd discuss some issues or share some thoughts that it's hard to get across through music. Given that this is their attempt to create something solid, physical and special in a culture where physical music is nowhere near as important anymore it was, ironically, quite disposable. It was good first package – an entertaining read and listen for about half an hour and, like I said, looks absolutely incredible, but I'm hoping for something a little more heavyweight from both the zine and the record for Issue #2. Maybe I expect too much from them, but I do know they are capable of so much better, and when the next installment of
Heat Rash
is announced you can guarantee I'll be as excited as ever before.
For more information on Heat Rash head over to http://www.loscampesinos.com/heatrash