It's hard not to feel a chill running down your spine as you walk up the steps of the elegant
Foundling Museum
, tucked unassumingly in the corner of Brunswick Square. The icy blue of Tracey Emin's neon lettering that scrawls across the entrance: 'Foundlings and fledglings – our angels of the earth' is a poignant reminder that this place played host to the various fortunes and misfortunes of some 27,000 London children, orphaned or given away by their families. This new exhibition, with works by
Mat Collishaw
,
Tracey Emin
and
Paula Rego
, continues a long tradition of the Foundling Museum's involvement with artists – a legacy that reaches back to Hogarth's invitation to leading artists of the eighteen century to show their new work at the Foundling Hospital to a fee-paying public, thus raising both funds and awareness of the children's plight. The work by the three newest artists in this tradition is sensitively placed throughout the museum, in amongst the icing-sugar rococo ceilings and gilt-framed oil paintings, creating a dialogue between past and present ideas of childhood and motherhood.
Tracey Emin's
work is raw and unapologetically sentimental, dealing with the simultaneous fragility and potential of childhood from a deeply personal perspective. She contributes a rack of baby clothes that she collected, never used, and a series of drawings executed during her own pregnancy can be seen in the downstairs gallery. Perhaps most effective of all are the tiny, understated bronze casts of a sock, a mitten and a teddy, originally from the series "Baby Things". Placed in the grounds surrounding the museum (look carefully) they are a poignant, whimsical reminder of the vulnerability of the Foundling Hospital's inhabitants.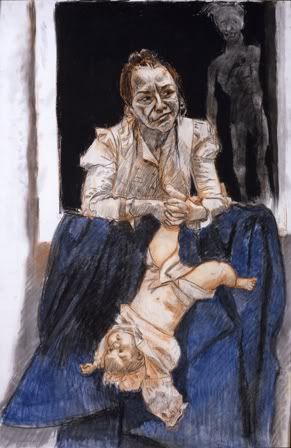 Both Rego and Collishaw's work takes a rather less sentimental approach. Rego's new work, a devotional altarpiece composed of several life-size paintings and mannequins, depicts seduction, rape and infanticide in unflinching detail. Grim, grey-faced women face their fate with steely resignation, while grotesque caricatures scrabble at them and their unwanted children. It's also worth checking out Hogarth's iconic "Gin Lane", which is on display in the Museum and is referenced by Rego in this work.
Mat Collishaw's
work includes his series "Idle Young", which imposes contemporary images of Indian street children against eighteenth-century backgrounds, and a stunning lightbox depicting two savage dogs guarding two sprawling babies, an echo of the Romulus and Remus myth in the harsh squalor of a twenty first century setting. His pieces force us to confront the reality that the ferocious struggle to even exist is still a reality for children everywhere. All in all, this is an intelligent and sensitively curated exhibition, with three highly original takes on a fascinating and difficult subject. Make sure you take time to look round the Museum properly, and don't hesitate to ask their friendly guides about the history of each room. It's pretty compelling – and after the hard-hitting stuff from these three artists, it's almost a relief to hear some of the tales of children who were saved by this ground-breaking institution.
Details
Artists:
Mat Collishaw, Tracey Emin & Paula Rego: At the Foundling
Date:
Until Sunday 9 May 2010
Admission:
£7.50 // concessions £5 // children free
Address:
The Foundling Museum, 40 Brunswick Square, Bloomsbury, London WC1N 1AZ
Telehone Number:
020 7841 3600 // F: 020 7841 3601
Opening Times:
Tuesday - Saturday, 10am - 5pm, Sunday 11am - 5pm.
Header Image - Courtesy of the artist and Haunch of Venison
Second Image - Oratorio, 2008-9, Paula Rego, courtesy of artist and Marlborough Fine Art