In August
Magic Kids
released the rather excellent
Memphis
(
review here
) and it was met with hugs of praise from all over the world. For a better understanding of the album we asked Will from the band to talk us through the album, track-by-track.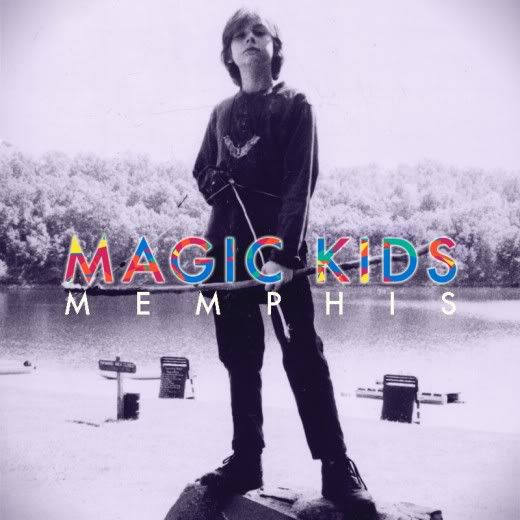 Phone
People have pointed out to us that this apparently sounds like that song 'I'm into something Good,' even going as far as speaking of it like a well done tribute. But really, who does a Herman's Hermits tribute? Theirs is the kind of song you don't listen to intentionally, it just enters your subconscious as it plays in a department store or some place like that. I hope that's how people get to know 'Phone' in 20 years: playing in the background at the hoverboard store maybe... and I hope it leads to some great unintentional Magic Kids tributes. Ironically when we first started playing it we were worried people would think it sounded like 'Boys are Fine' by our friends Smith Westerns!
Candy
When we were writing this one I thought it was the saddest song on the album, but due to the relative ambiguity of the lyrics you can hear it a lot of ways. Try this: the chorus "she turns to me and says 'there's no candy sweeter than my baby'" is sort of framed by the verses as a snapshot of a moment long passed, returning only in fleeting moments of clear, vivid recollection. Musically, those lines in the chorus are sung over a relatively minimal and open arrangement, between two building, layered sections, like the memory is coming into focus for just a few seconds before getting swept away. I wonder where 'Candy' is now..
Superball
This has had the most interesting lyrical evolution of any of the songs, and you can retrace it if you know where to look, but few would. One time Bennett avoided the topic by telling a 15 year old girl it was about trafficking drugs across America, and that her friends are probably all already "doing superball." It was for her school newspaper. I like to think of the lyrics like a metaphor for an estranged childhood friend you've come to have "grown up" feelings for. Whatever it is, Bennett definitely has some complicated issues he's trying to work out here. Is he asking to cook for the ball and be in its dreams? Must have been some ball. Another weird thing to think about is that I wrote a lot of the orchestral parts during a strange month or two when I was going through chemotherapy, and the original single version was recorded in my room at our old house during week long breaks from that. I'm totally better now and don't think about that time much, but sometimes listening to this song gives me flashbacks!
Hideout
This is a pretty straightforward song about seizing and holding on to the personal and secret aspects of young love - listening to records, reading to one another, etc - amidst tension from a world that leaves less and less room for such things. School, jobs, rushed marriage... all the world's "cold preying hands." Or was that cold
praying
hands? Shane, the album's engineer, said he likes it because he thinks it's the kind of song that would make jocks cry.
Summer
The lyrics' syntax is a little weird, but the first line is about seeing
friends
disappear with college girls home for the summer, while 'Bennett' is left all alone. This song began to take shape as our former band the Barbaras was stranded at a testosterone fueled bro-fest in Alabama called Bamalama a few summers ago, and me and Bennett and Al hid from everyone else in the parking lot with acoustic guitars. Looking back, that scenario also seems to establish our feeling of "otherness" within the garage scene.. we were like the nerdy self imposed outcasts of basically a whole community of people who were probably nerdy outcasts in the real world (before they transcended it with beer, guitars and their own rules.) We're like post-post-nerdy.. or maybe that's just nerdy again. At any rate, I think that feeling of isolation is one of the best bittersweet parts of summertime and I think of it every time I listen to this song.
Hey Boy
This is probably the most overtly "Spectory"/"Wilsonesque" song in our repertoire, in terms of sound, but when Bennett had the idea for it and wrote most of the lyrics, he was in the middle of listening to 30's and 40's musicals constantly. The song plays out like a dramatic scene from a musical... The line "peak through her blinds" stands out, but don't overlook that it's preceded by the word "moon". Yes, it's "moon, peak through her blinds".. Bennett is
asking the moon to peak through her blinds
. How crazy/creepy/cool is that? We spent 7 months on the original single version, recorded mainly in my basement, bedroom, and staircase, and it made it to the album mostly intact, with a handful of instruments re-recorded, and some re-mixing and mastering.
Good to Be
This is the one song on the album that Al wrote the basis of, and sometimes I think it might be the best. Despite my arrangement contributions using more instruments than any of our other songs, it still comes off as simple to me, which I think is an asset, and a testament to how good it is. It sounds unassuming compared to some of our songs even while carrying the weight of everything piled on top of it, and has a lot of little moments that I love remembering again even after playing it every night. As an added bonus you can listen to it in a straightforward way but the chorus also lends itself perfectly to a cynical interpretation, a la Big Star's 'Thank You Friends.'
Skateland
On a local radio show the DJ asked Bennett what 'Skateland' is about and he said "class struggle". That might sound funny at first, listening to the lyrics about roller skating, but it's based on an idea of the song as sort of a "Romeo and Juliet" story, with two young lovers divided by circumstance, and 'Skateland' as the great equalizer. That might sound like a nostalgic or idealized archetype, but in Memphis at least, I know it's totally vital and real. You can go to any one of several skating rinks on a Friday night and it's totally packed, and completely the domain of kids, in the best possible way. It's hard to imagine parental pressure weighing too heavily on anyone there, because sometimes it's even hard to find an adult, with even the DJ booth and concession stands manned by people possibly not old enough to be in high school. The Skateland that the song is named for burned down a few years ago but there are lots of other great rinks in town, like East End, which is like a version of heaven with flashing lights, candy, and non stop 80s electro, early 90's dance pop and modern top 40 to skate to. I'd recommend a visit to anyone, and dread the day I feel old enough to contaminate it with my presence. As for the song itself, it's another one that was approached like a whole musical boiled down to one song.. The beginning and end remind me of Star Wars, which for me is the best I could hope for, and the rest draws on imaginary ideas of "roller skating music", with disco beats, guitars somewhere between Queen and Avril Lavigne, and there's even a Gwen Stefani sample in there a few times. Seriously!
Sailin'
What's a song about sailing doing on an album called Memphis? Unless we're sailing in the Mississippi, I don't think it's a very popular pastime where we're from. But then you have to consider that songs about sailing aren't really for people who live by the beach;
actual sailing
is. This is a Memphis song through and through, a daydream about about escaping and longing for new horizons, the kind you may have never seen before and may not even exist. It rhymes "we'll cruise around the Isle of Man" with "I could be working on my tan," which is pretty awesome, but with lyrics so lighthearted I wonder if it's indicative of the kind of ambition that leads to eventual real sailing, or just to bigger and better daydreams. I suspect we'd have more fun with the latter.
Little Red Radio
Bennett has a real little red battery powered radio/tape player, which I know has provided the soundtrack for many a trip to the park. This is like a love song to the actual little device, but also the radio in general and the personal relationship you can have with it. The lyrics sometimes personify the radio ("hold on little buddy"..) and I tried to do the same with the synth sounds. We also referred to the filter sweep parts that happen in each verse as "radio tricks", since they seem to be a standard tool of songs you hear on the radio but can't otherwise place. Bonus fact: Michael's aunt coincidentally has a radio station in West Virginia called "Little Buddy Radio"!
Cry With Me Baby
Originally conceived as a stylistic homage to Lou Christie, the production choices were mostly rooted in top 40 pop from the last 10 years. The percussion was meant to sound big enough that it could theoretically stand on its own without music, like 'Hollaback Girl'or Ying Yang Twins' Wait', except leans more towards our maximalist tendencies than the restrained minimalism of those two. There are 808's in the bridge so deep I haven't even heard them since the mixing room; there, they were mindblowing (if your mind was in your stomach.) For what could be the most "fun" song on the album, the lyrics are also the most apocalyptic(!), and by the time the bombs are falling, Ben is literally banging on trash (meant to sound like the wreckage of the city, in real life the wreckage of a totally shattered, draining recording marathon.)
21st October - Louisanna
, Bristol 22nd October - The Social, Nottingham 23rd October - Swn Festival, Cardiff 24th October - The Cluny
, Newcastle 25th October - Nation of Shopkeepers
, Leeds 26th October - Hare and Hounds, Birmingham 27th October – Upstairs at the Garage, London 28th October - The Lexington, London
You can visit the band by heading to http://www.myspace.com/themagickids Memphis is out now via True Panther Sounds