Brooklyn Band
MEN
have recieved much hype up to the release of their debut album
Talk About Body
, formed from Hirsute and fronted by JD Samson from Le Tigre. Defining themselves as a performance collective, MEN are known for their flamboyant, costumed live shows. I interviewed them in the maze like recesses of Heaven, before their NME awards show with Sleigh Bells.
Have you enjoyed your UK shows so far?
JD: Yeah, well we've only had one show in london. I mean, we're playing in Bristol, but just 3 shows in the UK, and we're on a European tour.
Did the other London show go well?
JD: Yeah, I mean it was sold out. We had a really good time.
You've got something of a hectic touring schedule, I mean you were in Amsterdam 2 days ago, is that tiring?
JD: We love it, travelling; this one has been pretty frantic because we keep on losing things.
What have you lost?
Micheal: We lost my pyjamas. My Pyjamas are in Germany. My costume is in Utrecht along with all the vinyl of our record.
So you're without a costume tonight?
Micheal: Ah No! We made a new one today. JD: Yeah… Micheal: Well…JD did, and she leant me her long underwear... to sleep in. We've got CDs instead of Vinyl so it's not a total loss. JD: Things are looking Up!
Is this your first time at Heaven?
JD: Yeah! I thought I had been here to see Hercules and the Love Affair but it didn't feel like the same place to me.
Are you looking forward to playing with Sleigh Bells?
JD: Yeah, we'd never met them until today, but they seemed really sweet. I mean, we aren't huge fans but we haven't really heard their record. But I haven't really listened to them.
The album comes out today right? Are you proud of it?
JD: Yeah, totally. I keep saying to people it's kinda like a tattoo. It's this record of this thing we made 3 years ago. And so I'm really proud of it as part of our band.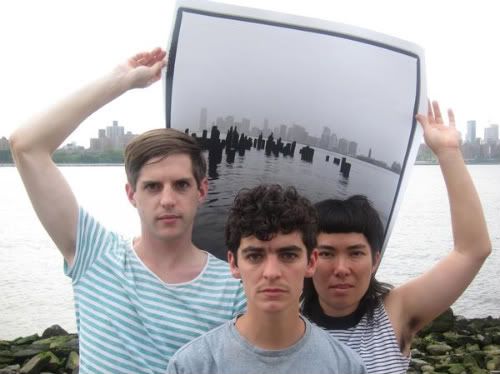 Do you feel there's a big shift in style in your work with previous bands, or is there a cumulative build in experience?
JD: I think that there's a cumulative experience I think that I've grown as a musician through all the projects and learned a lot about the music industry and stuff, and that this record was a realisation that this was my job, y'know?
It's certainly an album that's forthright and barefaced with its portrayal of sexuality. Is writing these sorts of songs inherent within your song writing or is there a definite attempt to bring such issues in?
JD: I think it's inherent, yeah. I think that we pretty much wake up in the morning and we're, like, gay and political. We live it bodies that don't live a day to day existence, so that we're always living differently. I think that we just think differently and end up writing differently. Sometimes there's something I want to write a song about, so we'll just think that we'll tackle this idea. But I think that in general it's pretty natural for us to write like this, there's none of us saying "let's be more political!"
What would you say are the major influences present on the album?
JD: We're really influenced by bands like The Talking Heads, Bush Tetras. We also really like Fish, which is a really weird jam band.
I can't say I've heard of them...
JD: Yeah people here don't even know who it is, but it's this hippy jam band and they play like arenas full of hippies.
It's certainly got an eye catching cover, any meaning behind it?
Yeah, the story behind it is that we had this other cover we were about to us, but decided it was wrong. So decided to keep on looking, and I remembered that I had seen this in an art magazine and really liked it, so I was like "we need to track this down!" We did and rang the guy, and he said we could, so yeah...
To me, the poppy nature of the music contrasts very highly your occasionally sleazy and punky lyrics, is this contrast intended?
JD: Um... I think that the juxtaposition of genre and lyrical content is really interesting, I think that it just so happens that I was in another project that had the same juxtaposition. So I think that some ways it's intended, but this intention has become my natural. Micheal: I think our writing styles are kinda like that. I tend to write more poppy, we used to call ourselves the right thing and the wrong thing, so I'll write some music and then JD will be like "let's fuck it up!" JD: [Laughs] Yeah...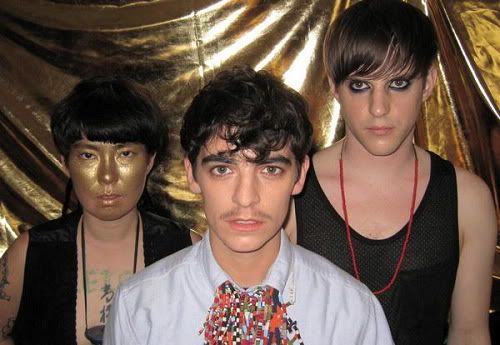 Is the live performance the most important part of your group?
JD: I don't think it's most important part, we certainly love writing. But I think it's the part of it that brings us closest to our fans and to our community. It's also how we make money. So we've found that we're a live band really, I mean people always come out to see us y'know?
You've got a few members who don't perform with you, what's the reason for this?
JD: Joanna had got pregnant and had a baby, so decided she can't do this. And Emily is an artist, and that's her priority so she can't just go to Barcelona at a drop of a hat. Ginger Brooks is more to do with Hirstute, and doesn't want to do other stuff. So we're kind of slaves to the project.
Do you guys write most of the stuff?
JD: Yeah...
As previously mentioned you've had quite a few remixes of your work done by other artists, any future plans to remix anything?
JD: Yeah, I just did this weird remix for French Horn Rebellion that was kinda minimal. Inspired by Jamie (XX). Micheal doing a remix for Book Fans, which is first ever remix.
How are you finding that?
Micheal: Really fun! And not as hard as I thought it would be! It's cool because their version of that song has orchestral strings and stuff, and I'm like adding bass... [laughs]
Any new artists that our readers might not have heard of, or forthcoming releases you're looking forward to?
We like Glider 7, they're really amazing. Our friend Will from Cable Power has a new project called Physic Friend.