When he's not designing priceless art work to be shredded to bits for skateboarding company
Roger Skateboards
or writing and illustrating articles of the cult skate mag
Thrasher
, you might be able to find 34 year old artists Mike Sieben working on various projects with the
Volcom Art Loft
, skateboarding the streets of Austin,Texas or as the man himself states - Smiling. Well,there's always room for smiling in my books! And that's exactly what you'll be doing when you set your eyes on Mike Sieben's weird and wonderful world of cuddly little critters and slumber dwelling creatures; from fuzzy trucker cap wearing monsters, a scarf wearing sloth, bird men and strange sleepy, bulb headed rag dolls with trees sprouting from their heads - Bizarre! We were lucky enough to have Mike take some time out to give an exclusive interview to us here at The405, Check it out!
When did you first realize that your creations could become a possible full time career for yourself?
I don't think there was a particular defining moment or anything like that. I just knew that there were people in the world that got paid to draw for a living and I've always wanted to be one of those dudes. There were definitely times along the way where I thought that might never happen. But hard work never hurt anybody. Except maybe coal miners.
Your creatures remind me a lot of cast from The Muppets, created by Jim Henson.Would you say that your drawing style is influenced a lot by Jim Hensons work?
Definitely. Jim Henson is one of my heroes and I'll always be inspired by the worlds that he created with his work.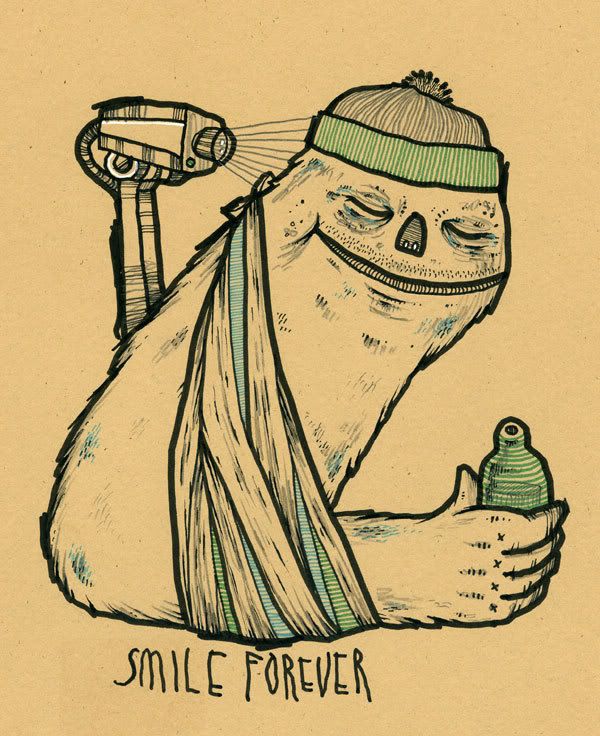 As a skateboarder yourself, I can imagine that having your designs printed on to skateboards was something of a dream come true. How did you art work end up on the decks of Roger Skateboards?
Stacy Lowery and I were working together for Bueno Skateboards but things didn't work out too well with that project. We decided to give it another shot and started Roger Skateboards with money out of our own pockets which feels really cool and also really scary. Like you said, seeing my work on the bottoms of skateboards is definitely a dream come true and I feel super lucky and thankful that I get to contribute to the culture of skateboarding.
I find most of your art work to be very up beat and docile, as apposed to dark or grim. Though those bird men scare the crap out of me. Is this a reflection on your own life?
Yeah, I think so. Like most people I've had tragedy in my life but I've also had really good times too. I think of my work as existing in a place between those two poles. The characters in my paintings definitely wear scars but they seem to be okay with that.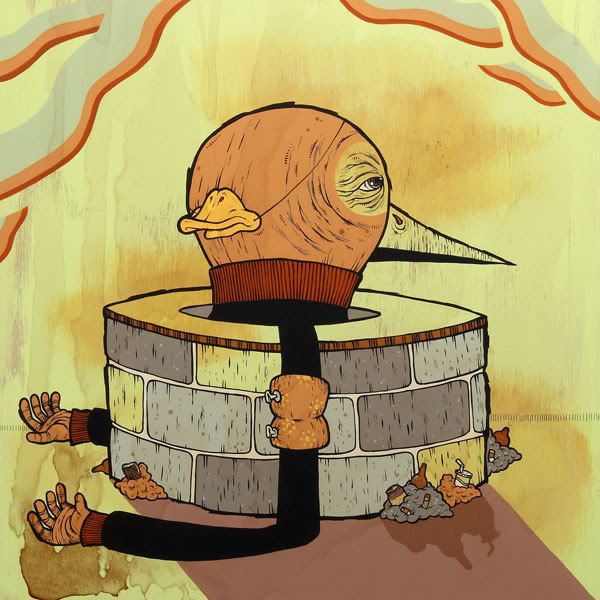 Have you ever considered doing your own comic book or working as a comic book illustrator?
Nope. (Thanks for clearing that up Mike!)
You've also written articles for the cult skate mag Thrasher. Was journalism something you'd always wanted to get into or was it a natural progression in terms of your interest in skateboarding? Do you find it a welcome break from illustrating?
It was something that just sort of happened. I was really into making skate zines when I was in my twenties and I needed words to fill in spaces around the pictures. So I started writing and found that I really enjoyed it. I was super into Big Brother magazine when I was younger so I think that had a lot to do with the way I write as well as how I choose subject matter. Sometimes it's a welcome break from drawing but sometimes it's a pain in the ass to try to think of new things to make fun of.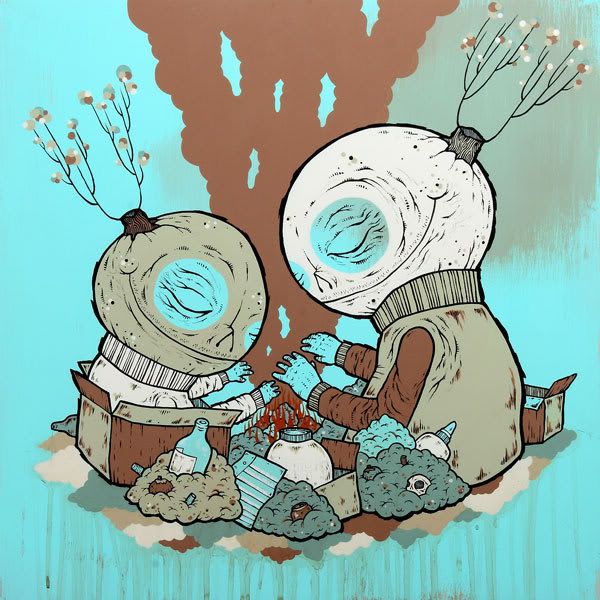 Who or What influences you into creating a new piece?
Art show deadlines. Truthfully I just get bored when I'm not working on stuff. I like to stay busy to keep my mind off of things like the economy or the upcoming election here in the States. It's scary over here right now.
What is your favorite medium to work with when creating a new piece, paint, pencil, mixed?
I like to mix it up. Paint, pencil, markers, ink, watercolor. Art supplies are neato.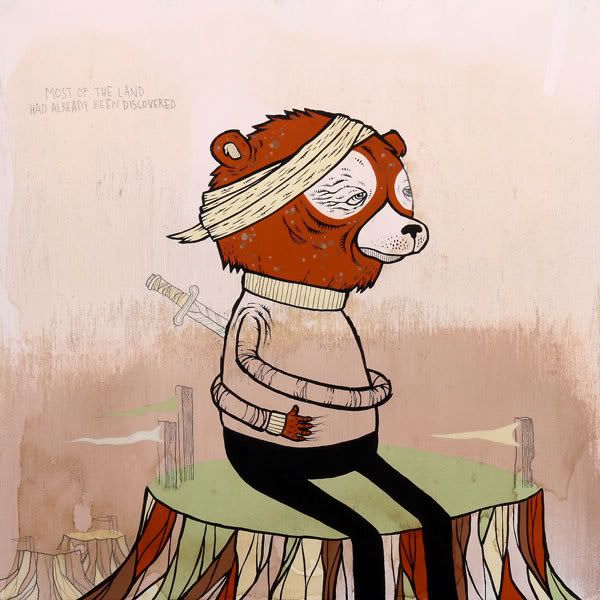 Are they any plans to exhibit your work in the UK sometime in the near future?
I don't have any upcoming shows in the UK but if you know anybody that owns a gallery try to slip my name in there.
Finally, where do you see yourself in 5 years time, in regards to you work, new projects and any other general aspirations that you have in life?
In five years I hope that I'm doing exactly what I'm doing right now except with grey ponytail. And a van. Be sure to check more of Mike Sieben's works by visiting his Official Website
here
and on MySpace
here