"Look" Jamie Lee sighs, "I don't think it was a conscious thing. We just did that because we didn't want to do the same things that other bands had." I've just asked Jamie, the complex frontman of MONEY, whether, much in the same vein as Wu Lyf, their sadly defunct Manchester counterparts, the band work hard to remain an enigma in an already oversaturated landscape. He has plenty to say on the matter: "Having photos of yourself everywhere, or putting yourself in music videos, we thought that was kind of ridiculous," he pauses, clearly choosing his words carefully: "So it wasn't necessarily a reaction to things that we disagree with, it's more about doing things on our own terms."
This has resulted in MONEY becoming one of the most fiercely scrutinised, intriguing bands of recent times. Background is scarce; Lee talks of mingling with like-minded souls against the backdrop of the vibrant Manchester scene, as well as crossing paths with fellow band members at university. They have been together for longer than you may think too, having recorded under a number of different guises. Why did they ultimately settle on MONEY? "I suppose what we're into is about how people's death values and we don't normally quantify or give credit to things that have material value."
Boasting a vivid range of conflicting influences MONEY is, as Jamie puts it rather beautifully, "a comfortable marriage."
"We'll probably only get it right two out of ten times," he freely admits, and debut 7" single 'Who's Going To Love You Now / Goodnight London' proved to be one of those moments, as the internet detonated in a heady mix of critical acclaim and mass approval upon hearing their first taster. "The photo on our first single was me naked on the cover," he recalls, before offering a rallying battle cry. "People think that that's a provocative thing to do, but it was literally meant to be me standing there in front of whoever gets to see that. Whether it's my ex-girlfriend's new boyfriend, he can see how big or small my dick is and it was supposed to be… I'm showing you everything and I'm not afraid."
Their initial live shows did little to dampen expectations. Often volatile and unpredictable, they opted to unleash newer tracks within a number of unique venues such as Salford's Sacred Trinity Church, and, most famously, taking up residency at 'the Bunker', an abandoned factory residing not far from Strangeways prison.
Anyone who has witnessed MONEY play in a live setting would surely argue that describing it as a 'performance' is selling the band short. There are installations, a baffling penchant for experimentation and, frequently, a healthy dose of nudity, often resulting in a truly immersive experience for onlookers. That's all very well, but won't it become trickier to transfer that to larger venues and festivals once the band, deservedly, develop a wider fan base? "Well, it will be slightly, but we're going to find ways to make sure that we keep it as if it was still, you know, in my house. You have to sacrifice certain things, but we're going to try our hardest to do that." Jamie is defiantly optimistic: "We feel like we can do anything, even in a venue that doesn't have any visuals or a lot of character or even any transvestites." That's reassuring.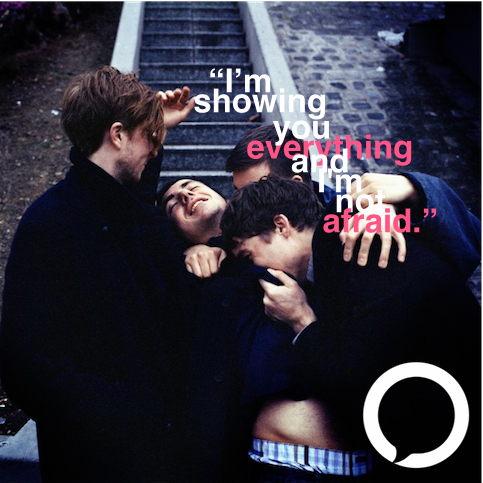 Finally, we have The Shadow Of Heaven, the debut album from MONEY, due for release later this month. It's a clutch of ten shimmering gems, ranging from the haunting sparseness of 'The Cruelty Of Godliness' to the expansive soundscapes of new single 'Bluebell Fields', and the equally impressive 'Hold Me Forever'. Lee is coy when discussing the album's melodic influences (mentioning only "emotive music" when prompted), yet appears keen to revel in some of the deeper themes that coarse through its veins:
"We've lost our spiritual interpretation of the natural world," he declares. "We live in this strange, half-baked void between being told we're mortal and, at the same time, being told we're not. We live in chemical immortality, if that makes sense."
Whether it makes sense to you or not, it's difficult to deny that with The Shadow Of Heaven, MONEY have crafted one of the finest albums of the year. "I think that we've always been very self-explanatory," Jamie Lee muses, seemingly dismissing my insistence that the band are shrouded in mystery. Maybe we're simply overanalysing them. Maybe we should just appreciate MONEY whilst they're still around because, hell, who knows what they'll do next. I'll certainly be waiting with bated breath.
MONEY's debut album, The Shadow Of Heaven, is out on August 26th via Bella Union.