Hello, my name is Sam and I'm here to talk about CD covers. Or 400px thumbnails. Or big ol' gatefold vinyl packages. Any which way, it's still an important aspect of the music world, and there's a lot to talk about.
To kick off, I'm going to try and work out Battles' new album La Di Da Di, and the breakfast buffet collage of joy and colour which adorns it.
Continuing the bold, photographic still-life style which they've employed for their previous albums Mirrored and Gloss Drop, bassist Dave Konopka has shot a nice series of delicately arranged meals to accompany the release. They don't look at odds with Battles' Music, and the consistent visuals they have been putting out over this release period are fun, nonsensical and a bit fine-arty. The harsh lighting makes the food look somewhat tasty, but mostly pretty gross, which maybe helps the photographs further correlate with the organic, yet processed sound which Battles have. It all adds up to be a pretty accurate visual interpretation of the album.
Warp described La Di Da Di as a 'monolith of repetition' which may explain the affiliation with the meal time theme. Food's something which is similarly repetitive yet differs every day. Yesterday I had fish and chips. Who knows what I'm going to have today? Probably fish and chips.
I've also been trying to work out the Tetris block titles at the bottom of the artworks - and remain clueless. They might be pixellated words, they might be colour break downs of the photos, or they might be coded messages á la Coldplay's X and Y cover. If anyone knows, please tell me.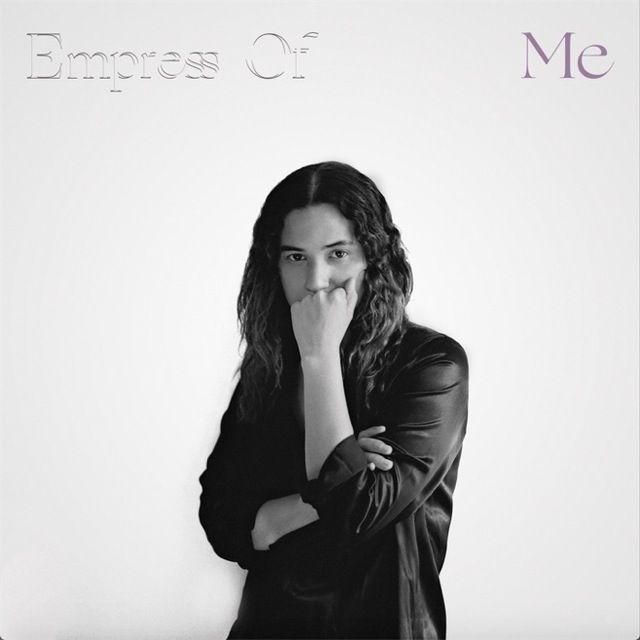 Some of my favourite recent releases have been from female solo electronic musicians - FKA Twigs, Empress Of, Georgia and Läpsley. I keep going back to them because of their incredibly innovative pop production, sultry voices and modern feminine perspectives - yet they are all pretty distinct in terms of personality and sound. However, one interesting thing is that the artwork for each of these is almost identical - simple, photographic head-shots.
They are beautiful photographs, well lit and composed; attempting to intimately reveal the person behind the music. Yet because of nondescript expressions, a lack of typography, colour, backgrounds and art direction, they don't really communicate anything other than an air of sombreness.
These artists are all pushing creative musical boundaries, yet their respective covers are a bit formulaic, which doesn't seem to fit. I guess that they are artists in the pop sphere, and so have an appearance to reinforce. Headline news last week was the release announcement of Adele's 25, which is inevitably going to be the biggest album of the year/decade/century/all time ever - and maybe she's the catalyst for this style, because image retention sells? Why fix something that is most definitely not broken?
The exception to the rule is FKA Twigs' artwork, which is played around with and distorted, blurring your perception and requiring closer inspection. It reinforces the approach to her music, and feels so much more considered and communicative than the new Adele cover, which essentially says 'This is what Adele looks like now' and nothing else.
This may be artwork designed for Spotify, where there's simply no need for detail, as no one can see it. Doing away with names and titles are a great thing for clarity but a real shame for design.
At least if anyone does buy 25 as a 12", they get a free Adele mask out of it...