Murder by Death
have always been outsiders in the vast sea of music, almost like pirates skirting the mainland. Dangerous, intense and unpredictability are the foundations of what make this band so good. Album after album MBD have been piecing together stories above love, drinking and anything else worth talking about, all with a solid degree of taking names. We caught up with Sarah Balliet to discuss this remarkable band.
How has the year been treating Murder By Death so far?
This year has been a blast. We started it off writing and recording our new record, which is something we really enjoy, and now we're on tour and things are going great!
All of your albums, except maybe the first one, have very strong concepts and themes running through them, what is the story behind Good Morning, Magpie?
Good Morning, Magpie
wasn't written with a story in mind. It's meant to be taken as a collection of short stories. Unintentional themes are present because of the writing methods Adam used. I think in the end, it's a record about loneliness and a sense of impending doom.
Is having a concept/theme/whatever something you always set out to do, or does it naturally come out from writing songs whilst at the same point in your lives?
In previous writing sessions we have begun with a theme or story outline, and have used that as a writing tool. Sometimes it's easier to begin a song if you already know what it's about. I can sit with my cello and ask myself 'what does this scene sound like? What is the soundtrack to this story?'
Am I right in thinking you, or at least Adam, did the classic retreat to a cabin in the woods to write the lyrics? What prompted that decision?
Adam took a two week camping trip to the Smoky Mountains in Tennessee. In our line of work, it's rare to get even a moment alone. When it comes to writing, it helps to have some isolation and the only way to get that is to force the issue. We missed him while he was gone, but the song ideas he came back with were well worth the trip.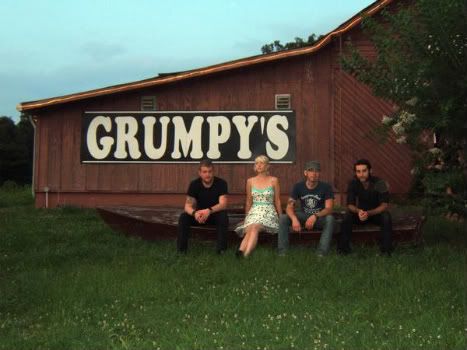 It seems like so many of your songs are about Whiskey! What's your favourite brand?
Any whiskey from Kentucky with a batch number on it is going to be pretty great. As far as big label brands we're enjoying Bulliet right now.
Because of the concepts and stories within your albums, I think they would lend themselves well to being played in their entirety live. Coheed and Cambria did it, but I think you guys could pull it off far less pretentiously! Have you ever considered doing this? Or is it just a bit self indulgent?
It may be self indulgent, but we've already done it! In Feb 2009, we set off for a tour of the US with our old keyboardist Vincent Edwards and played all of
Red of Tooth and Claw
straight into
Who Will Survive and What Will be Left of Them?
. The two albums follow the same character, and the story of ROTAC sets the stage for the saga that unfolds in
Who Will Survive…
.
Can we expect to see you back in the UK any time soon? And who do you think would be coming with you? You always seem to tour with amazing bands.
We're going to be there so soon! We're actually in Germany right now. For most of these dates we'll be with a band called The Scoundrels from London. Haven't heard much of them, but what I have heard is great. Jun 4 – Leicester, UK @ The Musician Jun 5 – Birmingham, UK @ O2 Academy 2 Jun 6 – Glasgow, UK @ King Tuts Jun 7 – Manchester, UK @ Deaf Institute Jun 8 – London, UK @ Luminaire Jun 9 – Oxford, UK @ O2 Academy 2 Jun 10 – Exeter, UK @ Cavern Jun 12 – Cardiff, UK @ Barfly Jun 14 – Cork, Ireland @ Crane Lane Theatre Jun 15 – Dublin, Ireland @ Academy 2
And, just out of personal interest, are we likely to hear much from Like The Exorcist in the setlist when you're next over? I'm one of those annoying people who like's the first album best, and I didn't hear anything from it the one time I've managed to see you live! Though I understand that you're a very different band now…
We pull out a few of those songs every once in a while, and we also try to take requests when we can still remember the song. I'll make sure you get one or two.
That said, do you actually feel like a different band? Has the dynamic or the goals of Murder By Death changed much over the years?
We are a completely different band than when we started. Apart from just getting older, we have made a conscious effort to hone and change our style with each new record. We don't ever want to make the same record twice, and I feel like we've succeeded thus far in keeping things interesting for ourselves and our fans. It's something very important to us.
Beyond, y'know, coming to the UK and playing 'Intergalactic Menopause' every night (sorry), what are the band's your plans for the future?
Tour. Tour.
'Good Morning, Magpie' is out now via Vagrant Records
Header Image by Greg Whitaker
You can visit the band by going to www.myspace.com/murderbydeath