Instead of asking My Tiger My Timing to write a fresh tour diary for us, we decided to delve into Anna Vincent's tour scrapbook like the nosey-parker's we are.
Below you'll find a selection of pages from the scrapbook which documents four years of shows, parties and fun. We also suggest you look out for their new single, 'Let Me Go', when it's released on November 5th.
MTMT Scrapbook Page 1
These are some photobooth pics we got when we first played in Hamburg at Astra Stube. We went back there again this year but we didn't have a chance to get to the photobooth again (which is at Kulturhaus 111&70). These pics were taken when I had red hair...I miss that! And we've also got my artist ticket and wristband from playing the John Peel Stage at Glastonbury last year which was really a dream come true. Also here's one of Jamie's mix-tapes (our in-van audio system is a portable cassette player on the dash) and a couple of set-lists from the last tour - Jamie writes them on postcards, this time they were superhero-themed.
MTMT Scrapbook Page 2
This page is mainly stuff from our recent European tour - we kicked things off with a show at the Barfly in London, that was a great night! Then we headed off for 2 weeks around Europe, so we've got 100 Czech crowns from Prague, a few Euros, badges from some of the bands we played with, a gig flyer from Darmstadt in Germany where we played in a castle, some liquorice which I wasn't allowed to eat in the van because people didn't like the smell and a pass from the German Sanifair service station toilets which are literally the cleanest and nicest places in the world. Whilst we were on tour it was Jamie's birthday so here are some candles I found to adorn his birthday strudel - we woke up in Austria and drove through the snowy Alps to Stuttgart, picking up a birthday wiener-schnitzel at the Austrian version of the Overlook Hotel on the way.
MTMT Scrapbook Page 3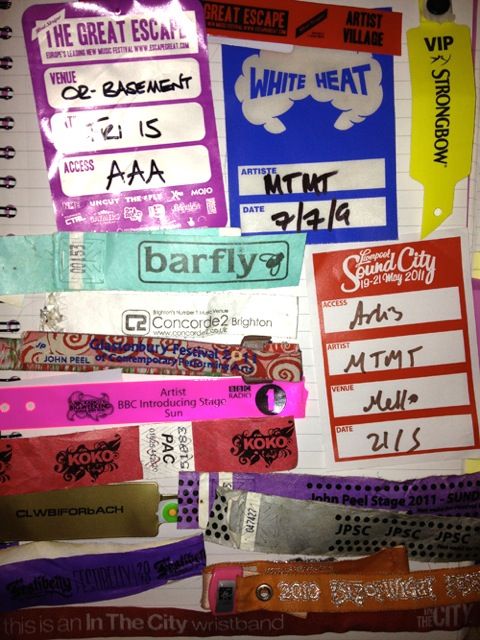 My scrapbook is filled with literally hundreds of these pretty colourful passes and wristbands - I try to save them all so I can remember what we've done and where we've been - so here's just a selected few, including Isle of Wight Festival which was huge fun, Glastonbury, Concorde 2 in Brighton, Koko, The Great Escape, Clwb Ifor Bach, Radio 1 Big Weekend - some of our favourite shows of the many we've clocked up.
MTMT Scrapbook Page 4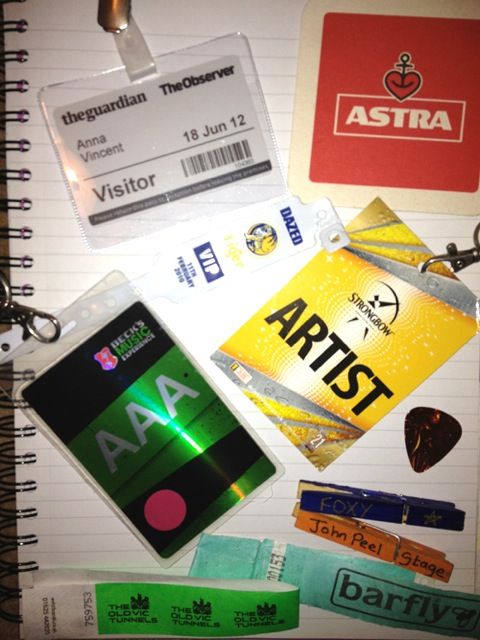 So many fun times on this page - here's an Astra beermat, another souvenir from Hamburg, one of our favourite places to play, a night we played for Chinese New Year at a Chinese restaurant, V Festival, Barfly again, and we also supported Phoenix in Berlin as part of a big Beck's event and we got these super-swish passes...and endless free beer. Which was nice. These are some clothespegs from the artist bar at the John Peel Stage at Glasto - they each have an attribute, these ones say Foxy and Tidy, which I think maybe covers the whole gamut of my personality. We also visited The Guardian offices earlier this summer to do an interview and photoshoot and I nabbed this pass - it was quite surreal, we got to walk through the newsroom, it was like something out of a film. And recently we just finished shooting the video for our next single Let Me Go at the Old Vic Tunnels which is an amazing space - the video has a bit of a hammer horror vibe and involved three punishing days of me being carried and dragged through a range of creepy locations. It's going to look great!