Welcome to the thirteenth edition of New Music by Region. Every fortnight we aim to present the best new music in 7 major cities and regions from across the UK. With the help of regional correspondents, we plan to present our shortlist of new music in Birmingham, Brighton, Cardiff, Dublin, Norwich, London and Oxford.
New Music by Region #12 can be found here!
The six-piece neatly wrapped up grand sweeping string arrangements, tight harmonious vocals and indie-rock sensibilities for their recent EP 'There Is A World Outside' on Commercially Inviable Records, mastered by Alan Douches (Beirut, Sufjan Stevens, My Morning Jacket), and the band bagged one of the last of Janice Long's near-legendary live sessions for BBC Radio 2 earlier this year. Reasons to get Closer? The Guillemots and Fleetwood Mac being channelled through a young Morrissey...

OK, first off: this is GREAT. Few times this year have I instantly been grabbed by 5 minutes of brilliance... And it's only a demo! Somehow it manages to sound refreshingly new whilst a genuine amalgam of the sounds of elsewhere – gorgeous dual-vocals are joined by a whole lot of Screamadelica in the exaggerated, repeated drumbeat, a guitar wigout at the end channelling the somehow-never-dull jams of Ira Kaplan. That hypnotic distortion riff throughout reminds me of something too but I can't remember. Go! Listen! Thanks.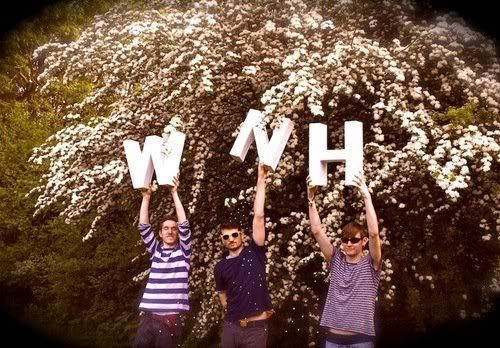 We're no heroes have quietly taken over Cardiff with their mix of indie and math rock have built up a steady fanbase. The three piece are made up of Tom Collins, Michael 'Dewey' Owen, and Luke Llewellyn who first formed the band in Chicago, USA. Their fast paced guitar rifts are one of the reasons they're standing out from the folksy trend Cardiff is stuck in. Their first EP Crossing Over is available for free on their website & is more than worth a listen of this brilliant band.

John Cowhie's been playing music around Dublin for a while now. Quickly gaining a reputation as a fine songwriter, he's attracted the ear and won the support of big hitters such as Bill Callaghan and Chris Brokaw. New project, goodtime, has all the subtlety and charm of his previous work but with a new found groove and swagger. Goodtime's fine new album, the colours of darkness, will be launched with a gig at Dublin's Grand Social on December 2nd.

Yes, they're riding the afro-beat wave. Yes, so is everyone else. But I don't care, especially when Loose Talk Costs Lives is doing it far better than most. The young London four piece met at university in Leeds, but has since wholeheartedly adopted an island aesthetic. The band's video for "Seraphim" is a montage of 80s surf scenes, beach runs, pool parties, and cliff dives - which is a welcome distraction as a chilly November nears an even colder December. This week's pick features my favorite track from the new Wax and Gold EP.
Mixing dark electronica with guitars is hardly new for a band from Manchester, though as soon as most people hear "manchester", "rock" and "synths" in the same sentence they rush to Joy Division/New Order comparisons a bit too quickly. Fortunately Narrows put a certain groove into the darkness that takes them out of the city's musical shadow. A little evil sounding but very fun.

Milly Hirst is one of Norwich's staple singer/songwriters and is established as one of the finest set of lungs the fine city has seen. An impressive feat seeing as she has yet to release any recordings in a physical format to date. However, that is all set to change in the not so distant future as she enters the studio to begin work on her debut EP set to be released early 2012.

Robots With Souls is the solo project of Oxford music hero Steve Wilson. Coming on like a one man Death From Above RWS is a fearsome juggernaut of lo fi loop pedal drone rock. My personal favourite track 'Watch Out!' is a like a raw nerve of clattering drum explosions and fuzzed up bass brutality. Vocals are distorted to a pulp and the overall effect is exhilarating to say the least.