Welcome to the sixteenth edition of New Music by Region. Every fortnight we aim to present the best new music in 6 major cities and regions from across the UK (and Ireland). With the help of regional correspondents, we plan to present our shortlist of new music in Birmingham, Brighton, Dublin, London, Norwich and Oxford.
New Music by Region #15 can be found here!
Taken from The Unnamed, recorded with Midlands production maestro Gavin Monaghan (Scott Matthews, The Destroyers, Editors, Carina Round), 'Testarossa' was released in late 2011. Thom Yorke vocal doppelgänger Dominic Fletcher lends a neat, clean feel to the sleek atmospheric, dreamy and layered art-rock that the five-piece have been making since 2008. More of a Maranello if anything: beautiful lines and built for touring. Cheesy motoring comparisons aside, Is I Cinema are a top Birmingham export...well worth a click.

The Bridges of Madison County make music that is dense, intense, discordant and claustrophobic: a sound so thick it's almost tangible. Blasting trumpets, wild drums, and frenzied guitars compete for limited sonic space. However, through this noise floats beautiful, delicate melodies and poignant, political lyrics. Oh yeah, and they have a sense of humour. Absolute art.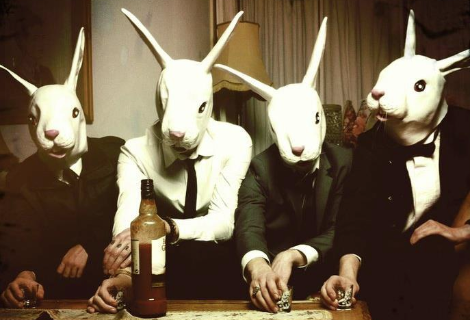 The Mirror Trap are four Dundonians who claim that they 'genuinely don't think there is a harder working band unknown in the country'. Having achieved a support slot with Chapel Club and airtime on Ally McRae's BBC Introducing on Radio 1 Scotland, perhaps the efforts of the indie four-piece are beginning to pay off.

Although they have already been picked here on New Music by Region, there is no reason that London three piece Quadrilles can't be featured again - especially when they keep throwing riffs as good as these. It's festive, anyway, and has arrived just in time for Chinese New Year. "Gong Hey Fat Choi" has been released by the band as a free download, and hopefully heralds something greater yet to come..
Vei has been making fascinating noises within the Manchester electronic scene for a few years now, and gaining a reputation for impressive live sets that almost entirely improvised. Though with a new EP available soon, Veí has put improvisation to one side in favour of more song based compositions. With piano and plucked guitars being propelled by glitchy drum beats, his style is reminiscent of Bonobo's working method, albeit more atmospheric and, at times, sinister.

4 Piece Port Isla are currently studying at Norwich's university - the UEA, and have only played a handful of shows around the fine city of Norwich, but have still managed to impress with a host of well-rounded demos featured on their Soundcloud. They are soon to play staple Norwich night Wombat Wombat at the Arts Centre (13th April) and at The Birdcage as part of a Bare Feet Records promotion on the 10th of February.

There has for a long time now been a very strong acoustica/americana scene in Oxford. Bands such as Ute (rip), The Epstein, Stornoway and We Aeronauts have paved the way for a new crop of great acoustic pop bands, personal favourites that I've covered in this column include The Yarns and ToLiesel. Jack Olchawski of ToLiesel has just launched his new solo project My Crooked Teeth, and soundcloud hit 'A Guy That Loves You' is a straight up heartbreaker. I'm looking forward to hearing more soon.