Another day and another news round-up. If it stays like this we might have to extend the news area!
Green Man - Bird On A Wire

If an amazing line-up of bands isn't enough for you, Green Man will be presenting the UK première of a film with quite the story. Almost four decades after it was first made,
Bird On A Wire
- is a documentary captured across all 20 concerts of Leonard Cohen's 1972 European Tour. The Far Out Tent will be transformed into a 2000 capacity cinema on Thursday night. Woah!
www.greenman.net
Procedure Club
Procedure Club have offered up another taster from their debut album,
Doomed Forever
. Check it out below!
MP3:
Procedure Club - Vermont
http://www.myspace.com/procedureclub
These New Puritans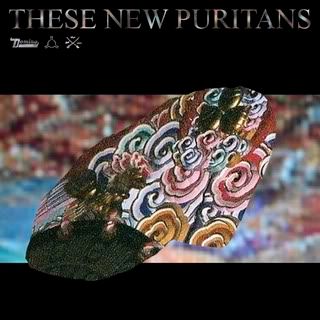 These New Puritans are giving away a remix of 'Hologram' by SALEM. You can download it by heading to
www.thesenewpuritans.com
. Following on from the release of 'Hologram', These New Puritans are set to present a full live performance of
Hidden
, featuring a 15-piece ensemble of brass, woodwind, percussion and live Foley artistry. At a series of exclusive dates through October to November, These New Puritans present Hidden Live, the only chance to hear this music as it was originally recorded. The performances will be conducted by Andre De Ridder in London, Antwerp and Paris. October 23 – Barbican, London November 20 – Crossing Border Festival, Antwerp December 19 - Grande salle de concert / Centre Pompidou, Paris In the meantime, you can still catch the band at the following festivals throughout summer: July 24 1234 Festival London July 31 Field Day London Aug 1 Kendal Calling Festival Lake District Aug 7 Standon Calling - Twisted Licks London Aug 21 Greenman Festival Brecon Beacons Sep 5 Offset Festival Hainult Sep 25 Southend-On-Sea Festival Southend-On-Sea
Yacht
Before heading back into the studio, Yacht have offered up a cover of 'Nausea' by X that they did for the BBC!
MP3:
Yacht - Nausea (X Cover)
www.teamyacht.com
!!!
In September, !!! will embark on a worldwide tour – including 6 UK dates - in support of
Strange Weather, Isn't It?
due August 23rd on Warp. UK tourdates go on sale this Friday (23rd).
July
24 - Seattle, WA @ Capitol Hill Block Party 30 - Japan, Fuji Rock Festival, White Stage - http://www.fujirockfestival.com/
Aug
15 - Brooklyn, NY @ Williamsburg Waterfront
Sept
04 - Los Angeles, CA @ FYF Festival 05 - Tempe, AZ @ The Clubhouse 06 - Tucson, AZ @ Club Congress 07 - Santa Fe, NM @ Corazon 09 - Denver, CO @ The Blue Bird Theater 10 - Boulder, CO @ Fox Theater 11 - Salt Lake City, UT @ Club Sound 13 - Sacramento, CA @ Harlow's 22 - Washington, DC @ Black Cat 23 - Boston, MA @ Royale Boston 24 - Northampton, MA @ Pearl Street 25 - Lincoln, NH @ The Nor'easter 26 - Toronto, ON @ Lee's Palace 28 - Ann Arbor, MI @ the Blind Pig 29 - Chicago, IL @ The Bottom Lounge
Oct
01 - Cleveland, OH @ Beachland Ballroom 09 - Paris, France, Factory © Festival d'Ile de France, La Cigale - http://www.festival-idf.fr/2010/fiche-concert-factory.php?concert=29 16 - San Francisco, CA @ Treasure Island Music Festival 29 - Manchester, UK @ Manchester Academy II - www.gigsandtours.com / 0844 811 0051 30 - Glasgow, UK @ Classic Grand - pclpresents.com / 0844 847 2487
Nov
01- Leeds, UK @ The Cockpit - www.lunatickets.co.uk 02 - Bristol, UK @ Anson Rooms - www.kililive.com / 0844 871 8803 03 - Brighton. UK @ Concorde II - www.kililive.com 0844 871 8803 04 - London, UK @ Koko - www.gigsandtours.com / 0844 811 0051 05 - Orleans, France @ Astrolabe - www.fnacspectacles.com / www.avosbillets.com 06 - Bordeaux, France @ Le Rocher de Palmer - www.fnacspectacles.com / www.avosbillets.com 08 - Madrid, Spain @ Riviera - www.ticketmaster.es 09 - Lisbon, Portugal @ Lux Club - www.ticketline.pt 10 - Oporto, Portugal @ Sa Da Bandeira - www.ticketline.pt 12 - Barcelona, Spain @ San Jordi 13 - Marseille, France @ Cabaret Aleatoire - www.fnacspectacles.com / www.avosbillets.com 15 - Milan, Italy @ Magazzini Generali - www.ticketone.it 16 - Florence, Italy @ Auditorium Flog - www.ticketone.it 17 - Lausanne, Swtizlerand @ Les Docks - https://www.petzitickets.ch/index.php?club=107 18 - Munich, Germany @ Muffathalle - www.muenchenticket.de / ++49 89 5481 8181 19 - Berlin, Germany @ Festal - www.koka36.de / ++49 30 6110 1313 23 - Malmo, Sweden @ KB - www.eventim.se 24 - Stockholm, Sweden @ Strand - www.luger.se 26 - Cologne, Germany @ Gebaude 9 - www.koelnticket.de / ++49 221 2801 27 - Hamburg, Germany @ U&G - www.karsten-jahnke.de / ++49 1805 626280 (0,14€/min) 28 - Amsterdam, Holland @ Trouw - www.trouwamsterdam.nl 29 - Brussels, Belgium @ Botanique Orangerie - www.botanique.be 30 - Rockhal, Luxembourg @ Box - http://www.rockhal.lu/en/agenda/rock-pop/show/detail/-71afaf65fb/
Soft Metals
Soft Metals from Portland, Oregon are releasing their debut record,
The Cold World Melts
, a 12" vinyl EP on Brooklyn, through NY label Captured Tracks on August 10th. MySpace -
MP3:
Soft Metals - Love Or Music
http://www.myspace.com/softmetals