Today's roundup includes John Vanderslice, Vessels and Marginalised @ Union Chapel. *Remember! The news roundup gets updated throughout the day, so make sure you come back later for more news!
John Vanderslice
John Vanderslice (pictured above) will play the following UK and Irish shows in support of his latest album
Romanian Names
, released earlier this year. November 2 London, Upstairs At The Garage 7pm, £7.50 adv November 3 London, Pure Groove instore 1pm, free November 3 London, Borderline w/Damien Jurado 7pm, £12 adv November 4 Leeds, Brudenell Social Club w/Damien Jurado 8pm, £tba November 5 Edinburgh, Sneaky Pete's 7pm, £7 adv November 6 Dublin, Whelans 8pm, €15.45 adv November 7 Manchester, Night & Day Café 8pm, £7 adv November 8 Bristol, Twee In The Park @ Start The Bus
http://www.myspace.com/johnvanderslice
Vessels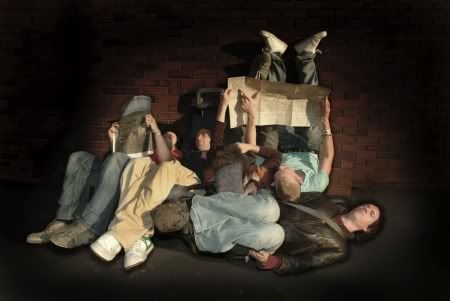 Vessels have been announced as tour support for Oceansize this November/December. Also playing on this tour are Brontide and And So I Watch You From Afar.
The dates in full:
Thursday 1 October - The Harley, SHEFFIELD (with Esben and The Witch, Ox Scapula and Ithica Trio) Friday 2 October - Brudenell Social Club, LEEDS (with Bellini, Kill Yourself, Humanfly & Cissy) Saturday 3 October - Dog & Patridge, BOLTON (with One Trick Phoney and Apes Fight Back) Wednesday 7 October - City Screen Basement Bar, YORK (with Acres of Ocean) Friday 9 October - The Freebutt, BRIGHTON Friday 16 October - Captain's Rest, GLASGOW (with Loss Leader and What the Blood Revealed) Saturday 17 October - Sneaky Pete's, EDINBURGH (with The Kays Lavelle and Lady North) Tuesday 20 October - Bardens Bourdoir, LONDON (with Dorena and St, Francis) Sunday 1 November - Brainwash Festival, LEEDS (with Efterklang, Oceansize & Jaga Jazzist) Wednesday 25 November - Barfly, CARDIFF (with Oceansize & Brontide) Thursday 26 November - Academy 3, MANCHESTER (with Oceansize & Brontide) Friday 27 November - Seven, NOTTINGHAM (with Oceansize & Brontide) Sunday 29 November - Fat Sams, DUNDEE (with Oceansize and And So I Watch You From Afar) Monday 30 November - The Tunnels, ABERDEEN (with Oceansize and And So I Watch You From Afar) Tuesday 1 December - King Tut's Wah Wah Hut, GLASGOW (with Oceansize and And So I Watch You From Afar) Wednesday 2 December - Masque, LIVERPOOL (with Oceansize and And So I Watch You From Afar) Thursday 3 December - Heaven. LONDON (with Oceansize and And So I Watch You From Afar)
http://www.myspace.com/vesselsband
Marginalised
Four very special performances take place in the Union Chapel this month in support of the Margins Project, a charity for people who are homeless or in crisis in London. Mon 19 Oct: Gavin Bryars Ensemble Thurs 22 Oct: The music of Vernon Elliot (a tribute to the world of Oliver Postgate) performed by North Sea Radio Orchestra Fri 23 Oct: Max Richter performing from From The Art of Mirrors (London premiere) Sat 24 Oct: The Michael Nyman Band feat. David McAlmont (world premiere / CD launch)
8pm (doors 7pm), (Max Richter 7.30pm (7pm doors)), Union Chapel, Compton Terrace, Islington, N1 2UN. Tickets: £20 (£25 Michael Nyman + VIP tickets available incl. champagne reception).
http://www.unionchapel.org.uk

Remember to check out the following 405 Playlists:
The 405 Radar
The 405 Staff Picks
The 405 Ultimate Mixtape (Add songs to it!)