Today's roundup includes Ash, First Aid Kit, Green Man 2010 and Mum *Remember! The news roundup gets updated throughout the day, so make sure you come back later for more news!
Ash
Check out the new video for the new Ash single, Joy Kicks Darkness, the second in their A-Z series.
www.ashofficial.com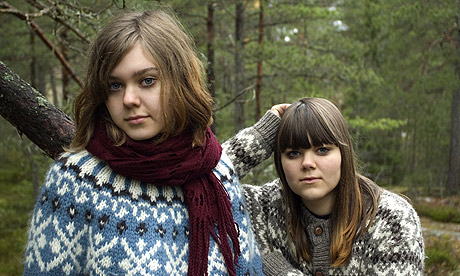 First Aid Kit
Prodigious Swedish teenagers Klara (16) and Johanna Söderberg (19), AKA First Aid Kit, have been gathering fans apace throughout 2009 since the release of their 'Drunken Trees' EP in February. Originally released on The Knife's Rabid label, the duo was swiftly picked up in the UK by Wichita Recordings, who are proud to now unveil the glorious debut full length, 'The Big Black and The Blue'. There will be tour dates surrounding the album to be announced soon.
www.myspace.com/thisisfirstaidkit
Green Man 2010
Green Man has risen heroically from the ashes and is absolutely chuffed to announce that Earlybird tickets for next summer's extravaganza go on sale next Tuesday, November 10, at the special reduced price of just £100! As winter creeps in, all other Green Man 2010 tickets will be available during the Early Bird sale at this year's credit crunch busting prices – so that's just £99 for students, £50 for teenagers, £45 for live-in vehicles, £30 for holiday tickets and £5 for car parking.
www.greenman.net
Mum
Mum are playing a new date. Brilliant! Date: 8th December 2009 Venue Name: The Tabernacle, Notting Hill Venue Address (with postcode): The Tabernacle, Powis Square, London, W11 2AY Venue Telephone: 02072219700 Entry Price: £16.50 Door Time: 7.30pm
www.myspace.com/mumtheband

Remember to check out the following 405 Playlists:
The 405 Radar
The 405 Staff Picks
The 405 Ultimate Mixtape (Add songs to it!)