Today's roundup includes Field Day, 1234 Festival, The Field, Radiohead, Muse and Los Campesinos!
Muse
Muse (pictured above) have announced the tracklisting for their upcoming (September 14th) album,
Exogenesis
. 1. 'Uprising' 2. 'Resistance' 3. 'Undisclosed Desires' 4. 'United States Of Eurasia (+Collateral Damage)' 5. 'Guiding Light' 6. 'Unnatural Selection' 7. 'MK Ultra' 8. 'I Belong To You (+Mon Coeur S'Ouvre A Ta Voix)' 9. 'Exogenesis: Symphony Part I (Overture)' 10. 'Exogenesis: Symphony Part II (Cross Pollination)' 11. 'Exogenesis Part III (Redemption)'
http://www.muse.mu/
1234 Festival
The1234 Shoreditch Festival returns for its second outing on Sunday 26th July for 6,000 people. You can find out more by going to the official site (linked below) but our personal picks for the event would have to be Patrick Wolf and Polly Scattergood.
http://the1234shoreditch.com
The Field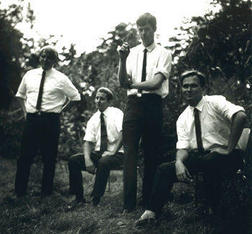 The Field (Axel Wilner) are set to play this Sunday at The Queen of Hoxton. Get your asses down there!
http://www.myspace.com/thefieldsthlm
Radiohead's Manager
Radiohead's manager, Brian Message, has started his own record label up called Polyphonic, which will allow artists to keep their copyright. Good news I reckon
Field Day
Field Day have announced announced that Wild Beasts, Fanfarlo, King Charles, Jon Hopkins, The Invisible and Devil Made Me Do It are set to play this years festival which is held on the 1st of August at Victoria Park.
http://www.fielddayfestivals.com/
Los Campesinos!
Los Campesinos! have announced they'll be touring in October! Los Campesinos! will play: Coventry Kasbah (October 21) Southampton Joiners (22) Exeter Phoenix (23) Cardiff The Gate (24) Manchester Deaf Institute (26) Newcastle University (27) London Garage (28) Oxford Zodiac (29) Leeds Cockpit (30) Glasgow King Tut's Wah Wah Hut (31)
http://www.myspace.com/loscampesinos
Spotify Baby!
Remember to check out the following 405 Playlists:
The 405 Radar
The 405 Staff Picks
The 405 Ultimate Mixtape (Add songs to it!)