Today's roundup includes Dad Man's Bones, Johnny Foreigner, Nephu Huzzband, Jamie T, Derek Jacobi, Nine Black Alps, Simian Mobile Disco & Brainlove Records. *Remember! The news roundup gets updated throughout the day, so make sure you come back later for more news!
Dad Man's Bones
Dad Man's Bones (pictured above) have announced that their debut album will come out on the 6th of October. 1. Intro 2. Dead Hearts 3. In the Room Where You Sleep 4. Buried in Water 5. My Body's a Zombie for You 6. Pa Pa Power 7. Young & Tragic 8. Paper Ships 9. Lose Your Soul 10. Werewolf Heart 11. Dead Man's Bones 12. Flowers Grow Out of My Grave
http://www.myspace.com/deadmansbones
Johnny Foreigner
Johnny Foreigner are super busy! Here's what's happening in the JoFo camp! 1. New album: It's called
Grace And The Bigger Picture
and is out on the 26th of October. 2. New single: It's called 'Criminals' and is out on October 12th. 3. Tour!!! UK October Tour with support from Tellison and Japanese Voyeurs 05 - Bodega, Nottingham 06 - Jericho Tavern, Oxford 07 - The Flapper, Birmingham 08 - The Caver, Exeter 09 - Audio, Brighton 10 - The Garage, London 12 - The Harley, Sheffield 13 - Deaf Institute, Manchester 14 - Brudenell Social Club, Leeds 15 - King Tuts, Glasgow 16 - Korova, Liverpool 17 - Soul Tree, Cambridge
http://www.myspace.com/johnnyforeigner
Nephu Huzzband
Nephu Huzzband release their debut studio album on October 5th.
http://www.myspace.com/nephuhuzzband
Jamie T
In keeping with his intention to release a series of EPs, August 31st sees Jamie T release his 'Chaka Demus EP' on Virgin Records. It features four new tracks: 1. Chaka Demus' 2. 'Forget Me Not (The Love I Knew Before I Grew)' 3. 'Planning Spontaneity' 4. 'When They Are Gone (For Tim)'.
http://www.myspace.com/jamietwimbledon
Derek Jacobi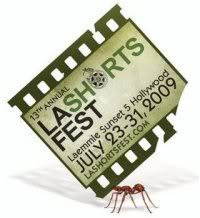 UK film
Sidney Turtlebaum
has won best foreign film at the 13th Annual LA Shorts Fest which ran from July 23-31 in West Hollywood. As an Oscar-qualifying festival, award winners are automatically eligible for Academy Award consideration. The film also recently won best short film at the Method Film Festival in LA and is the BFI London Lesbian and Gay Film Festival's official entry to the prestigious IRIS PRIZE 2009.
http://lashortsfest.com
Nine Black Alps
Nine Black Alps are set to release third studio album 'Locked Out From The Inside' on October 5th. The Manchester-based four-piece are also pleased to announce that anyone buying a ticket for their upcoming UK tour will also receive a special bonus - a free copy of the digital album.
October
Thu 15 Stockton, Kubar Fri 16 Carlisle, Brickyard Sat 17 Wakefield, Escobar Mon 19 Birmingham, Hare & Hounds Tue 20 London, Dingwalls Wed 21 Cardiff, Barfly Thu 22 Manchester, Academy3 Fri 23 Derby, Rockhouse Sat 24 Bristol, Cooler Mon 26 York, Duchess Tue 27 Sheffield, Leadmill Wed 28 Edinburgh, Electric Circus Thu 29 Glasgow, ABC 2 Fri 30 Newcastle, Cluny
November
Mon 2 Brighton, Freebut Tue 3 Portsmouth, Wedgewood Rooms Wed 4 Oxford, Academy2
http://www.myspace.com/nineblackalps
Simian Mobile Disco
Simian Mobile Disco celebrate the release of their brand-new album 'Temporary Pleasure' by creating the first ever-human augmented reality music and visuals mixer. The piece will be installed at the 'Temporary Pleasure' shop on Carnaby Street, for a whole week. The pop up shop will be open to the public from the 17 August to the 21 August from 12 till 6pm. A special launch event will take on place on the 14 August 2009, which is invite only.
http://www.myspace.com/simianmobiledisco
Brainlove Records
Brainlove Records have signed Icelandic artist Kippi Kaninus. He creates multi-layered electronica and has toured with the likes of Múm.
Happens Secretly
is Kippi's first release with Brainlove, and is released this October 8th as a ltd edition CD digipack (distributed by Cargo) and at all good MP3 stores (distributed digitally by State 51).
http://www.brainloverecords.com/
Spotify Baby!
Remember to check out the following 405 Playlists:
The 405 Radar
The 405 Staff Picks
The 405 Ultimate Mixtape (Add songs to it!)
Current Sessions