Today's roundup includes ATP New York, Melvins, September and Boredoms. *Updated with news about Blakfish, Bloc Party, Emmy The Great & The Macmillan's Brick Lane Takeover. **Remember! The news roundup gets updated throughout the day, so make sure you come back later for more news!
ATP New York
ATP New York (pictured above) has announced the final acts for the Flaming Lips curated festival, which takes place this September (11-13th). The band's are: Menomena, Black Moth Super Rainbow, Hopewell, Birds Of Avalon and No Age. Anyone want to take a trip with me to the states?
http://www.atpfestival.com/
Melvins
This October the Melvins will release a new album, called
Chicken Switch
. This record is a 15-song remix CD with a twist because unlike usual remix CDs where the re-mixer is given a single track to work with, for
Chicken Switch
each re-mixer was given a full album to work with and pull from to create their track (and in some cases, more than one full album was used as source material). The song names were also newly selected by their re-mixer and here they are:
Track Listing
1.Washmachine Sk8tronics - Eye Yamatsuka 2.Emperor Twaddle Remix - Christoph Heemann 3.She Chokes Her Dying Breath and Does It In My Face - V/VM 4.AAHHH... - John Duncan 5.Linkshänder - Matmos 6.EggNog Trilogy" i)She's Ivanhoe ii)Cancer iii)Inebriated - Lee Ranaldo 7.SNOW REM REM IBVZ - Merzbow 8.Prick Concrete / Revolution M - David Scott Stone 9.Queen (Electroclash Remix) - Panacea 10.The Silky Apple Butter of Youth - Sunroof! 11.4th Floor Hellcopter - Kawabata Makoto 12.disp_tx_skel_mach_murx - Farmersmanual 13.Overgoat - Void Manes 14.Over from Under the Dog, Girl & Boy Treatment - RLW 15.Hard Revenge Milly Bloody Battle VS. The Melvins Ozmatized Gore Police (Feat: Cardopusher of the Five Deadly Venoms) - Speedranch Now that's what I call ambitious!
http://www.myspace.com/themelvins
September
This September (2009) Invada release a very special edition of the much lauded, BAFTA winning film entitled 'September', beautifully packaged with the celebrated soundtrack as well as a gift of new tracks that never made it into the film, but inspired its magnificent aesthetic, plus a book of recipes made up of roadside, September foraged foods. September is a long short, mashing HD and super 16mm, with music from Kaada, Crescent, Bass Clef and orgianal music by Tom Bugs and edited by 'Portishead' visual collaborator John Minton. Heading into West country fields, waiting for sun sets, the film was shot by a cast and crew of dedicated professionals, circus performers, climbers, enthusiasts, outsiders with lots of contributors getting recruited from the legendary arts cinema and music venue The Cube Cinema. This looks great to me. For more information follow the link below.
http://www.esthermaycampbell.com
Boredoms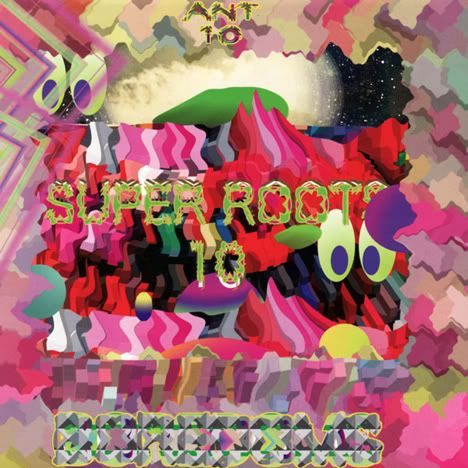 Boredoms, are to release
Super Roots 10
in the UK on double 12" vinyl on the 28th September.
Tracklisting
Side 1 : ANT 10 Original Side 2 : Altz Remix (estereo 10) Side 3 : Lindstrøm Remix Side 4 : Altz Mineral Dub Break Remix
http://www.myspace.com/boredoms
Bloc Party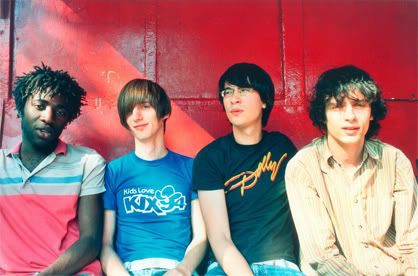 Bloc Party's brand new single 'One More Chance' is out this week through Wichita Recordings. The previously unreleased track was recorded in April with Jacknife Lee (REM) and mixed in Paris with Phillipe Zdar (Phoenix,Cassius).
http://www.myspace.com/blocparty
Blakfish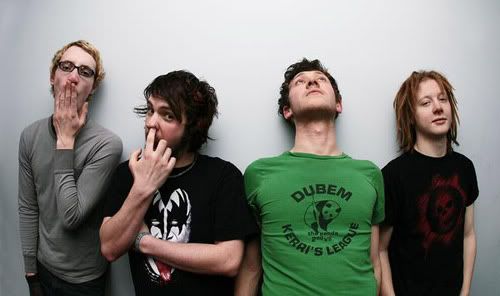 Blakfish begin their 'Champions' tour of the UK with Mutiny On The Bounty (Big Scary Monsters). The band will be promoting their debut album,
Champions
, out today (10th August) and will be playing their 300th show in 18 months along the way.
August
10th – The Freebutt, Brighton 11th – Firebug, Leicester 12th – The Twist, Colchester 13th – The Barfly, London 14th – Joiners. Southampton 15th – Face Bar, Reading (Rapturefest) 17th – The Flapper, Birmingham 18th – Seven, Nottingham 19th – 13th Note, Glasgow 20th – The Queensbury, Annan 21st – Uncle Alberts, Middlesbrough 22nd – The Brudenell, Leeds
http://www.myspace.com/blakfish
Macmillan's Brick Lane Takeover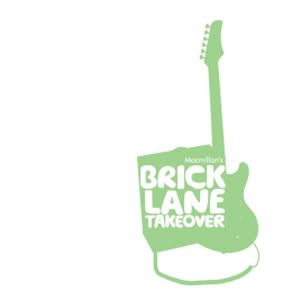 MPHO is one of the latest additions to the brand new one-day London festival - Macmillan's Brick Lane Takeover taking place on Thursday 13th August across 7 East London venues, this charity event aims to raise £30,000 for Macmillan Cancer Support. Tickets are priced £20 each - 1 ticket gets you into all venues. It's a good cause so make sure you attend.
http://www.bricklanetakeover.com/
Emmy The Great
Alongside a forthcoming Pure Groove instore performance on 11th August and a string of festival dates, Emmy The Great will release the new
Edward EP
on 10th August on her own Close Harbour label.
http://www.myspace.com/emmythegreat
Spotify Baby!
Remember to check out the following 405 Playlists:
The 405 Radar
The 405 Staff Picks
The 405 Ultimate Mixtape (Add songs to it!)
Current Sessions