Today's roundup includes Flashguns, The Cribs, Joe Jackson, Marina & The Diamonds, Wolf Gang, Friendly Fires.
The Cribs
The Cribs (pictured above) are back! Produced by Nick Launey (PiL , Yeah Yeah Yeahs) 'Cheat On Me' will be available via download from August 2nd followed by 2 x 7" and CD single - featuring a live version of 'Cheat On Me' plus two new tracks across all formats - on August 31st through Wichita Recordings. They'll also play the following shows:
September
24 - UEA, Norwich 25 - Junctin, Cambridge 26 - O2 Academy, Liverpool 28 - University, Hull 29 - Barrowlands, Glasgow 30 - University, Newcastle
October
02 - Apollo, Manchester 03 - Engine Shed, Lincoln 04 - O2 Academy, Leeds 06 - Lemon Grove, Exeter 07 - Guildhall, Southampton 08 - Assembly Rooms, Leamington Spa 10 - Anson Rooms, Bristol 15 - HMV Forum, London
http://www.myspace.com/thecribs
Flashguns
The debut EP from Flashguns is out this week on Blue Flowers - 'Matching Hearts, Similar Parts'. Comprising of two brand new tracks, lead single 'I Don't Not Love You' , 'Racing Race', and two live tracks 'Bells at Midnight' and 'St George'; the EP saw the band go into the studio with Luke Smith (of Clor) who was recently in LA working on Depeche Mode's No.1 album.
http://www.myspace.com/flashguns
Joe Jackson
Uh oh, naughty Mr Daddy Jackson is at it again! He famously beat the talent into Michael Jackson and is now planning on signing MJ's kids so that he can take them on a 'Jackson 3' tour. Really? Really?
Friendly Fires
Friendly Fires are set to play a homecoming show at the St Albans Arena on September 3. This will sit nicely alongside the release of their new single, 'Kiss Of Life', which is out on 31st of August.
http://www.myspace.com/friendlyfires
Marina & The Diamonds & Wolf Gang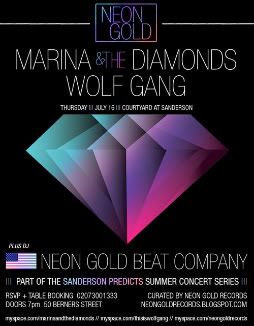 Marina & The Diamonds and Wolf Gang play Neon Gold's, 'Courtyard at Sanderson' night on Thursday 16th July 2009. The acoustic show kicks off with Neon Gold's latest artist, Wolf Gang, who's new single, 'Pieces Of You', is released today (Monday 13th July). Headlining the night will be fellow Neon Gold label mate Marina And The Diamonds. Doors open at 7.00 pm.
Spotify Baby!
Remember to check out the following 405 Playlists:
The 405 Radar
The 405 Staff Picks
The 405 Ultimate Mixtape (Add songs to it!)