Today's roundup includes Weezer, The Invisible, Jamie T, Good Shoes, First Aid Kit & Matt and Kim. *Remember! The news roundup gets updated throughout the day, so make sure you come back later for more news!
Weezer
Weezer (pictured above) have confirmed their new single, '(If you're wondering if I want you to) I want you to', and album (
Raditude
- October 27th). UK dates still TBC. Woop!
http://www.weezer.com/
The Invisible
The Invisible have announced new autumn tour dates with Micachu & The Shapes. The Invisible's forthcoming London Girl single – taken from their eponymous debut album – will be released on 28th September, through Accidental Records. Thu, 20th Aug - Pukkelpop Festival, Belgium Sat, 22nd Aug - Jamm, Brixton, London Sun, 30th Aug - Leeds Festival, Leeds Mon, 31st Aug - Greenbelt Festival, Cheltenham Thu, 3rd Sept - Offmodern Festival, London Sat, 5th Sept - In The Woods Festival, Oxfordshire Wed, 7th Oct - Nation of Shop Keepers, Leeds** Thu, 8th Oct - Deaf Institute, Manchester** Fri, 9th Oct - Captains Rest, Glasgow** Sat, 10th Oct - Sneaky Petes, Edinburgh** Tue, 13th Oct - Norwich Arts Centre, Norwich** Wed, 14thOct - Fiddlers, Bristol** Thu, 15th Oct - Scala, London** Fri, 16th Oct - Festival of Creativity, Florence, Italy Sun, 18th Oct - Karlstorbahnhof (Enjoy Jazz Festival), Heidelberg, Germany
 Tue, 20th Oct - K4, Nuremberg, Germany Thu, 22nd Oct - La Casa 139, Milan, Italy** Fri, 23rd Oct - Circolo Degli Artisti, Rome, Italy** Sat, 24th Oct - Covos, Bologna, Italy** Mon, 25th Oct - Club Zukunft, Zurich, Switzerland** Tue, 27th Oct - Botanique/Rotonde, Brussels, Belgium* wed, 28th oct - Le Grand Mix, Tourconing, France Thu, 29th Oct - Ubu Club, Renne, France** Sat, 31st Oct - Novosonic Festival, Dijon, France** Sun, 1st Nov - Maroquinerie, Paris, France** ( ** = w/Micachu & The Shapes )
http://www.myspace.com/theinvisiblethree
Jamie T
Here's the new Jamie T video, directed by Julian Fletcher and Dan Henshaw, inspired by the film 'Cannonball Run'.
http://www.myspace.com/jamietwimbledon
Good Shoes
Good Shoes are back at with the announcement of a 26 date UK tour in November and December. The band's tour dates are as follows: November 05 - Moles, Bath 06 - Joiners, Southampton 07 - Forum, Tunbridge Wells 09 - Boileroom, Guildford 10 - Jericho, Oxford 11 - Soul Tree, Cambridge 13 - Club 85, Hitchin 14 - Square, Harlow 15 - Bodega, Nottingham 16 - Sugarmill, Stoke 18 - Central Station, Wrexham 19 - Cockpit 2, Leeds 20 - Club Strut, Darlingtom 21 - Priory, Doncaster 23 - Fibbers, York 24 - King Tuts, Glasgow 25 - Dexters, Dundee 26 - Electric Circus, Edinburgh 27 - Digital, Newcastle 28 - Korova, Liverpool 30 - Leadmill, Sheffield December 01 - Musician, Leicester 02 - Hare and Hounds, Birmingham 03 - Club Ifor Bach, Cardiff 04 - Ruby Lounge, Manchester 05 - Cooler, Bristol
http://www.myspace.com/goodshoes
First Aid Kit
First Aid Kit have a new single coming your way! It's called 'Hard Believer' and it's due out on the 5th of October to coincide with their support tour with Slow Club and joint headline tour with Fanfarlo. SEPTEMBER 12 - End of the Road Festival 15 - Exeter Cavern Club w/ Slow Club 16 - Southampton Joiners w/ Slow Club 17 - Cardiff Barfly w/ Slow Club 18 - Maidstone The Loft w/ Slow Club 19 - Gloucester Guildhall w/ Slow Club 22 - Northampton Roadmender w/ Slow Club 23 - Sheffield Plug w/ Slow Club 24 - London Scala w/ Slow Club 28 - Manchester Deaf Institute w/ Fanfarlo 29 - York Fibbers w/ Fanfarlo OCTOBER 01 - Glasgow ABC 2 w/ Fanfarlo 02 - Middlesbrough Westgarth w/ Fanfarlo 03 - Nottingham Bodega w/ Fanfarlo 05 - Oxford Jericho Tavern w/ Fanfarlo 06 - London Bush Hall w/ Fanfarlo 07 - Brighton Hanbury Ballroom w/ Fanfarlo 08 - Cardiff Iforbach w/ Fanfarlo 09 - Leeds Brudenell Social Club w/ Fanfarlo
http://www.myspace.com/thisisfirstaidkit
Matt and Kim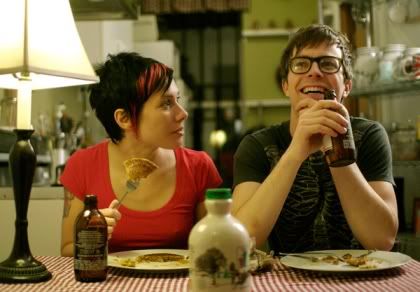 Matt and Kim return with a new single 'Daylight' on 28th September 2009 through the Fader Label/Nettwerk. 'Daylight' is the second single taken from their new album
Grand, which is out now! http://www.myspace.com/mattandkim

Remember to check out the following 405 Playlists:
The 405 Radar
The 405 Staff Picks
The 405 Ultimate Mixtape (Add songs to it!)