Today's roundup includes The Cribs, Trash Talk, Trevor Moss and Hannah-Lou, You Say Party! We Say Die! *Remember! The news roundup gets updated throughout the day, so make sure you come back later for more news!
The Cribs
(pictured above) 
 Above is the new video for the second single from the Cribs' new album 'Ignore the Ignorant'. The band has been on tour for a good majority of the second half of the year, and they're not going to stop as they've announced another US tour for January, after their headline tour of the UK in December. UK Dates December 02 - Academy, Birmingham 03 - Brixton Academy, London 05 - Dome, Doncaster 06 - Corn Exchange, Edinburgh January 13 - Lincoln Hall, Chicago IL 14 - The Magic Bag, Ferndale MI 15 - Phoenix Theatre, Toronto ON 16 - Irving Plaza, New York NY 17 - Paradise Rock Club, Boston MA 19 - 9:30 Club, Washington DC 20 - The Earl, Atlanta GA 22 - Granada Theatre, Dallas TX 23 - The Parish, Austin TX 26 - The Glass House, Pomona CA 27 - Bimbos 365, San Francisco CA 29 - Wonder Ballroom, Portland OR 30 - Showbox Theatre, Seattle WA 31 - The Venue, Vancouver BC Support on the US tour will be Adam Green up until and including Austin, then support will be Jemina Pearl. Visit
The Cribs
at Myspace
The Fiery Furnaces
Take Me 'Round Again, collects Matt and Eleanor's 'cover versions' of songs from their celebrated I'm Going Away LP. The Fiery Furnaces have been reworking, rearranging, and rewriting their songs live since they first started touring in 2003. Now they have taken this a step further, as Matt and Eleanor has each re-recorded six songs to make a whole new album. All that remains the same on these 12 'covers' are the words. This release will be available exclusively as a digital download now. Visit
The Fiery Furnaces
on Myspace
You Say Party! We Say Die!
YSP!WSD! have announced their third album, entitled 'XXXX', is getting a release date in the UK. Expect the release on the 2nd of February 2010, or if you can't wait get the Canadian import from Paper Bag Records, where the album's been out since September. View the tracklisting below...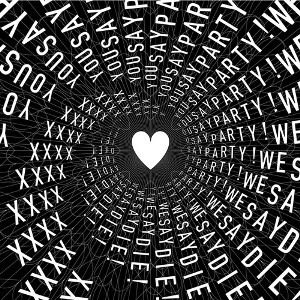 A1 There Is XXXX (Within My Heart) A2 Glory A3 Dark Days A4 Cosmic Wanship Avengers A5 Lonely's Lunch B1 Make XXXX B2 Laura Palmer's Prom B3 She's Spoken For B4 XXXX/Loyalty B5 Heart Of Gold Visit
You Say Party! We Say Die!
on Myspace
Trash Talk
Sacramento quartet, Trash Talk, will be supporting Fucked Up at the first of their two Barfly shows. The band has just finished recording their new album with Joby Ford from The Bronx. This will be released next year on Hassle records. Catch the band at the following dates throughout November/December NOVEMBER (*w/GALLOWS) 25th – London @Barfly (w/ Fucked Up & Throats) 26th - Northampton @ Roadmender* 27th - Coventry @ Kasbah* 28th - Liverpool @ Academy 2* 29th - Aberdeen @ Moshulu* 30th - Dundee @ Fat Sams* DECEMBER 2nd - Middlesbrough @ Empire* 3rd - York @ Duchess* 4th - Stoke @ Sugarmill* 5th - Derby @ Rockhouse* 7th - Newport @ TJs* 8th - Exeter @ Lemon Grove* 9th - Falmouth @ Pavillions* 10th - Bournemouth @ Old Fire Station* 12th - Kingston @ The Peel* 13th - Colchester@ Arts Centre* 14th - Cambridge @ Junction* 15th – London @ Buffalo Bar (HEADLINE SHOW) Visit
Trash Talk
on Myspace
Trevor Moss and Hannah-Lou
Trevor Moss and Hannah-Lou are rare musicians. This formidable young husband and wife duo are redefining the modern folk musician. Early 2010 will see the much anticipated release of 'Trevor Moss & Hannah-Lou', their self-titled debut duet album on the independent Loose Music label. Co-produced by themselves with Danny George Wilson and Romeo Stodart, at the Magic Numbers Studio in London, it is already being tipped by some to be the defining moment of the modern folk resurgence. Be sure to catch them live in November or December if you can... NOVEMBER SHOWS 19th The Lantern Society, The Betsey Trotwood, Farringdon Rd, London 26th F.A.C.E the Music at The Gladstone, Borough High St. (headline show) 7.30pm !FREE! 27th The Grub Cafe (headline show) East Grinstead, Sussex DECEMBER SHOWS 3rd December- The Lantern Society, The Betsey Trotwood, Farringdon Rd, London. 5th The Donkey, Leicester. 6th The Sunday Saloon, Quorn Leicestershire. 10th Cool as Folk, upstairs at The Ritzy, Brixton London. !FREE! Visit
Trevor Moss and Hannah-Lou
on Myspace

Remember to check out the following 405 Playlists:
The 405 Radar
The 405 Staff Picks
The 405 Ultimate Mixtape (Add songs to it!)