Today's roundup includes ATP Nightmare Before Christmas, The Twilight Sad, Mariachi el Bronx & Bloc Party. *Remember! The news roundup gets updated throughout the day, so make sure you come back later for more news!
The Twilight Sad
The Twilight Sad (pictured above) The Twilight Sad step up a gear towards the release of their sophomore 'Forget The Night Ahead' album with the release of a brand new single 'I Became Prostitute' on August 3rd. They'll also be playing the Lexington on the 5th of August.
http://www.myspace.com/thetwilightsad
ATP Nightmare Before Christmas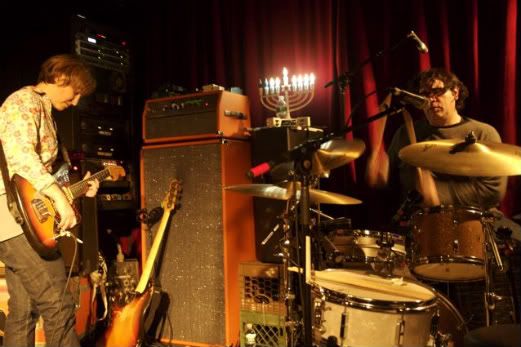 Primal Scream, Yo La Tengo, Brightblack Morning Light and Serena Maneesh have all been added to this years MBV curated Nightmare Before Christmas lineup. How good is that?
http://www.atpfestival.com/
Mariachi el Bronx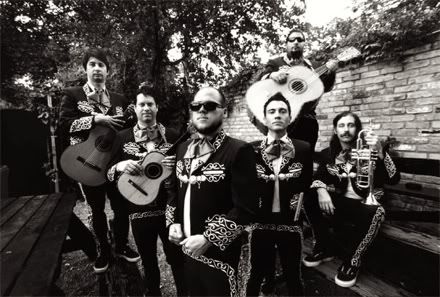 Los Angeles based punk band the Bronx, in their Mariachi El Bronx guise, have announced details of a London show and slots at this year's Reading & Leeds festivals. The band have also announced details of a London show where they will perform both Bronx and Mariachi El Bronx sets. The details are as follows: 22nd August – London, Shoreditch Village Underground.
http://www.myspace.com/thebronx
Bloc Party
Bloc Party's new single 'One More Chance' is out on the 10th of August through Wichita Recordings Bloc Party return to the UK for Reading / Leeds Festivals in August, and will undertake their largest UK tour to date in October:
October
02 - Empress Ballroom, Blackpool 03 - Picture House, Edinburgh 04 - Iron Works, Inverness 06 - Music Hall, Aberdeen 07 - Alhambra, Dunfermline 08 - City Hall, Hull 10 - Academy, Sheffield 11 - Academy, Leeds 12 - Engine Shed, Lincoln 14 - Victoria Hall, Stoke 15 - Academy, Birmingham 16 - Centre, Newport 18 - Arena, Llandudno 19 - University, Liverpool 20 - Academy, Bristol 22 - Hall for Cornwall, Truro 23 - Pavillion, Plymouth 24 - Centre, Brighton 26 - Cliffs Pavilion, Southend 27 - Corn Exchange, Cambridge 28 - Rock City, Nottingham 30 - Rivermead, Reading 31 - Bic, Bournemouth
http://www.myspace.com/blocparty
Dananananaykroyd
Dananananaykroyd are set to follow up the release of debut album 'Hey Everyone' and single 'Black Wax' with their new single 'Some Dresses' on 24th August. UK tour dates for this Autumn are now onsale - dates below.
October
21 - Cluny, Newcastle 22 - Bodega Social, Nottingham 23 - Arts Centre, Norwich 24 - SWN Festival, Cardiff 25 - Academy 2, Oxford 27 - Scala, London 28 - Audio, Brighton 29 - Academy 3, Manchester 30 - Brudenell Social, Leeds
November
1 - Oran Mor, Glasgow
http://www.myspace.com/dananananaykroyd
Spotify Baby!
Remember to check out the following 405 Playlists:
The 405 Radar
The 405 Staff Picks
The 405 Ultimate Mixtape (Add songs to it!)