Long hailed as one of the UK's most important record producers following his groundbreaking work with Radiohead, Beck, Travis, Paul McCartney and a dozen more I won't list right now,
Nigel Godrich
has recently put the finishing touches to the soundtrack of one
Scott Pilgrim Vs The World
featuring Michael Cera as - well Michael Cera – battling a number of Evil ex boyfriends in a comic book cum 8-bit Sega romp through the highlights of the Scott Pilgrim comic book series. As well as curating the soundtrack, Godrich also composed the original score which is also soon for release in its own right. The 405 caught up with Nigel to find out how his new jobs been working out…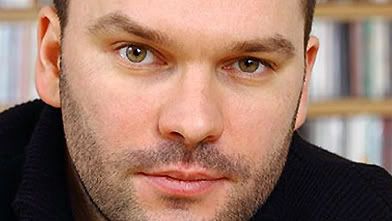 Hello Nigel, how the devil are you?
Good thanks – I don't normally do many of these press junket things so I've spoken to a lot of people today all wanting to get a sneaky quote about [the band who cannot be named]
Ha. Nice – well to concentrate on the film – I suppose a good place to start would be how you got involved with the process of sound-tracking the film?
Well I was friends with Edgar before hand, that was the whole genesis of this thing and was really important to the process you know? Like friends do we would get together and talk about ideas for projects and things and when he came to me with the idea I was excited by the challenge
Had you read the comic books beforehand?
No when Edgar came to me with the project I then went away and read through to book… five, I think… but they're great – no more than half an hours work to get through but a great read.
It's the first time you've worked in this capacity is it something you would be keen to do again?
Well maybe… I think I would need to have that direct relationship with the director beforehand… that was a key thing in this instance. It was a hard process at times and I think that relationship became important as we would sit locked away making all of these tiny changes and tweaks. It was quite intense at times although I was lucky in that I only really dealt with Edgar the whole way through and not the whole "industry" side of it…
Kind of a 'Bullshit' buffer?
Exactly – I'm sure he was having a lot more of those kinds of meetings and discussions but yeah he was a very effective buffer I suppose in that way.
How different did you find the overall process? I suppose ostensibly the role is kind of similar to that of a producer in terms of shaping a body of music – but this time you had to keep one eye on a visual medium instead of just focussing on the music…
Yeah it was very different but then really it was more of a case of having a complete eye on the film at the end of it. Everything has to work in that context so often it was more me taking a backseat creatively in some ways yet still obviously be creating music which is something I've always done
Your side of the soundtrack [the original score elements] is being released as an album I understand?
Yes it's out through iTunes and things now which is really exciting to have that out there, I don't really read reviews as such or anything but the feedback is - I'm told – pretty positive so that's nice…
How strict a remit did you have to work within when approaching the project – did Edgar have a very defined idea of how it was going to be?
Well yes I mean the thing with Edgar is that as well as being a massive film fanatic – which I suppose a lot of these people are – he also got an encyclopaedic knowledge of music as well so he's got lots of great ideas for tracks and bands and the like. But then again when we would get together often it would be more a case of me making suggestions on the script or something than the other way around.
And how hands on was Edgar throughout – a lot of the scenes and the music within them – like in a lot of his work - are so intrinsically linked it must have been a painstaking process to make it all work? Were you working pretty closely for parts like that?
Yeah it was painstaking at times you know and more than that it was the sheer scale of the project that I noticed – there are all these layers of sounds and genre hopping – much as with the visuals in the film – but then each of the evil exes for instance have their own vibe going on so you then need to bring other things in like the Blaxploitation theme with one guy and then a Bollywood theme so all of these things then have their own palettes to create as well… really it was just a case of moving with that cognitive thought process and keep refining as we went along.
Moving towards the more traditional "soundtrack" element of the movie – away from the score, the list of bands and songs involved feels like a real C60 mixtape which seems like something Pilgrim would make – was that an intentional result?
Yes completely and that was exactly how the whole thing started – Brian (O Malley), Edgar and Michael (Cera) all sending each other mixtapes of bands and things to check out so that feel was there really from the start – all of these bands like Metric and Broken Social Scene came out of that process…
And how much creative freedom did the bands have in writing songs for the in film bands – was there a period of writing and rejecting tracks for use?
No it was more of a case of the bands would give us tracks and we kind of ran with them – it was quite nice to not have to control every element – but there was some material that didn't end up getting used – there were about 5 Beck tracks for instance left over.
The film is set in Cananda obviously where Metric and BSS both hail from – was that Canadian link important?
Yes definitely they're both obviously very well established in Toronto and so – especially in the case of Broken Social Scene who are like this massive Toronto family – it was really important to have that link with the location and the comics and everything else…
In that context Beck becomes almost the outsider to the whole set up…
Well I suppose but then he was really excited by the challenge of working in this way you know - he did a great job… All of the bands did I mean the band that Metric recorded as was obviously based on them but certainly I think Broken Social Scene really enjoyed being able to do something that they don't normally do.
Did you have a particular reference point in mind throughout in terms of similar soundtracks within the context of films?
No we didn't really want to get into that mindset of emulating something else – as I say the music is such an important thing and like the film it had to serve that real genre hopping feel so it was important to just build this body of work that worked in context and on its own…
You can find out more about the film by heading to www.scottpilgrimthemovie.com
You can stream the soundtrack by clicking here!