Music is an entirely personal affair. What some people might stow on a pedestal, others might try and bury alive; it's entirely subjective, relevant to our own memories and feelings. We all have favourite artists, tracks and records that we hold close to our hearts: maybe it was a track that soundtracked a first kiss, or maybe a particular LP got you through some tough times. Maybe a certain band reminds you of a simpler time. We've all got opinions on what's the top album of all time, and 99% of the world is just bound to disagree. But that's fine. There are no right answers.
This new (fingers crossed) weekly feature (though we'll be taking a break in December) will see the 405 staff contribute their opinions and argue the case for what they think is the best music. It's also a handy way to get some recommendations of music you may not have experienced before – perhaps you'll create some new memories thanks to these delicious noises. It's not just the staff we want to hear from though; we want to know what you think. We'll ask around on Twitter and Facebook for suggestions and whack 'em in for the world to see. There might be a playlist or two as well slotted in for good measure. It's going to be a chunky collaborative periodical where we can all discuss how and why our favourite music is our favourite.
For the inaugural edition, we're looking at the best hip-hop albums of all time – we could debate for weeks on what really is the top dog, but we'd rather open up the floor for discussion. Below you'll find out what you guys thought was the best, what our writers decided on, and a playlist so you can make up your own mind.
42 albums not included by the staff that we throughly recommend checking out:
- Eric B. & Rakim - Paid In Full
- De La Soul - Stakes Is High
- Alkaholiks - Coast To Coast
- Big Pun - Capital Punishment
- Raekwon - Only Built For Cuban Links
- Das EFX - Dead Serious
- Above the Law - Livin' Like Hustlers
- Outkast - Southernplayalisticadillacmuzik
- Gang Starr - Step Into The Arena
- Boogie Down - Criminal Minded
- The Roots - Do You Want More?
- KRS One - Return Of The Boom Bap
- Snoop Dogg - Doggystyle
- A Tribe Called Quest - The Low End Theory
- Queen Latifah - All Hail the Queen
- Cannibal Ox - The Cold Vein
- Big Daddy Kane - Long Live the Kane
- Biz Markie - Goin' Off
- A Tribe Called Quest - People's Instinctive Travels and the Paths of Rhythm
- Big L - Lifestyles Ov Da Poor And Dangerous
- EPMD - Business As Usual
- Mobb Deep - The Infamous
- The Fugees - The Score
- Outkast - Aquemini
- Beastie Boys - Paul's Boutique
- Showbiz And Ag - Goodfellas
- Eazy-E - Eazy-Duz-It
- Raekwon - Only Built 4 Cuban Linx...
- Cypress Hill - Cypress Hill
- Public Enemy - It Takes a Nation of Millions to Hold Us Back
- Method Man - Tical
- O.C. - Word Life
- Jay-Z - The Blueprint
- Madvillain - Madvillainy
- The Pharcyde - Bizarre Ride II the Pharcyde
- Common Sense - Resurrection
- Dr. Dre - The Chronic
- Eminem - The Slim Shady LP
- Kendrick Lamar - good kid, m.A.A.d city
- Clipse - Hell Hath No Fury
- Run-D.M.C. - Run-D.M.C.
- Afrika Bambaataa - Looking for the Perfect Beat: 1980-1985

The Notorious B.I.G. - Ready to Die

For me, hip-hop isn't something that's a fad that can be divided into few and far between times when the mainstream and independent press latch onto it's 'all so sudden artistic merits'. Here's why: it's lain very potent and traceable tracks on my memory. At 6, I remember exactly where I was when I saw the video for 'Flava In Ya Ear', and at 12, I could sing the hook to 'To Live and Die in L.A' by Tupac and 'Juicy' by Biggie, not knowing to engage in any historical beef that had separated the very similar sentiments of the song.

I left hip-hop to the side for a bit. It was easy for me because it was never a genre that I had to try to listen to. It was ubiquitous in my family; my parents were young and had grown up in the golden age of the genre (other people's parents were wearing corduroys and listening to Simon and Garfunkel, mine were embarrassing). The record that ushered in my rediscovery was Wu Tang Clan's 36 Chambers at the age of 17, but what sealed my passion for the genre was Ready to Die by the Notorious B.I.G.

Aside from sneaking a few choice cuts from the record along the years and in spite of my parents desperate but failed attempts to shield me the profanity laden genre, I had never listened to the album in full. It was only until i bought the record in my first year of university that I heard a record that was virtually perfect. From top to bottom, it had a good mix of radio and only for album cuts. 'Suicidal Thoughts' still sets chills to those who hear it today - shattering the binary perception that hip-hop is arrogance and darkness.

Despite what you might have been told, it doesn't seek to glorify the violence that was omnipresent in New York in the 90s, but relay the dark, stark honesty of the situation - uncomfortably unadulterated, an education.

Michelle Kambasha

Outkast - Stankonia

Not being a huge fan of hip-hop that takes itself deadly seriously (except those times when Nas get super-deep because we chicks dig emotional dudes), this LP has been a fave of mine ever since it came out. 'We Love Deez Hoez' is still an anthem, no matter what anybody says.

Katie Taylor

Lauryn Hill - The Miseducation of Lauryn Hill

She might be a tax-evader but there's no denying that this lady is pretty much the queen of hip-hop and this album undoubtedly cements her as one of the best hip-hop icons of all time. Those bouncy beats and that flow in 'Doo Wop (That Thing)' are almost unbeatable, and I don't even need to mention those vocals in 'Superstar'. Also, her new track 'Neurotic Society' makes me want to fuck shit up.

Ryan Cahill

J Dilla - Donuts

While, admittedly, I don't listen to a whole lot of hip-hop, Donuts is certainly an album that I hold in the highest esteem. After a Flying Lotus binge, I decided to explore his influences and, upon unearthing J Dilla, it's easy to hear how much he has influenced, not only FlyLo, but every artist with a passing interest in electronic music or a keen eye on the hip-hop horizon. Donuts was released a mere three days before Dilla's death, with every beat, every scrap of sampled noise meticulously crafted and pored over from his hospital bed, perhaps adding an unexpected personal feel to a universally acclaimed album. It's unpredictable whilst still remaining gloriously triumphant. I'll never forget it.

Lee Wakefield

Wu-Tang Clan - Enter The Wu-Tang (36 Chambers)

Released in the same year as ultra-influential albums from Snoop, KRS-One and Souls of Mischief, 36 Chambers was, and still is, an absolute game changer. With every track a banger, the record sliced through hip hop like a katana blade, showcasing the talents of collective members like RZA, Ol' Dirty Bastard, Method Man and Ghostface Killah over an array of loops, beats and samples lifted from diverse sources like Labi Siffre, Hall & Oates and samurai films. Polished, funky, deadly and a blueprint for the genre.

Lyle Bignon
Kanye West - The College Dropout [2004]
The release of my favourite hip-hop album of all time, The College Dropout, coincides (not coincidentally) with my favourite time in my life so far - my first year of college. Kanye performed on our campus that year, and the buzz around him was undeniable. It was the hookiest hip-hop album I'd ever heard (see: 'All Falls Down'), had a wicked sense of humour (see: 'The New Workout Plan'), and accompanied many a windows-down joyride on those blissfully irresponsible summer nights. Not to mention it was a sonic and lyrical game-changer.
At that time, loving this record was a no-brainer. And to listen to it now is an exercise in intense nostalgia, both in my life and that of Mr. West. This was a time just before the meteoric rise to fame and long before Kimye (ugh, did I seriously just type 'Kimye'?), a time when he was just a producer who loved his mama a whole lot. Sure even then he was an egomaniac, but Kanye's hunger is undeniable. I'd be lying if I told you this album hasn't stuck with me from day one. We still kill it on every verse when my compadres and I choose 'Never Let Me Down' in karaoke, and there isn't a track on the damn thing that doesn't make me smile, sing, or groove, or all three. I'm not sure how you top that.
Stephanie Vance
Company Flow - Funcrusher Plus

El-P, Bigg Jus and Mr.Len sounded like they were from the future on this, the definitive East Coast/NYC hip-hop record. Combining old-school rhyming with ambient, abstracted production like you'd find on Warp Records, this was b-boy like you'd never heard before. Without a track like '8 Steps to Perfection', you wouldn't have 21st century hip-hop albums like Yeezus. Co Flow ripped up the rap rulebook, and El-P continues to amaze to this day with a solo career, collaborating with Killer Mike on Run The Jewels, and his mad production skills. It's never been beaten.

Andrew Hannah

Gil Scott-Heron - Small Talk at 125th and Lenox

Ok before anyone starts, I realise that this record is technically not a hip-hop record. But to dismiss it like that is to ignore perhaps the most influential album on the genre. This was Gil Scott-Heron's first album and was recorded live. Unlike his subsequent releases that had a more jazz/soul sound, this used minimal instrumentation (just percussion) but lyrically more than made up for it.

Gil's social aware poems focused on many of the subjects hip-hop artists would later cover: racism, government control, the mind-numbing nature of the media and stories of the struggles of poverty. Listen back to this record and you'll clearly hear Gil's vocal delivery had the anger of disenfranchised black America, but importantly also had warmth and humour to make for an engaging record.

Robert Whitfield

Kanye West - My Beautiful Dark Twisted Fantasy

It's totally OTT, completely over-worked and utterly ridiculous at points (did you see the accompanying 'short' film!?), but it's still arguably Kanye's greatest achievement to date. Featuring guest slots from Bon Iver, La Roux's Elly Jackson and Elton John - not to mention a stunning verse from Nicki Minaj on 'Monster' - it's a record that shouldn't work, at all, and from any other artist, it wouldn't, but Kanye's overpowering brilliance and lyrical mastery brings it all together in one majestic moment of serendipity.

It's a dramatic hip-hopera, full of life lessons, romantic ruminations and social commentary, crammed with honest soul-searching and stunning production. Kanye may be making leviathan statements now with Yeezus, but he'll never capture people's hearts again like he did with this LP.

Larry Day

Dr Dre - 2001

It's probably not the best hip-hop album I own - nods to Ironman from Ghostface Killah, Southernplayalisticadillacmuzik or Aquemini from Outkast, Nas' Illmatic and Wu Tang's 36 Chambers... - but Dre's 2001 has probably done more for the genre than all of those records over the past 15 years. The record revitalised and boosted the careers of rappers such as Snoop Dogg, Xzibit, Nate Dogg and Kurupt as well as adding further backing to the former NWA producer's then, latest muse; Eminem.

2001 has almost become the DNA of modern rap music. Aside from obvious uses in the mainstream, even Kanye West has admitted to lifting the drums from parts of this record on some of his own work. Both this and The Slim Shady LP really put Aftermath records into the forefront of the industry at the turn of the century and created a platform to catapult the careers of 50 Cent, The Game and more recently Kendrick Lamar and Jon Connor. Aged 17, 2001 opened the door to West Coast hip-hop and made me as passionate about all music as I am today. Thanks Dre.

Kris De Souza, Live Editor

Nas - Illmatic

This is not just my favourite hip-hop record, it is also the greatest hip-hop record of all time. If you know what you are talking about, you know those aren't just strong words, they are just the truth. Try to talk to me about any other record and I'll straight face you. There is not an MC alive on this planet that shouldn't use this as an instruction manual. Hell, some of the kids coming up these days need to be locked down and forced to listen how their art sounds when it is done right.

When we talk about flow, we think of 'New York State Of Mind', or at least when we think of perfection we do. Sure, Jay wrote a record called 'Blueprint' but KRS wrote that first and honestly, neither compare to Illmatic in terms of the effect they had on hip-hop. Listen, I've only got a paragraph, I could write for days and not do justice to the why and the how. So here's a link to the best piece of writing I've read on 'Illmatic', an essay, a love letter by Jeff Weiss.

Wil Cook, Music Editor

Jeru the Damaja - Wrath of the Math

This album was the second collaboration between Jeru the Damaja and DJ Premier and it always intrigued me, mostly because it looks and sounds like a regular hip-hop album, but Jeru's style and attitude sets it apart from typical 90s rap. Throughout there is an obvious disapproval of the hip-hop scene of the day. "Ain't nothin' worse than a wack MC/Unfortunately that's all that surrounds me," he claims on 'Too Perverted', and on 'One Day' he sets himself as a saviour of hip-hop in a dramatic scenario where he rescues the genre from the excesses of Puff Daddy and Foxy Brown. He attacks the "big Willie talk" and "big gun talk" and boasts about more unlikely things ("She claims she loves my mind, 'cause I'm so intelligent").

He advocates the use of condoms in 'Not Tha Average' and 'Me or the Papes' is keen to dismiss the misogynistic accusations stemming from 'Da Bitchez' on his first album. Just in case you thought it was a headlong dive into political correctness, he redresses the balance with "Now that I'm back on the set my foes drop like hoe's drawers In a brothel." Those lines are from the catchy 'Whatever' and they contrast sharply with the wise refrain "whatever you want to do, make it clever."

As well as the radical lyrical approach, the huge palate of minimalist funk and jazz based samples and beats delivered by producer DJ Premier has made the album a pleasure to revisit seventeen years later.

- Jonathan Greer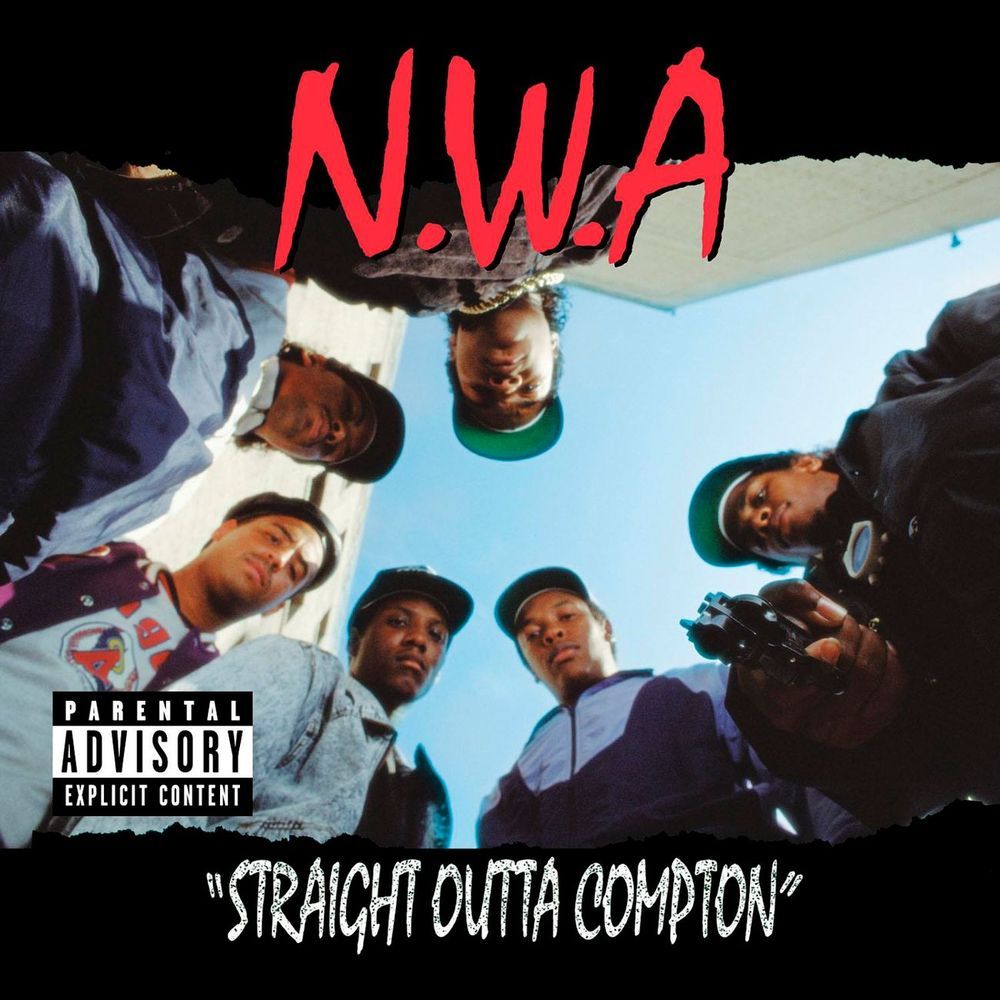 N.W.A - Straight Outta Compton [1988]
After far too much deliberation, I am going to go with my gut and select the first album that came to mind. Bit of an obvious choice, and an album even those least acquainted with hip-hop will recognise, but there's a reason for the familiarity: this album was, and still is, a total game changer.
With production from Dr Dre and DJ Yella this album redefined hip-hop back in '88. With an opening track called 'Fuck the Police', and Ice Cube's straight talking lyrics, this album caused controversy and was criticised for encouraging gang crime and misogyny when arguable what it really did was offer an insight into a kind of marginalised West Coast culture and lifestyle, providing commentary rather than opinion to those inside and outside of its parameters. This certainly isn't the first gangster rap album, and does lack some of the anger and context of say Public Enemy, but it sounds and feels superb. You'd have to be a one crazy motherfucker not to appreciate it.
Kerry Flint
Beastie Boys - To the 5 Boroughs

I am not a huge hip-hop fan, however, I am a massive fan of this album from the Beastie Boys. It's probably the second CD I bought after ditching tapes, and I fell in with every song on it. It may not be one of the most famous hip-hop albums out there, but Beastie Boys remain my favourite hip-hop outfits of all time.

Fab

2Pac - All Eyez On Me

Despite the fact that I posed the original question, I decided to go against the rules by picking the first rap album I ever picked up, as opposed to my favourite (which this is far from being). I grew up in the countryside, and as a 12-year-old kid, most of what he was talking about was completely alien to me. I mean, even nowadays it's pretty alien to me, but especially back then. Anyway, it's far too long and certainly lacks cohesion, but it's still one of the most important albums in my collection. He was murdered later that year, and I cried. True story.

Oliver Primus, Editor

Eminem - The Eminem Show

'Without Me', 'Cleanin' Out My Closet', 'Superman' and 'Sing For The Moment' are four of Eminem's most commercially successful singles, and it's no coincidence they're all from The Eminem Show. Em's fourth studio album was largely self produced and blends his love of hip-hop and rock. Guitar driven tracks like 'White America' and 'Superman' are interceded by the hip-hop beats of 'Business' and 'Without Me' all coming equipped with razor sharp lyrics. There's more contrast from 'Hailie's Song', a ballad for Eminem's daughter complete with Em's singing voice. His twisted sense of humour shines through in the skits, Steve Berman from the previous album is back as is Lawyer and serial complainer Paul Rosenburg. The Eminem Show is an album to be enjoyed as a whole, there's no filler here. It's a tightly bound showpiece, crescendoing in penultimate track 'Till I Collapse', arguably Em's greatest ever.

Chris Frankland

KiD CuDi - Man on The Moon II: The Legend of Mr. Rager

I played this album on a constant basis during the first half of 2011 after rediscovering CuDi and realising that he was much more than the inescapable single 'Day N Nite', which I was frankly sick of hearing. His second record showed me a young creative visionary, not just talented at crafting verses and hooks, but also adept at mapping out entire soundscapes whilst shaping his own unique style.

A psychedelic hip-hop opus with spaced-out beats and lush guitar work, the album is perfect for any rap fan (or music fan in general) that seeks something deeper and more mature. It's special to me because it demonstrated CuDi's ambition and ability to make hip-hop differently, to change the rules, to blur the genres. Plus, if 'Mojo So Dope' doesn't make you feel like a fucking badass, I don't know what will.

Luke Allen

Souls of Mischief - 93 til Infinity

The debut offering from the Oakland four-piece is - for me anyway - as close as you can get to hip-hop perfection. A welcome contrast to the gangster-filled rap that dominated the charts in the early 90s, the 14-track masterpiece was a real tour-de-force and a masterpiece of intelligent hip-hop production.

Max Sanderson

Outkast - Speakerboxxx/The Love Below

I must admit I'm not a big hip-hop person, except when it comes to Outkast; Speakerboxxx/The Love Below in particular. On this double album, André 3000 and Big Boi managed to float between multiple genres - working on two collaborative solo albums, each one full to the brim with their own respective (read: different) influences and imagery - which, when combined, sounded great. One of the best songwriting couples of all times.

Guia Cortassa

Fugees - The Score

My very first exposure to the Fugees was at the age of 7. My dad had a copy which he played to me and my brother in the car frequently (he wasn't as cool as that sounds - he also played Sheryl Crow and Lighthouse Family). It wasn't until I was 15 that I rediscovered the record and I haven't stopped playing it for any extended period since.

There are so many great things about this record that I love: the production with its endless list of samples, it's humour (the Chinese takeaway skit still makes me laugh), Lauren Hill's acrobatic flow and the insanely catchy vocal hooks. I could go on and on. For me, its depth comes from the socially conscious lyrics. It was an antidote to the machoism and glorified violence of Gangsta Rap and the East/West Coast rivalry of the time. Hill, Wyclef and Praz found a meditative space to express the realities of their daily lives with a deep understanding of the wider socio-political sphere in which we all exist. It's an essential listen.

Woodrow Whyte

Ice Cube - AmeriKKKa's Most Wanted

Cube's first studio album, released in 1990 and without the NWA boys by his side, was a critical and commercial success. Rich with stories from the ghetto about drugs, crime and race, the record has a firm socio-political stance, which remains controversial today; the first minute of 'Turn Off The Radio' being a good example. Armed with phat beats and Ice Cube's ability to deliver stories with such passion and gravitas - it was a wake up call.

Stephen Bevan, 405 Video Director