Music is an entirely personal affair. What some people might stow on a pedestal, others might try and bury alive; it's entirely subjective, relevant to our own memories and feelings. We all have favourite artists, tracks and records that we hold close to our hearts: maybe it was a track that soundtracked a first kiss, or maybe a particular LP got you through some tough times. Maybe a certain band reminds you of a simpler time. We've all got opinions on what's the top album of all time, and 99% of the world is just bound to disagree. But that's fine. There are no right answers.
This weekly feature (though we'll be taking a break in December) will see the 405 staff contribute their opinions and argue the case for what they think is the best music. It's also a handy way to get some recommendations of music you may not have experienced before - perhaps you'll create some new memories thanks to these delicious noises. It's not just the staff we want to hear from though; we want to know what you think. We'll ask around on Twitter and Facebook for suggestions and whack 'em in for the world to see. There might be a playlist or two as well slotted in for good measure. It's going to be a chunky collaborative periodical where we can all discuss how and why our favourite music is our favourite.
With all this in mind, the 405 staff were asked to pick their 'Favourite Worst Artwork' of all time. It's not about pointing the figure, but our way of celebrating what most people would consider 'bad art'.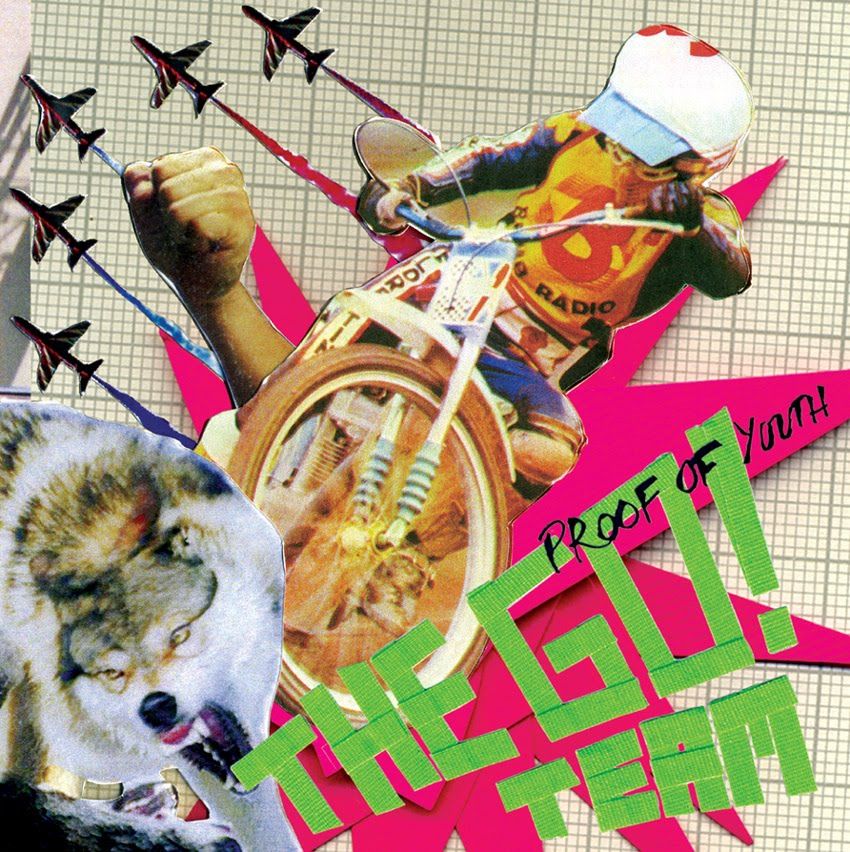 The Go! Team - Proof of Youth [2007]
I could've chosen any of The Go! Team's three full-lengths for this No Right Answers; none of them boast artwork that could be considered either subtle or minimalist by even the most warped definition of those terms. As well as being my favourite record of theirs, though, Proof of Youth also has the cover most representative of their unique sound; if you think a stunt bike rider and an angry wolf being given a ceremonial flypast by the Red Arrows is a weird one, wait til you hear Public Enemy's Chuck D rapping over Double Dutch chants on 'Flashlight Fight'. The colour clash between neon green and shocking pink is as gloriously hideous a pairing as you're ever likely to encounter, but does serve as a fitting metaphor for the Brighton outfit's blisteringly rambunctious musical style; with the band having gone to ground since 2011's Rolling Blackouts, I only hope they get another chance to hide another album behind an eye-gougingly gaudy cover before too long. - Joe Goggins
Ping Pong Bitches - Ping Pong Bitches EP [2001]
If the mildly threatening cover of this super little release on Alan McGee's short lived Poptones label - featuring band members Louise Prey, Emily Hell and Mandy Wong in PVC, fishnets and military headwear posing in some kind of red arboretum tent - is the entrée on offer...
...then the main course is the inside shot of the electroclash three pouting amidst a table strewn with props including a horse whip, what looks like a Bedlington Fox Terrier cross, beers, a butternut squash, bottles of wine (possibly Blossom Hill), red onions and most inexplicably of all, a jar of Doritos salsa dip.
It's angry, but in a bet-they-had-a-great-laugh-during-the-shoot kind of way. In their own liner notes, "Close the curtains / turn out the light." Um, I'd rather keep it on if it's all the same to you girls. - Lyle Bignon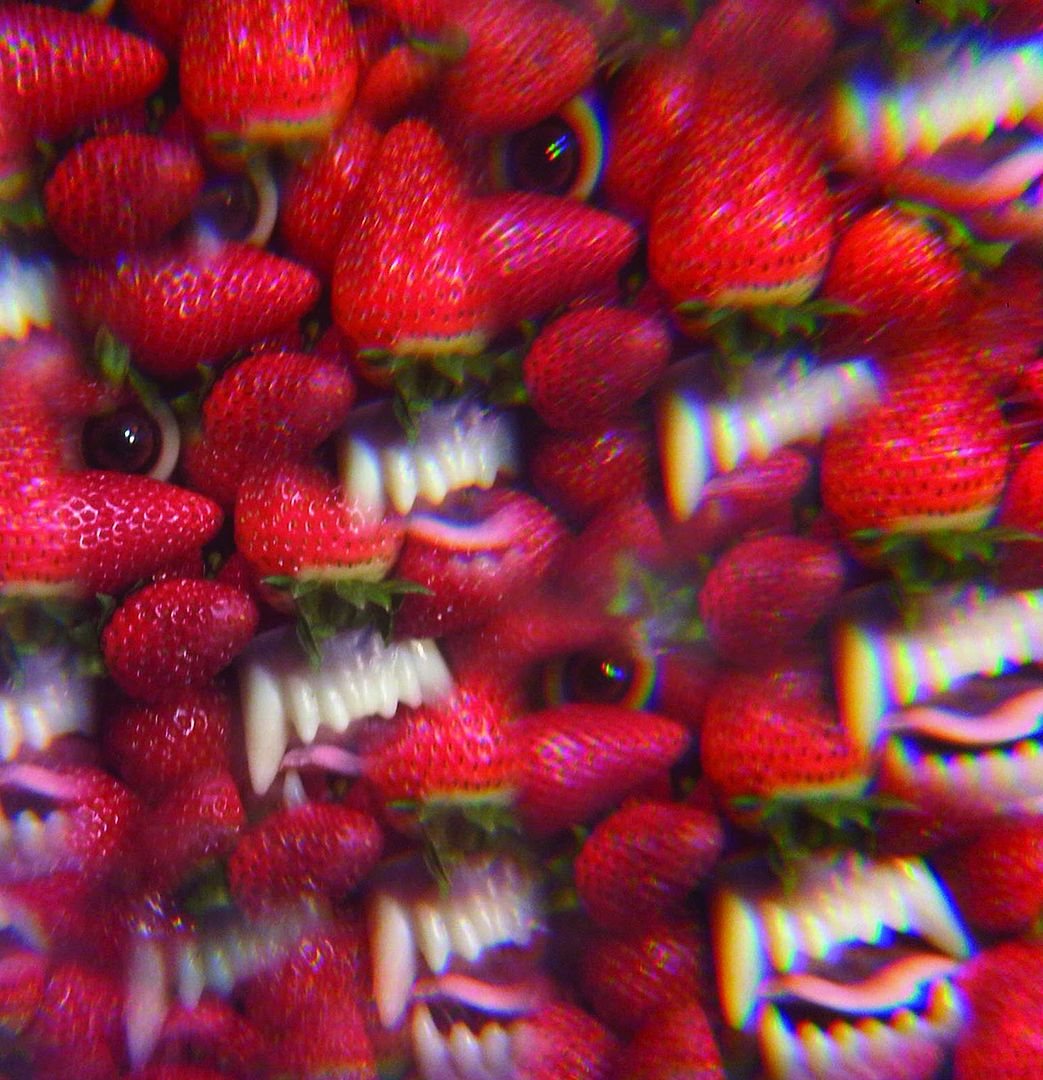 Thee Oh Sees - Floating Coffin [2013]
Erm, what exactly is lurking behind those strawberries? No matter how much my adoration for the album, for Thee Oh Sees, grows, this artwork still troubles me. The band boast a bloated back catalogue, mostly adorned with barmy, hand-scrawled sketches, but none of their past scribbling's appear intent on giving you nightmares. Part of me wishes that Floating Coffin wasn't so bloody infectious. - Lee Wakefield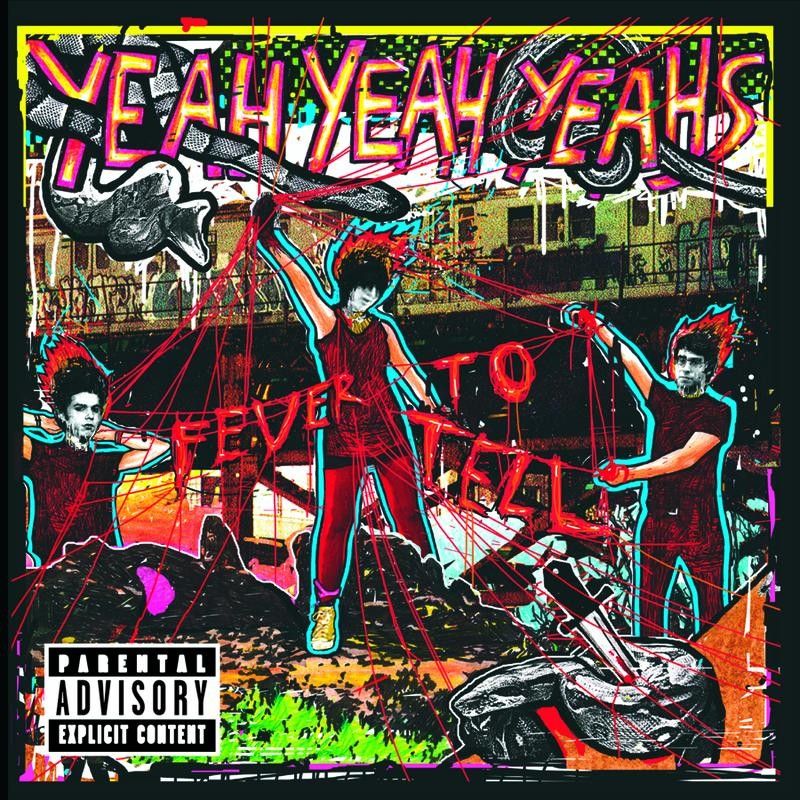 Yeah Yeah Yeahs - Fever To Tell [2003]
Despite being perhaps Chase, O and Zinner's finest output to date, Fever To Tell has spectacularly dire artwork. It looks like the collage a psychopathic toddler's parents decide is breaking point and seek help to avoid a We Need To Talk About Kevin scenario; full on clip-art, shite graffiti, snakes'n'daggers and what appears to be bunting made from Karen O's arteries, the Yeah Yeah Yeahs set in motion a chain of events: their propensity for truly atrocious artwork. However, unlike Mosquito, there's an endearing quality to Fever To Tell - it's scrappy, apathetic and crammed with angsty gristle. It may be a hodgepodge of catastrophic elements, but for the band, it perfectly embodies their style. - Larry Day
Sparks - Angst in my Pants [1982]
I've always had a soft spot in my heart for things that aren't quite what they seem - odd-looking couples included. Sparks' eleventh album Angst in my Pants didn't make it as big as, Kimono My House, and some people blamed it on the lack of taste regarding the album cover art. The Mael brothers always had an eye for edgy, ambiguous-looking visuals (an obvious solid heritage from Glam), but appearing as a transvestite bride and groom against a shocking pink background didn't exactly turn the album into a record stores' favourite window display. However, it's that daring, tacky look that makes me love this cover; their posture is somehow sweet, but their eyes are defiant, asking you if you dare walking home with the album under your arm. - Ana Leorne
Lou Reed - Sally Can't Dance [1974]
Easily one of my favourite Lou Reed albums, the outrageous music on Sally Can't Dance is matched rightly so with the cartoon character image of Lou adorning its sleeve. It's a super-retro cover, with Lou resembling some bad boy rock 'n' roll superhero from a comic strip, posing in his iconic leather jacket and aviators, hair bleached peroxide blonde. To most people it would appear to be cheesy and tasteless, which it kind of is, but to me it's a tongue-in-cheek image of my hero, and I love it. So much so that I have a well-worn t-shirt with the image on that I cherish and show off whenever I can. - Luke Allen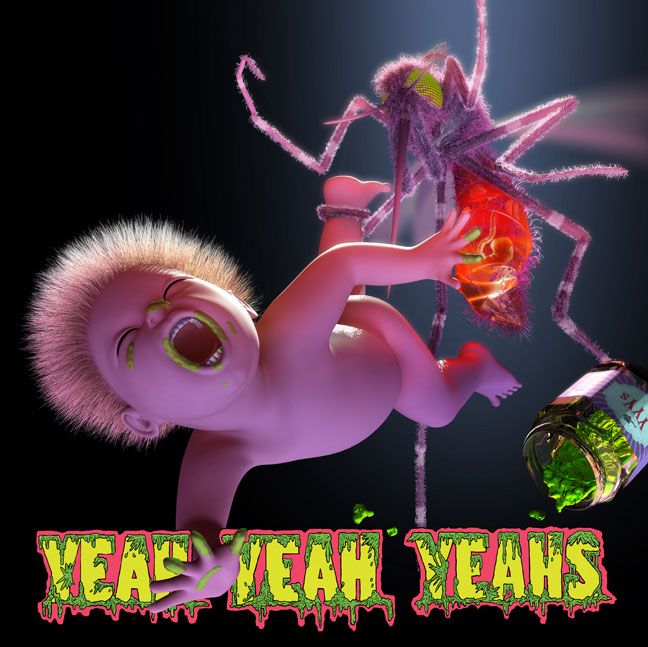 Yeah Yeah Yeahs - Mosquito [2013]
This... just... I don't... OK there's a mosquito, I get that part. But why is the baby the color of bubblegum? What is that green junk in the jar labeled 'YYYs', and why is it all over the baby's face? More importantly, what kind of superbug is this mosquito that it can grip the baby by its ankle? Is that not the most horrifying creature you've ever seen?! Look at its eyes! Its fuzzy limbs! Can you imagine getting stung by that thing? Also, the baby doesn't have nipples. Which is impossible. I give up. - Stephanie Vance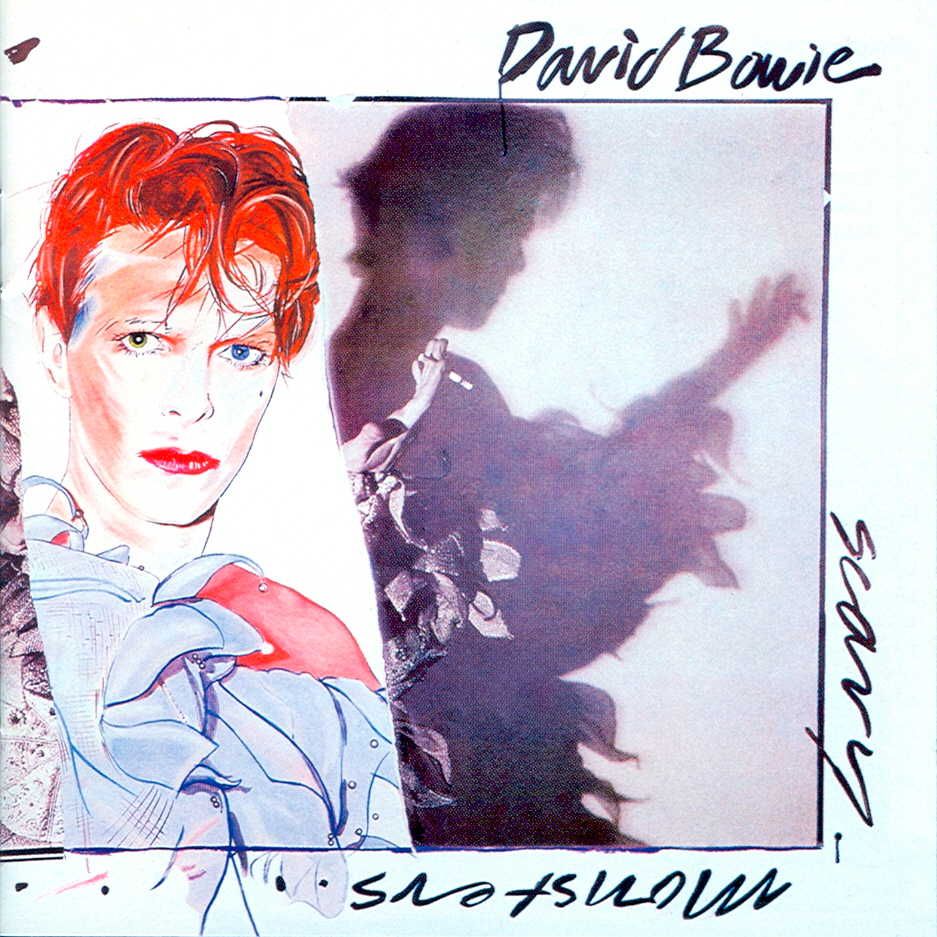 David Bowie - Scary Monsters [1980]
It's actually my second favourite Bowie album, I've listened to it infinite times. But when I was naive and aesthetically sensitive, I hated this cover. Its pastel swirls, garish clown like face... the colours bring out this weird taste in my mouth, like when you get your mouth filled with foam while getting fitted for a mouth guard.
After seeing the video for 'Ashes to Ashes' for the first time, my perspective changed. I also had a chance to see the actual costume he wore in said video in person last summer in Toronto at the Bowie retrospective exhibit. You can tie it into what he was into at the time, and it begins to make sense, in a sort of fauvist/expressionist kind of thing.
So I've come to peace with it now, I really have, and will always be a classic reminder not to judge a book by its cover... - Louise Burns

Let us know what your 'Best Worst' artwork is via the comments section below.