Imagine living in a cold, remote town located at the bottom of a valley. This town is surrounded by mountains and covered in darkness for nearly five months out of each year. What seems like the backdrop for a post-apocalyptic film is instead Rjukan, Norway, a village of 3,500 just 110 miles from Oslo.
Winter in Rjukan lasts from September to March and the town receives no direct sunlight during this time. However, construction has begun on The Mirror Project - a series of cleverly engineered mirrors that will direct sunlight into the town. These mirrors, known as heliostats, will be placed on the sides of neighbouring mountains. They will track the sun's movement throughout the day and transmit the light 450 meters to the town center, which will contain an ice skating rink. (Don't worry; the rays are both powerful enough to light the area, but also weak enough to not melt the ice).
The Mirror Project has been a long time coming. Norwegian engineer Sam Eyde founded the town in the early 1900s and actually proposed a similar project at the time. The technology of the time was not up to par, so Eyde and the town's early settlers settled on building a cable car to take residents to natural sunlight at the top of the valley. Since then, other sun-deprived towns have borrowed Eyde's idea. In 2006, a village in the Italian Alps installed a similar device, albeit on a smaller scale.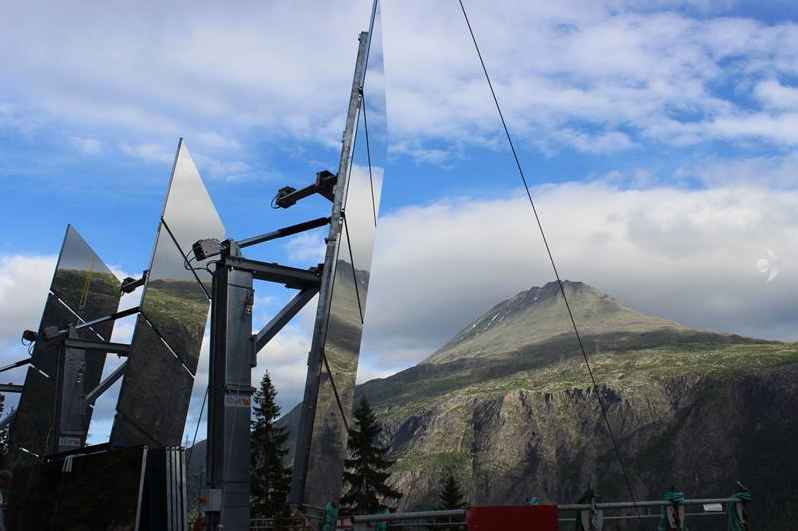 The first mirrors are already in place, but the real test won't come for another few months when the sun disappears for good. Perhaps the most impressive part of The Mirror Project is its price. At just five millions kroner (around £580,000), the sunlight already seems well worth it.
Remember to head over to our 'News' section to keep up to date with all the latest Music & Culture news.