Monday, Sept. 21 - Majestic Theatre, Madison, Wis.
Tonight is a big night for Steep Leans. The Boston-based group, which consists of vocalist and guitarist Gray Somers, bassist Chris Balzotti, guitarist Cory Jackson and drummer Chris Eddleston, had released their debut record, Grips On Heat, earlier that day on Ghost Ramp. They are also preparing for their first major performance, serving as the opener for Wavves and Twin Peaks, who are a little less than halfway through a whirlwind U.S. tour.
When I meet up with them outside of the theatre, Somers is singing the praises of a woman entering the venue wearing a Boston Bruins jersey. "Bruins!" he bellows as he pumps his hands. The surprise of seeing Boston hockey apparel near the borderlines of Chicago Blackhawks and Minnesota Wild territory certainly makes the band feel a little more at home ahead of their first performance.
But despite the fact that this is band's first major show outside of the Boston-area, they all seem loose and ready for a fun time. The conversation shifts rapidly from hockey to fast food to camping and a litany of other topics in between.
As we work our way around to the back of the theatre, the members of Twin Peaks are unloading their gear. This the first time the two bands, from Boston and Chicago, respectively, are meeting. Handshakes are quickly exchanged.
Cadien Lake James, vocalist and guitarist for Twin Peaks, looks happy and upbeat, and a little exhausted, too. He runs his hands down his Rolling Stones t-shirt to wipe away the grime that rubbed off the equipment he has been carrying.
The bands quickly hit off by talking about Philadelphia, the future home of Steep Leans. "I fucking love it in Philly," says Clay Frankel, guitarist and vocalist for Twin Peaks. "It is such an underrated town."
Somers agrees. Having lived there before, he seems to have an understanding of why people tend to underrate it. "I've lived in North Philly, East Philly, West Philly and people from other places will be like, 'Oh, aren't you afraid?' And the answer is no. So they ask about the row houses and the poverty and the crime. It is all just code for, 'Aren't you scared of all the black people?' It is such garbage."
Before too long, the group begins to shuffle inside. The members of Steep Leans maneuver to scope out the stage where they will be playing the first "real" show of their career. An aerial view is taken in along the balconies of the Majestic, an opulent venue with enormous vaulted ceilings and chandeliers.
Upon entering the green room backstage, I find Nathan Williams of Wavves resting on the edge of a couch, water bottle in hand, soaking in the Game Show Network. "It is the only channel we get in here," he explains.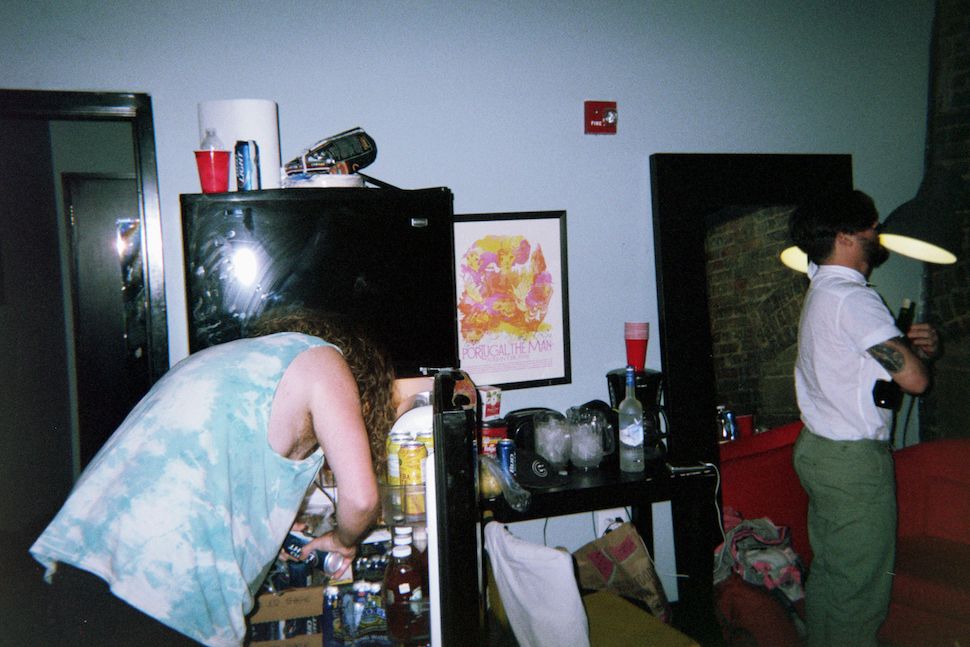 On the television is a game show that no one knows or understands, but everyone revels in the guessing the questions. One question revolved around the etymology of the word "lasagna." The most popular on-screen answer involved the word evolving from the Greek for "shepherd's pie," but when the correct answer of "chamber pot" was announced, the answer Williams had guessed, he marked his victory with a thunderous "boom!", followed by a fist pump and a sip of water.
Shortly thereafter, Williams reaches down into his backpack and pulls out some temporary tattoos with one hand while keeping another in his bag. "Wouldn't it be funny if I offered someone these temporary tats and then got to be like, 'Nope, bitch!'" he shouts as he suddenly pulls out a John Cena doll, gifted to him earlier on the tour by his girlfriend. "These are all for John Cena!" The room erupts in laughter.
Meanwhile, as Williams jokes around and James, fresh off a hobo shower in the restroom ("That van gets grimy as fuck!") takes photos with a Pentax K1000, Steep Leans are readying themselves in the adjacent room. Several iPhone 5 chargers are plugged into the wall, Pabst Blue Ribbon cans are scattered about and Somers is fiddling with a vintage camera, similar to a Kodak Extralite. After getting a crash course in its operation, I snap a photo of them mugging for the camera. They are loose and having fun, to the point that I wonder if I'm more nervous for this show than they are. Not long afterwards, they shuffle out the door and head down for the stage.
The members of Twin Peaks line the balcony above the crowd, while Williams, who runs Ghost Ramp and has not only never seen Steep Leans play before this night, but had never even met them either, assumes a position in the back of the balcony section to take in the group that he signed several months back.
Somers, who heads for a spot stage right, throws his hood over his New Jersey ball cap and announces the band's name to the warm, receptive early comers. The band then rips through a series of atmospheric tracks taken from their debut, including rollicking performances of songs like 'Nightmare City' and 'Navigator In The Night.' Heads bob and sway to the dusky surf. It may have been the band's first big show of their young careers, but the members do not show it. Balzotti's bass carries each song's groove with aplomb, while Jackson's moody noodles fill in space nicely as Somer's croons and Eddleston's tight drumming keeps a solid beat.
The balcony crew bop their heads and cheer loudly for each track, giving the new addition to the touring caravan a solid first night on tour. Before long, however, their set has come to a close and it is time for Twin Peaks to set themselves up on stage.
James, who has been nursing a sore throat for several nights, has put out a Twitter call for antibiotics, but found no luck. Tea has been his go-to remedy. He hopes it'll be enough.
As the band assembles on stage, the most noticeable addition is that of Colin Croom, who plays keyboards. Following the release of 2014's Wild Onion, the need for organ sounds and various other subtle instrumental flourishes became more important and Croom was added to the band. When the songs begin, Croom's presence becomes even more apparent as Twin Peaks, a band with a notoriously tight live set, seem to have only gotten better with his considerable skill filling out the group's sound on stage.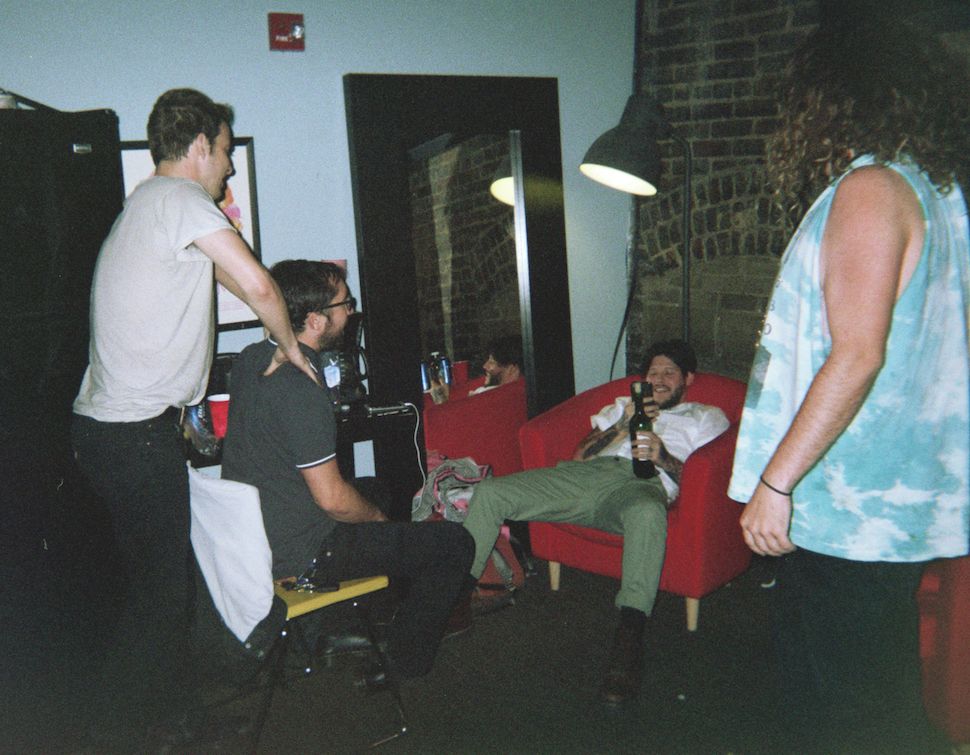 Despite James' worries, the band comes flying out of the gate with a headbanging rendition of 'Stand In The Sand' from their 2013 debut, Sunken. Hits from Wild Onion pepper the set list, with tracks like 'I Found A New Way,' 'Telephone' and 'Flavor' igniting huge mosh pits in the crowd. Balzotti, having transitioned from the stage to a comfortable spot along the balcony, cannot help but smile and applaud at the raucousness of the room.
The appreciation of the Wavves members for Twin Peaks is obvious throughout the set. As the band rested in the green room, guitarist Alex Gates hears the distinctive vocals of James announcing the beginning of 'Flavor.' "Ah, fuck! I love this one!" he says as he bounds down the stairs onto the balcony to jam out to the showstopper. Bassist Jack Dolan and drummer Connor Brodner keep a thunderous rhythm section, while Frankel, clad in a leather vest, gives the most emotive performance of any member on stage, a noteworthy feat given the band's reputation for passionate performances. James thrashes his head to-and-fro as he pounds out earworm melodies.
As Twin Peaks wraps up their set, Wavves is back in the dressing room soaking in some "Family Feud." "I'm pretty sure Steve Harvey is the devil," comments bassist Stephen Pope, who is a day removed from his 30th birthday. "They always told me he would dress sharply."
Meanwhile, Williams sips a drink before looking over to his tour manager, Dayn Reardon. "How far did you think the drop is off the balcony?" Williams had made a much Tweeted about dive off the balcony at the Mohawk in Austin, Texas several nights before.
Reardon shakes his head. "Too far. They'd have to pack in there pretty tight for that to even have a chance at working."
Williams seems skeptical. "They're getting pretty packed in there. Plus, it is only 25 feet from the balcony to the floor, so with people there, it is probably only about 19 feet. I think I could manage that," he says as he grabs a new water bottle.
Reardon leans against the wall before walking slowly to the fridge. He opens the door and looks at Williams. "You are probably right, that isn't bad. Just make sure they crowd together before you jump."
Williams smiles slightly and then turns to me. "Try and get a picture, dude."
***
When Wavves finally takes the stage at almost exactly 10 p.m., the crowd goes ballistic. Williams takes the stage with the bottle of wine he has been periodically sipping throughout the evening still in hand and takes a swig before setting it down on the stage.
This is the highest production value on a Wavves tour to date, with an audio loop of the xylophones on the studio version of 'Sail To The Sun' leading the group out onto the stage. But when they finally give way, the roar of Pope's bassline and the crack of drummer Brian Hill's snare get the crowd moving before the snarl of Williams' and Gates' guitars whip the group into a frenzy that will not cease for the rest of the night. "We're Wavves, thanks for coming," says Williams as the track comes to a boisterous finish.
A generous mix of songs from all eras of Wavves are included in the setlist, all performed with energy and fire. Over the course of the 19 song setlist, six different albums are represented (every Wavves record except for the very first) and serves as a thrilling flash of not only how much talent this band has always had, but how they've tightened their live show with many years of experience now under their belt.
Relatively older tracks like 'So Bored' and 'To The Dregs' are cheered on with the energy of newer bangers like 'My Head Hurts' and 'Way Too Much,' as well as the then-unreleased 'Pony' and 'All The Same.' The slamming set is so fast-paced that it seems like it has hardly even begun before Williams announces that they've arrived at the point in the set in which most bands would leave and then be cheered back on, "but we're just gonna keep playing."
After sing-a-long versions of 'Bug,' 'King Of The Beach,' 'Demon To Lean On' and 'Green Eyes,' the band keeps chugging away while Williams sets his guitar down and disappears, only to reappear right where he said he would: perched atop the balcony. Motioning to the crowd to come closer, he steadies himself before performing a front flip into the outstretched arms of the audience. He is caught initially, dips down slightly under the strained grasp of the fans, but is ultimately carried back onto the stage. He high fives every hand in sight before disappearing into the darkness under a cacophonous cloud of fuzz and feedback.
The kids in the pit hold their heads in awe of the show they just saw. One young lady calls me over and asks when the pictures I was taking would be going up online. "That was the best fucking night of my life," she says, "and I just need some proof it was real."
When I head back upstairs, Williams is sitting on the couch, just as I had found him to start the night, with a water bottle pressed to his forehead. His eyes dart over to me. "Did you get it?"
em>(Author's Note: Due to a photo processing error, my picture of Williams high dive is gone. I'm as disappointed as anyone.)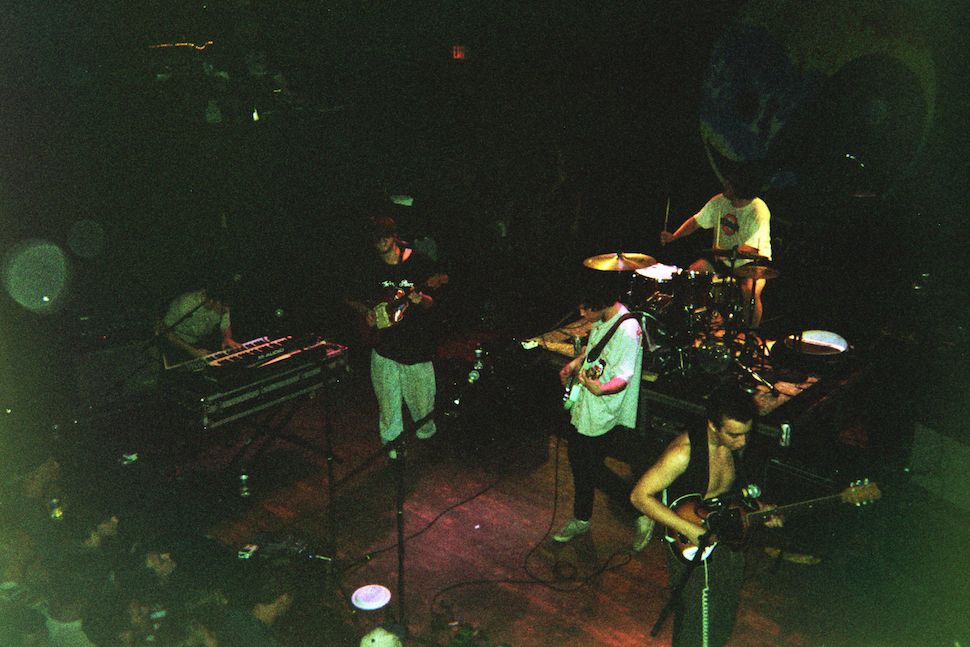 Thursday, Sept. 24 - The Rave/Eagles Club, Milwaukee, Wis.
The Rave/Eagle's Club is a hot and cramped venue, but it also has another quality that has peaked the interest of Cory Jackson and Chris Eddleston of Steep Leans. "We heard this place is haunted," says Jackson as he motions with a cigarette toward the building's large, already-decorated-for-Halloween façade. "That's my favorite kind of venue," laughs Eddleston.
It is Steep Lean's third show on the tour after a Tuesday night show in Minneapolis and a night off to explore Wisconsin on Wednesday. "It's tiring," admits Jackson. The guitarist had a bike accident three weeks before tour and is using a specially padded guitar strap to nurse the injury. "I thought I was going to have to have surgery," he says.
Just inside the door, Cadien Lake James of Twin Peaks stands grinning widely wearing the same Rolling Stones t-shirt as Monday night, but with a riverboat captain hat atop his head. Any strain of the tour, which has already been going for several weeks for both Twin Peaks and Wavves, does not show on James' face.
"We're all just having a blast," says James. "The Wavves dudes are all really awesome. Sweethearts. It's cool for me 'cause I was into a lot of bands that Stephen [Pope] was in back in the day like Jay Reatard, Barbaras, a lot of that stuff. The Swimmers dudes [from the first leg of the tour] were all sweethearts, it was good to meet them. And these Steep Leans dudes are fucking awesome. We love these guys and their record just came out. It's great. So it is all tight."
And even the little hiccups along the way, like the sickness that has been bothering James since Madison, is being alleviated. "My doctor hooked it up. He called me a script for Minneapolis, the CVS by the venue. So I made it."
This tour is the culmination of a tremendous year for Twin Peaks, who, touring on the heels of Wild Onion, established themselves as one of the premier rock and roll bands touring right now. In fact, following their rowdy performance at Firefly this year, a number of outlets dubbed them to the best band of the whole festival, topping the likes of Paul McCartney.
"We've worked really hard at this for the last three, four years now," says James. "Before we even graduated high school we were working hard on booking a tour to do the summer after high school. Before that, we were working hard to booked at venues and houses in Chicago, so it's like five years now. But we've been working really hard and its just cool because the smallest things, like getting a house show back in the day, used to be a huge victory.
"It is nice to always be humbled, is one way to say it," he continues. "To me, if we never got bigger than we did a year ago, I would have been psyched because its just so cool to travel and get to make music and get to meet people and play music for people. It is such a huge blessing."
Part of what seems to touch James and his bandmates, as well as everyone else on this tour, is their ability to provide a special experience for the fans that come out to see them. "We try to get out there every night after the show and connect with fans 'cause I know how much that meant to me when I was a little bit younger and still would mean to me with bands that I'm fascinated with now," James says. "With how many bands there are nowadays and how you have so much freedom to find music and choose what music you really love, part of it really is, 'Who really is the artist?' Before you could just get the record without knowing anything about a band and that was that. And that can still be it nowadays. But there is definitely more of an aspect with Mac DeMarcos, shit like that, where character is there and connecting people. I think that's important. For me, that's awesome. People care about us and that's flattering nonstop. We are just some kids. I still live my parents, my brother, my dog. I live at home, hang loose. I'm still an awkward dude in many ways. It may not always come across, I guess, but that's how I feel. So it's awesome."
Members of both Twin Peaks and Steep Leans make their way through the backstage area, which vaguely resembles a college dorm room made to look like an opium den, complete with tapestries, lava lamps, futons and Christmas lights. Everyone is all smiles, gushing about the music they have playing on the speakers. "Natural Child is the best band in the world right now," says Chris Balzotti of Steep Leans. Everyone cheers in agreement. "Make sure you put that in there," Gray Somers emphasizes to me.
Somers then begins to talk about the band's day off on Wednesday that took them to a theater in Eau Claire, Wis. to see the movie Black Mass, the new Johnny Depp flick about Boston mobster James "Whitey" Bulger. "It was a bad movie, but I loved," Somers laughs. "It was really fun to watch, but it was actually horrible."
But before long, duty calls the Bostonians to the stage. So when Steep Leans steps out to perform their set, James divulges a few details about Twin Peaks' forthcoming record.
"We've got one more little session to do, maybe a week out in Massachusetts where we've been recording," he says. "It has been great because we've really been able to take our time for this one, which is a new thing for us. The last two records were rushed for different reasons and they both ended up...I'm proud of them, but neither of them really got to get put in the oven, they both felt like they came out of the microwave, if that makes sense. And see, those are minor gripes but as an artist you're always going to be nit-picky with it. So it has been really refreshing taking our sweet god damn time about it.
"It has been a hustle going between our tours, not going home but going up to the studio," he admits. "But that being said, we are recording in the nicest, chilliest spot ever. Our buddy has this beautiful estate. So we are in good company in a beautiful spot and we get to really work on the art, the music. Otherwise, we get to be on a lake on a canoe reading a book or chilling or whatever. So it has been fucking awesome. And shit like that, every day is just like, 'How did I end up with my own tape machine and mixing board and all this gear I own with the dudes out at this beautiful estate?'"
"There's this waterfall by the studio, like a 20 or 30-minute drive," James remembers fondly. "It is like a 70-foot fucking waterfall called Bash Bish Falls. It has these all these littler waterfalls coming off of it. You could swim in these little pools. It is freezing, super clear, awesome water. And fucking Clay jumped off the 70-foot thing twice. Two different times. I couldn't believe it."
The location where they are recording has provided them not only the time to complete a product they can be proud of and gorgeous vistas to explore, but also the comfort of working with a close friend, Ben Kramer "He worked for our first label and that's how we met him," explains James. "We just really connected a lot when we met him and we've visited there a bunch of times before we decided to record there. And god bless him, I don't believe in God, but god bless him, he had us up there and he has been totally awesome about it the whole time. He is the best guy ever. Just great vibes. He is like the spiritual guru while we are there, setting the tone for everything. He's turned us onto to so much music that influenced this record before we decided to record there. He got us into country a lot, there's a little tint of that going on.
"So yeah, it's like, 'How the fuck did we end up here?' he continues. "It is a blessing everyday. You gotta count your blessings and we've got a lot to count."
***
Earlier in the day, Wavves had debuted their brand-new fifth studio record, V, on NPR. The album, which was officially released on Oct. 2, had been teased with five singles and its full release earned rave reactions online. Williams sits in the backroom for much of the first two sets, soaking in the reception he is receiving through Twitter and elsewhere.
Following Twin Peaks rowdy set, which featured them playing loose and fast with the energetic crowd of about 400, Wavves emerges to blast through their tracks. A series of technical difficulties, primarily caused by the aggressive crowd surfers, come about as people accidentally knock over microphones, disconnect pedals and come hurtling toward Williams, Gates and Pope with remarkable frequency. At a certain point, Gates' pedals stop working entirely. Williams admits that on account of these problems, several of the songs from there on in would not sound right.
And so, after a tense start that can likely be attributed to nerves about the new album release, the band seems to loosen up and embrace the energy of the night. Gates goofily slides his hand up and down the neck of his Fender Jaguar, drawing laughs from Williams as the band hammered through songs from the new record including 'All The Same' and 'Pony.' The energy of the crowd fuses with the smallness of the venue to make the performance among the most gleefully reckless I've ever seen.
The crowd happily receives and carries those who leap from the stage, pull people up who spill to the floor and dance with no cares, as though the world would end as soon as the band left the stage.
When I assess the damage in the aftermath of the show, I find that my shirt is soaked with perspiration, there is a footprint impressed on my bicep and there is a good chance that I'm at least slightly concussed.
It was a good night.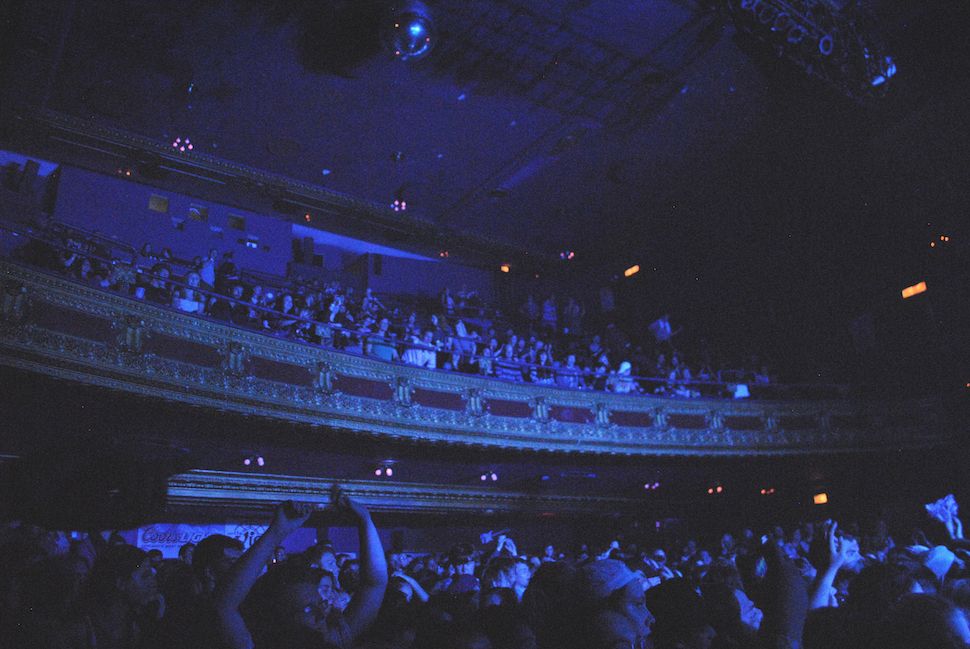 Friday, Sept. 25 - The Vic Theatre, Chicago, Ill.
The line outside the Vic Theatre stretches back several hundred feet. Anxious fans tap their feet and dance nervously as they await the opportunity to lose themselves for the evening.
The boys of Twin Peaks are just inside, the homecoming kings for the evening as they prepare to play their biggest non-festival show in their hometown of Chicago. They are each courting their own set of friends and family, revelling in a sure to be bout with chaos.
As the crowd files in, slowly but surely, many take the time to examine their surroundings. The building, which originally opened in 1912, is a vaudeville-style theatre that features ornate blue and gold trim, opera boxes, a disco ball and a capacity of 1,400. It is one of the largest, if not the largest, venue that the tour will be visiting.
It is also the second location of the week with a balcony. Before the show, Williams takes to Twitter to tease about another possible high dive. "Chicago I think it's swanton bomb round 3 tonight keep your hands up," he writes.
The crowd buzzes with energy over this possibility, as well as the much-celebrated return of Twin Peaks. The steady trickle of fans will also provide Steep Leans with their biggest show yet.
In the moments before Steep Leans step onto the stage of the Vic Theatre, the security guard on the stage left side of the pit is trying to bribe me. "I'll tell you what man, $50 and I'll let you get up front and take as many pictures as you'd like." I decline.
"Hell man, $20." I decline again.
Almost as soon as the exchange wraps up, Steep Leans emerges from the wings of the stage to take their place in the hazy purple light of the stage. As the band roars into a rocking version of 'Nightmare City' to begin the set, it is clear that just three shows in and the group has already begun to fine tune their live performance. Balzotti's thumping grooves get the crowd moving, while Jackson's spine-tingling guitar tones ripple throughout the theater. They still remain quiet between songs, but their sonic command of the stage is undeniable.
Wasting almost no time, the undisputed kings of the night, Twin Peaks, assume the stage and all smile widely looking out over the sea of screaming faces. Behind them hangs a large banner bearing the band's name, the flag of Chicago, a sunglass-clad sun asking 'what up dog?" and a toking Chicago Bull.
By the time the opening notes of 'Stand In The Sand' roar into a full force, kids are clambering over one another, hands are punching the air and sweat is rushing down almost every face as Twin Peaks command the stage with exceptional prowess.
Their set, which has been to accommodate their hometown fans, covers a large swathe of their material, from the band's high school days to yet-to-be released. But every song is celebrated by the adoring fans. "I'm going to cry!" shouts a young lady to my left as the band launches into a sing-a-long rendition of 'Good Lovin'" that propels more fans to the front of the theater. "I'll be your brother," Frankel, Dolan and James shout in unison, "I'll be your sister! I'll show you everything new!"
Twin Peak's performance concludes with a surprise confetti popping courtesy of Steep Leans before Dolan and a few other folks on stage go airborne, clearing the substantial gap provided by the security barrier and landing safely in the welcoming hands of the wild crowd.
The smoke and dust eventually clears, the confetti comes to the floor and the stage clears quickly. When it does, all I can hear in the suddenly quiet room is the light sobs of the girl who had warned she might cry. "It was perfect," she says as she wipes the tears from her cheeks.
***
Nathan Williams had been watching the band and crowd earnestly from the wings of the stage. His figure was obscured by shadows and speakers, but one standing on the far end of the stage could make out his unmistakable profile and facial hair poking through the darkness. Now, through the almost angelic glow of the theater lights, he takes his spot front and center on stage.
Dressed in a plain white tee, cuffed jeans and Doc Marten boots, Williams looks out over the crowd only briefly before igniting the fire under the crowd once more with a blistering rendition of 'Sail To The Sun.'
The band roars through their set, now all too familiar to me, with fan favorites such as 'Idiot,' 'Afraid of Heights' and 'Post Acid' mixed in with tracks such as 'No Life For Me,' the title track from the Wavves x Cloud Nothings record from June 2015, and 'Heavy Metal Detox,' the very first song on the band's new album.
The bliss of the show is only interrupted by one person: the security guard who had earlier solicited money from me. From the outset of Wavves' show, he begins violently pulling crowd surfers out of the audience by their legs and arms. It becomes so unruly that early on in the set, Williams takes a moment to address the security staff in front.
Everyone should be safe, Williams urges, "but pulling people out of the crowd is way more dangerous than just letting them go." The security guards do not openly acknowledge his words, but become a little less aggressive temporarily in the immediate aftermath. It would not last.
Before long, more crowd surfers come to the front, with their arms outstretched in an attempt to signal Williams on stage. Any time one of these people was a woman, the security guard--a three-year veteran of the security staff at the Vic Theatre per his own account--would shove them my direction and invariably refer to them as a "stupid bitch."
As the intensity of the show ramps up, the guard becomes more violent. When he rips a shoe off the foot of one person, Williams interrupts his own song to shout, "What the fuck, man?"
When one young man surfs forward, the guard begins to push him aggressively out of the pit. But when the young man trips as he is being forced back into the crowd, the security guard picks him up by his neck. "What the fuck are you doing?" shouts Williams, again in the middle of a song. The security guard, with his hands still wrapped firmly around the 18-year-old's neck, scowls at Williams before pushing his way to the edge of the crowd by where I am standing. He tells the kid to "get the fuck out of [his] pit."
When the young man tries to tell him that what he is doing is wrong, the security guard launches into a tirade of anger. "Are you a bitch? How about being a man? This is rock and roll! You are lucky I didn't take you outside and break your neck, you fucker."
Toward the end of the show when a girl makes her way past security and onto the stage to dance alongside bassist Stephen Pope, the security guard grabs her by her ankles, abruptly dropping her on her face. As he drags her back into the crowd, he calls her "a fucking cunt."
But despite the attempts of this one rogue individual to disrupt the fun, the rowdy crowd of 1,400 does not let him. Instead, they respond by causing more chaos and reveling in it, an act supported by Williams.
He is also more than willing to do his part. Upon finishing up a rousing rendition of 'Demon To Lean On,' Williams announces that the next song will be their last. "We fucking love you, Chicago!" he shouts.
A series of F# chords is all the crowd needs to know. "Green eyes!" they shout, drowning out Williams, "I'd run away with you!" The thunderous drums of Brian Hill, the headbanging bass of Stephen Pope, the punchy lead guitar of Alex Gates and the impassioned howls of Williams bring the show to an emotional conclusion.
Before the show is truly over, Williams disappears into the crowd, only to show up in an opera box house left. He motions for the crowd to gather as he mounts the balcony. Cell phones dart into the air and a number of shocked expressions come to the faces of those along the upper deck of the theater. Then, in one fluid motion, flips into the crowd for the third time this tour.
After a brief trip through the crowd, he makes his way back on stage and raises a hand into the air. "Thank you guys!"
And like that, the show is over.
Aftermath.
Three nights with Wavves, Twin Peaks and Steep Leans has provided this writer with invaluable insight into the power of music. But now I find myself delicately straddling the line between awe-inspired spectator and professional concertgoer. With this new role comes new perspective and it has reinvigorated my love for music.
Having had the chance to move from the pits to the backstage areas and everywhere in between, I could watch carefree kids, many of them having popped out of their parents' minivans and bolted directly into the venue, singing and jumping and celebrating with reckless abandon. The bands watched from a distance with smiles on their faces, taking in the image of kids who were once just like them finding a beautiful escape in three hours of live music.
Sweat flowed in abundance, tears periodically spilled from eyes and limbs went clanging about awkwardly as person after person took their turn soaring atop the crowd, singing each and every lyric to every song, new or old. Cameras periodically flashed in an effort to capture a little keepsake of the night, but most kept their phones in their pockets and their eyes on the stage, choosing to make memories the old fashioned way rather than give into the social media cravings that drive so many.
To some in the music industry, the sight of thousands of adoring fans might become standard; it might become just another part of your day. But I find it hard to believe that someone can look out over that sea of smiling, screaming faces and not find themselves overwhelmed by the emotion of knowing that you are making thousands of kids feel that way.
For Steep Leans, a lovelier introduction to national touring could not be imagined. Their excellent debut record found fun loving, receptive audiences. Their live sound has quickly been honed and is already making for a captivating show. Their career is off and running with a lot of smiles in tow.
For Twin Peaks, this is yet another substantial step forward as they continue to carve their own path toward stardom. Their already celebrated live performance has only gotten better, their audience has become larger and they marching triumphantly toward what should be a hell of a third LP.
And then there is Wavves. The quartet fronted by Nathan Williams has rocketed upward since the project's 2008 inception, culminating in their latest release, the power pop masterpiece V. Their live show is the type of experience that can pluck a young, humdrum life out of the shadows and thrust it into the sun for a few moments. Their performances have become tighter and the band is clearly as confident as they've ever been. But the fun-loving energy is still present as Williams and company seem acutely aware of just how they are making these kids feel.
The first time I saw Wavves, more than two years ago, was a breathtaking experience, as the music, the atmosphere and the people all came together to form a place where everyone could fit in. Outside the venue, my friend and I had chatted with other fans. Several of these people explained that they had been going through difficult times or having mental health issues. One young man, in particular, told us about how an emotional fit had resulted in him being removed from school. But for each and every one of them, the then-new record Afraid of Heights had been there to comfort them with the knowledge that someone else out there had felt these same things and they had made it work.
A little more than two years later, I found myself looking out on the crowds, as a reporter of the events. The new perspective I had been granted physically allowed me to see the situation from a perspective mentally. Having been in the audience and had the opportunity to see how deeply they affect the countless people who flock to see them, it was fascinating to see how the experience played out behind-the-scenes.
To the people in the crowd, this is not just music and not just a concert, but an escape and a means to remember that life holds certain special moments that make the typical monotony worth it. Some people may never understand and some may actively oppose it, like the violent security guard from the Vic Theatre who was guilty of both. Rock music has historically been a genre of rebelling against authority and for those in charge, that can be a scary thing that must be fought against with fierce hostility.
But somehow, even in the face of epithets and threats of violence, the crowd always gets back up, brushes the dirt off and turns its attention back to the music. This bond between the crowds, who have in turn found themselves bound to the performers who speak to them on an emotional level, is what turns these nights into portals of hope and optimism for so many.