The 405 have just been sent the following about a very special event. It look's bloody brilliant!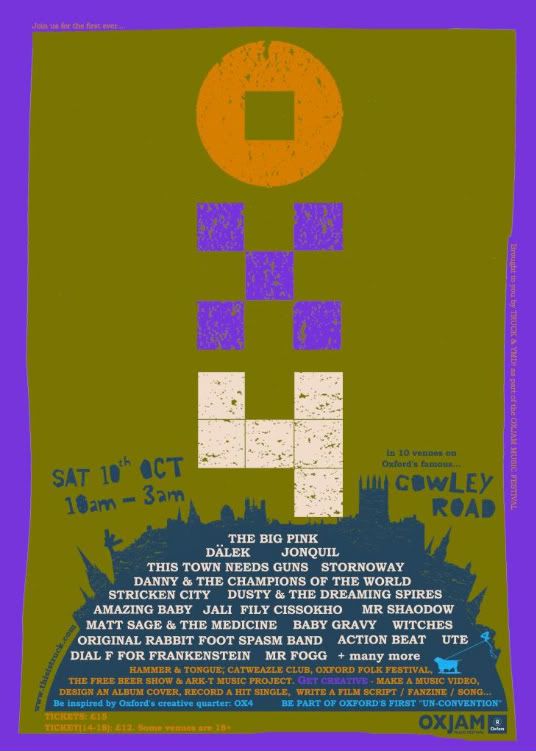 On the 10th October 2009 – OX4 is taking over 10 venues in Oxford showcasing the cream of local talent, as well as spattering of great "out-of-towners" - on a what can only be described as 'unique part' of the 'shire 'The Cowley Road' . We also welcome so of our OX4 friends in the form of a very special CATWEAZLE and HAMMER AND TONGUE purveying all things poetic. OXFORD FOLK FESTIVAL and Oxford's finest comedy promoters THE FREE BEER SHOW will also be heading east to join us curating their own stages.
"We've wanted to bring that SXSW vibe to our home town for ages – and now we have - says Robin Bennett (TRUCK festival organiser) – we're really excited about showing off just what The Cowley Road has to offer and although it's indoors feel free to wear your wellies and get into that festival mood"
OX4 neighbours OXFAM will also be joining in to tell you all more about their climate change campaign and also fund-raising on the day. It's not just about standing around enjoying music/art/poetry/comedy/films/folk/ and food - it's about getting inspired and perhaps dare we say it – learning something. As the day will also feature workshops, tasters,talks and lessons in all things arty – as well as Oxford's first UN-COVENTION.
"TRUCK festival has deservedly become an Oxfordshire institution and I was really excited when they wanted to get involved in Oxjam, the nationwide festival organised by that other great Oxford institution, Oxfam. Our head office is in OX4 so it's fantastic to be working with TRUCK on such a great event in Oxford - after all it is the home of Oxfam"
Benny Little John Oxjam Manager
There's still got more to confirm features the cream of Oxford talent. Rising Stars
THE BIG PINK
(we reckon anyway) alt-hip-hop icons Dalek, and established OXFORD favourites like -
STORNOWAY
,
JONQUIL
,
WITCHES
, suitably armed
THIS TOWN NEEDS GUNS
, chav jazzters
THE ORIGINAL RABBIT FOOT SPASM
– and young'uns
BABY GRAVY
, rising stars
UTE
and
DIAL F FRANKENSTEIN
and the brothers bennett in
DUSTY AND THE DREAMING SPIRES
. Fans of Folk music hold ontight – Oxford Folk Festival will be announcing their line up soon as will Oxford's most prolific comedy showsters THE FREE BEER SHOW. Tickets are just £15 or £12 for those Under 18. This will give you access to everything that's happening, as well as discounts up and down the road over the day. They are available online or at local outlets across the county.
Link:
http://www.thisistruck.com