Oxfam's musical trading partner, Oxjam, have a habit of placing rather lofty names (Fatboy Slim, Hot Chip) in cosy rooms in order to promote awareness for the charity's music festival of the same name; a month-long cluster of classical to jazz, pop, bass and beyond.
The venue for these forays was once a terribly kept secret. However, rather than labouring over a would-be mysterious location-fuelled game of 'Whodunnit?', the Oxfam branch outside Dalston Junction station fessed up, and has been housing the gigs happily ever after.
And once inside, clothes rails awkwardly sever the room and a makeshift bar sells cans of cider to keep fans busy during the wait for Orlando Higginbottom's arrival, on what is the second night of introductory gigs in this charity shop-come-venue. The event has an alternative feel which appeals to Dalston-ites and the Oxfam head office crew alike; although I'm not entirely sure the latter had the former in mind when shabbily arranging the room to look its best. Never mind, though, it all works and rubbing shoulders with mannequins and human beings alike as you queue for the one toilet helps you get a real feel for the place.
Support Daniel Avery and BrEaCh played rigorous sets and avoided what could have been a damp reception pre-TEED; BrEaCh's choice to open with a Disclosure track proved he knew his audience particularly well. Totally Enormous Extinct Dinosaurs played for around an hour and fifteen minutes, but recently released album material was scarcely featured. In fact, Higginbottom's first self-reference, a Tapes & Money remix, was only dropped shortly after an Oxjam organiser infiltrated the decks, presumably to warn him of the impending curfew. Shortly after, he closed up with 'Your Love', an eventual "go on, then" to the amassed fans who had waited patiently for something a la T.E.E.D.
Frisky and vibrant worldwide beats and shakes are never a strain when spliced together with the natural ease, agility and musicality that this producer has in droves, and the crowds' continuing to dance reminded me that time was passing fast. But in this setting, the producer was appearing as Orlando, not his re-branded, pre-historic alter-ego. There wasn't a headdress in sight.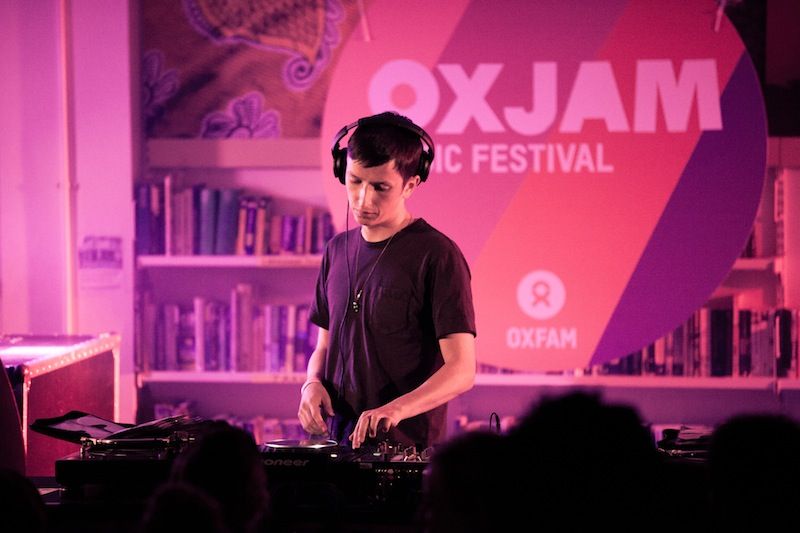 Still, all had fun in a cosy and unique environment which will hopefully continue to host musical greats annually; generating exposure to both the arts and third sector in unison. Bravo.