One of the massive highlights of life is when you find someone who is truly passionate about what they believe in and what they want to make. Dan Falvey, owner and overlord of new label Fat Cat sub-label Palmist is one of those people, and you can see his passion in the interview, and in the fantastic quality of his releases. Launching the label with a series of iconic looking split 12"s, he's already got some amazing talent on board and it seems the only way is up for the label. He spoke to us about DIY ethics, the aesthetics of records and how he got involved with Fat Cat.
This interview made me buy all their records, be warned.
Listen to select tracks from the split series:
What inspired you to make your own label?
I've always had that zeal to just do things I suppose. When I was a young impressionable teenager living in dreary Southampton I really admired the SouthCoast DIY hardcore/ noise scene. My tastes have always been much wider than that niche, but I played some music with my friends for fun and we'd all just release our own stuff, photocopying our covers, making our own posters and getting in trouble at school because we'd put them everywhere...I guess the sort of thing that lots of people in bands do all over the country really...nothing special but a whole lot of fun. So I've always been interested in that sort of scene I guess. When I moved to Brighton I started going to Sex Is Disgusting shows (actually saw U.S. Girls for the first time at one of their shows) and people like them and labels such as Italian Beach Babes are pretty inspirational. It takes guts and real conviction to be a promoter and use your own money to put out music and they do it for all the right reasons.
Palmist is obviously really different, it isn't a DIY label because we have FatCat's help and support, but we've tried to hold on to that ethos of just doing things ourselves. We're incredibly lucky that fatcat have given us the opportunity but it really is a labour of love project. We literally don't have any money to do anything other than press the records, which is why I spend evenings after work photocopying inserts for the releases and why you can find me and Alex, who works on a lot of the background stuff, traipsing around record shops selling our records direct to shops so we can cut out distribution.
Why release your first singles as split 12"s?
It seemed a cool way to get up and running and release a whole lot of bands that we were really into pretty quickly. Immediately after the meeting that gave Palmist the go ahead I was so excited. I used to co-present on my friend Ed's university radio show and I called him up immediately to get him involved and draw up a wishlist of bands we wanted to release. Its amazing how many bands we've already released that we played on that show, and such a thrill for us that we get to do that.
As a side issue, split 12"s also allow us to present our aesthetic straight away. I really like uniformity, I absolutely love the aesthetic of Sacred Bones for instance, and I knew I wanted to make these split 12"s a series through the packaging, rather than giving each band a side to do artwork or something. Ed and I spent an unbelievable amount of time and money on mobile phone calls talking about exactly how we wanted our logos and this series to look and going through about three designers (losing friends along the way because we couldn't pay anyone) trying to get what we wanted. In the end James Cartwright came up with a stunning design which just what we were after. 12"s also give you that canvas to do something beautiful with, and the reaction to how our records look has been amazing. The internet has made music seem pretty disposable, but personally I've always found a worth in the interaction of music with its physical packaging. Put like that maybe it seems cynical and shallow, but I cherish my favourite records and I want the people to cherish the music they buy from Palmist.
Do you think it's risky going straight to 12" instead of 7"?
Yeah probably! Its probably a symptom of me just getting overexcited and wanting to release as much music as I can. The BITCHES/ Yuppies 12" has 14 tracks on, 8 of which are from the BITCHES side. I was talking to Staz from BITCHES when I was dropping off their free records and she was like 'How many songs do we need to write to make an album?!' That alone is an incredible side and we're selling the split on our webstore for £8.99 so I don't know... The way I see it I'd prefer to get a 12" with a load of music for it for £8.99 than a 7" for nearly £5.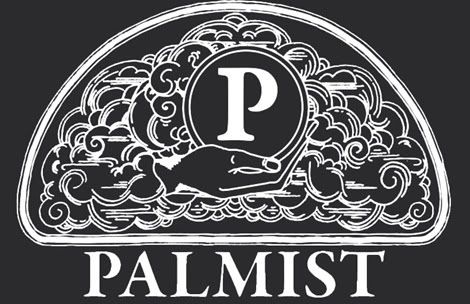 Being backed by FatCat is pretty awesome- how did that get set up?
Initially I started interning there, just using my recently acquire English degree to do some press and things. But obviously after a while I got to know them pretty well, they are really great guys- still so enthusiastic about music and somehow not jaded by the industry at all after something like 20 years of being involved with it. We would spend days just talking about music and they are always really clued up about new stuff. I'd be going to DIY shows in Brighton and London and listening to bands that they were really excited by too.
An incredible thing about FatCat is that they listen to every demo that come in, it is a pretty core part of their ethos, and there were some demos they had coming in that we all just kept listening to and got excited about, a lot of it which whilst radically different musically, seemed to be coming from the same sort of places, generally home recorded and from bands ingrained with the same DIY ethos I was talking about earlier. FatCat are a small team with a pretty big active roster though so it would have been difficult for them to release a lot of it, the music would have been sucked into a schedule and probably not been released for at least 6 months, when that stuff just needed to be released right away. We were so passionate about the music that I was literally writing to people I knew who ran DIY labels trying to get them to release it which probably wasn't all that welcome! I think when you get to that stage its pretty clear what you have to do and I felt I could make a label with a really coherent identity. I started imagining what it would be, what it would look like, and thinking about the artists I would include, even thinking already about splits and who would go with who, of course all the time knowing that I was a poor post-graduate with a three day a week job and no hope of financing anything from scratch. Amazingly though, after some discussions FatCat just told me to get on with it and do it!
BITCHES are one of my favourite punk bands out there at the moment - what made you pick them?
Yes BITCHES are great! They just capture everything we want Palmist to be really. The energy of their music is incredible considering it is just two of them. Yuppies, one of the bands I was talking about earlier who we were really excited by, were already down for doing something with us and I think we felt like BITCHES/ Yuppies would make an incredible split. Funnily enough one of mine and Ed's friends, Aaron said he was going to a party where they were playing shortly after we started Palmist and I think he drunkenly made a pass at them on our behalf. After some email flirting they got into bed with us and the results were beautiful.
What are your plans from here?
Just hopefully release a whole load more great music! I'm at least fairly secure it will be pretty good, because if I'm not sure of something I have the best quality checkers in the Fatcat guys a new label could ever hope for. We have some really exciting splits coming up such as Prize Pets/Beaters, Gentle Friendly/ Dustin Wong, Burning Yellows/ The Whines, and loads more. Its kept me really busy and I basically work seven days a week until about midnight to do it all, much to my girlfriend's annoyance and bemusement but it is so much fun, it is the best hobby anyone could hope for.
What is your label's goal?
I'd like to get to a point where Palmist is respected as a label in its own right. I really look up to FatCat and its reputation. Sending out emails to bands asking if they'd like to be involved I've been amazed at the level of affection there is for the label. I know that Palmist probably wouldn't have been involved with a lot of the artists it has if it didn't have that FatCat connection, and I know we are very lucky in that regard. I just hope people can see we care a great deal about every aspect of our label and they learn to expect a lot from us.
Who would be your dream signing?
Oh please let me name three!
Mt. Eerie
Grouper
Roky Erickson
But I could go on...!
For more info, visit http://www.palmistrecords.com/ and to buy some of their records, http://palmistrecords.bigcartel.com/