Edinburgh / Sneaky Pete's – 11th February
It's a tight squeeze in the car, in view of the fact that Andrew is joining us on stage tonight. He has a moustache and wears neck scarves; I am very excited. Customary lateness ensues, but we are greeted with a warm welcome when we arrive at the venue. A quick sound check before we wander off to find some grub. I order some haddock chowder; it is heaven. We return in time to catch Finn Le Marinel and I Build Collapsible Mountains, who are also on the bill tonight. It's very noisy in Sneaky Pete's. Forty minutes later and we're on stage. I'm surprising calm considering this is our first show in over four months. New song 'I Begin' is well received and I get to take my electric guitar for a little test drive. Job done.
Aberdeen / Project Slogan – 17th February
We've only ever played Aberdeen once before and it was a very long time ago. It's very dark when we pull up outside the venue. Project Slogan is a very cute little art space owned by Sarah J Stanley, who is also on the bill tonight. No-one tells us exactly how small it is prior to arriving, so we roll up outside with enough backline to make Kings of Leon proud. We're told the gig is a sell-out. We play well and the crowd ask for an encore and, like Kings of Leon, we feel like rock stars. Luckily a pigeon doesn't shit in my mouth. Soundman Danny takes the opportunity to teach me some helpful tips on how to fold my guitar leads correctly. I am forever grateful. In the car on the way back I begin to feel ill and by the time I get home my throat is the size of a balloon.
Aviemore / Old Bridge Inn – 18th February
I have tonsillitis. The doctor prescribes me liquid penicillin, and instructs me to take it four times a day. I take it once and tell myself that this will be sufficient. On the way to Aviemore we run out of petrol. We leave the A9 in search of some desperately needed diesel. We find some, eventually. The Old Bridge Inn is very cosy and when we arrive we are greeted by a very friendly man named Gordon. He feeds us the most delicious goat's cheese tarts and later puts us up for the night in his house. The Old Bridge Inn is very busy and the band on before us is very loud. We panic. Surprisingly, we go down very well and even spot some people dancing along to Moviegoer. Those who have heard Moviegoer would agree that this is an impossible feat. The dancers now appear to be fondling each other. We look away and I drop Moviegoer from our set indefinitely. We sell an incredible amount of EPs and I am asked to sign someone's hat. We drink beers and discuss our favourite albums with the boys from Crow Road. Paul, the front man, looks a lot like Olly Murs. I tell him this on several occasions. We finally go to bed at 4.20am.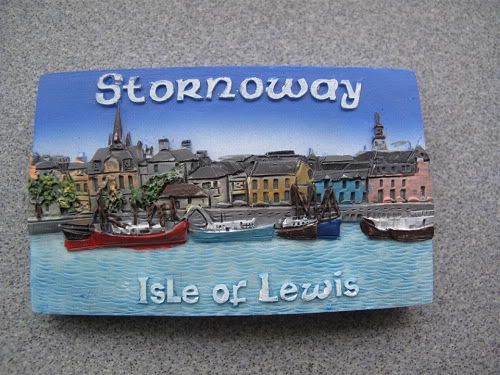 Stornoway / Star Inn – 19th February
We wake up at 7.15am. I am so tired that I fall asleep ten minutes into our car journey to Ullapool. Luckily, I'm not driving at the time. We arrive in Ullapool where it is very windy. I watch the ferry pull into port. I take some travel sickness pills and wash them down with penicillin. It's probably the worst thing I have ever tasted in my life. I pick up our tickets and we load all of our gear onto the ferry by foot. On the ferry I buy a fridge magnet for my mother and wrap it in a sick bag to keep it safe. On the other side we are greeted by a man with an exceptional amount of hair. His name is Jori. He takes us to the Heb, where we are staying for the night. The people there are lovely. Jori picks us up again at 3pm and drives us to Isles FM, where we are doing a live radio session and interview for a lovely man called Norman. Later, I eat some of the best salmon pasta I've ever experienced before heading along to the Star Inn for sound check. The next morning we decide to take a walk around Stornoway. It's Sunday and everything is closed. We are stopped roadside by Sandie, a lovely woman who took some photographs of us the day before. She offers to make us a cup of tea and opens up her family's bakery especially. On the ferry back I am genuinely sad to be leaving the island. I make a promise to myself that I'll visit again soon.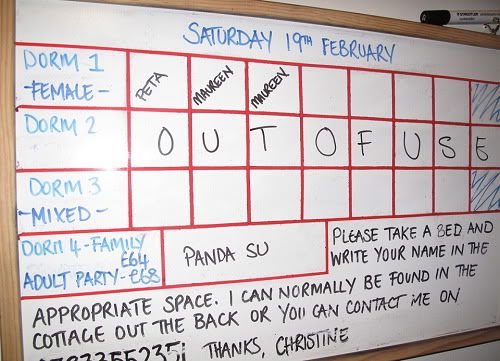 Inverness / Hootananny – 20th February
On the way to Hootananny, we drop into Moray Firth Radio to do a live session. My hair is very messy. We rush through our interview to ensure that we get down to Hootananny on time for sound check. We are one minute late. We meet Steve there, the man who has very kindly organised all of our Highland dates for us. I haven't eaten all day so I buy a small bag of chips from the take-away next door. It's the biggest small bag of chips I have ever come across. I'm about to eat my second chip when Steve calls to say that they're ready for us. The band on after us has a lot of gear and there isn't much space on stage as a result. During our set I manage to knock over several instruments at the same time but no-one seems to notice. The crowd are very good to us. We say our goodbyes and are on our way.
London / Slaughtered Lamb – 24th February
We're never been on time for a gig in London before so we almost don't know what to do with ourselves when we arrive 17 minutes early for sound check. There are some great bands on the bill tonight and the promoter tells us it's going to be a busy show. We go upstairs to eat some dinner and I make a poster to advertise the new EP. It takes me ages and is a true masterpiece. Unfortunately, someone drops their pint on it later on in the evening and it is ruined. I cry a little inside. On stage, someone sits their mobile phone next to my monitor and it omits a buzzing sound throughout our entire set. It sounds great in 'Bee Song', but not quite so good in the other songs. The crowd applauds and our set is over before we know it. We stay at Ant's house and London gifts us with an £80 parking ticket the following morning. I find this funny but Ad is less amused, which makes me laugh even more.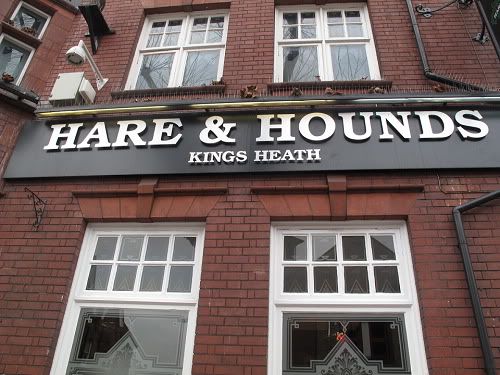 Birmingham / Hare and Hounds – 4th March
This is the second time we've been in Birmingham this week. The first time Katy B and Tinie Tempah were in town and tonight we have Justin Bieber and Willow Smith to compete with. I ask the crowd at Hare and Hounds if anyone wishes they were watching Justin instead of watching us. Two people put their hands up but it's too dark to tell if they're being serious. Dayne is our sound man and he does a stellar job of making us sound good on stage. In fact, the sound is so good that it makes me feel quite nervous. The promoter is lovely and lets us order food directly from the kitchen at the venue. We stick our heads round the door and ask the chef for some halloumi and chorizo. We stay with our friend Ben who makes us a chilli pizza from scratch and squeezes us a fresh orange juice when we get back to his house. In the bathroom I find a hamster called Buttons. He can do tricks. I am easily impressed and spend the best part of 45 minutes with him. When I wake in the morning he is gone. I feel used.
Kirriemuir / Bank Street Gallery – March 5th
The Bank Street Gallery is one of Scotland's best-kept secrets and one of our favourite venues. There's no amplification in the venue so Ad plays all of his synth parts on piano. He's never played a piano before and just as we're about to begin we're told that there's a concert pianist in the audience. Ad looks a little green, especially when he realises that she's sitting right next to him during our performance. We've spent the day driving up from Birmingham so we're both very tired. There's some familiar faces in the audience tonight, including my mother who puts her hand up when I ask the room if anyone has seen us perform before. I politely ask her to put her hand down and tell her to go and wait in the car. The gallery is at full capacity tonight and we have fun telling everyone about the experiences we've had on tour over the last few weeks. Somehow, we manage to fit in a few songs too.
Glasgow / Captain's Rest – March 6th
It's our last show of the tour. We find some ketchup in the backstage area, along with a hoover; I am confused. The last time we played Glasgow I spilt an entire bottle of water down the front of my trousers before we went on stage. Tonight is much more successful. I remember all the words and Ad's glock solo is note perfect. I feel immensely proud. On the way home we stop at a petrol station. They have an impressive selection of Ginsters pasties. Sadly, I do not buy one and opt for a bag of Mini Cheddars instead. I stumble into bed three hours later, just as the sun is coming up.
You can visit Pandu Su by heading to www.myspace.com/thepandasu