I remember first attending Parklife at it's inception in 2010. There was a sense of wariness from the people filing out of the gates and into the vast plains of Platt Fields, one of Manchester's largest inner-city parks. Nobody knew what to expect. This was the biggest event the town had attempted to pull off for a long time, and I wondered whether the city famed for its musical heritage would be able to do our reputation proud.
Two years on and the festival is now so big that there are plans to move the event next year in order to cater for its growing fanbase.
Saturday kicked off in perfect Mancunian tradition with several downpours before dinnertime, causing sludge of biblical proportions. The majority of the festival goers brought the rainbow to the rain in their abundance of assorted-coloured macs and wellies, while other less conscious party people fished their hi-tops from the park's muddy clutches.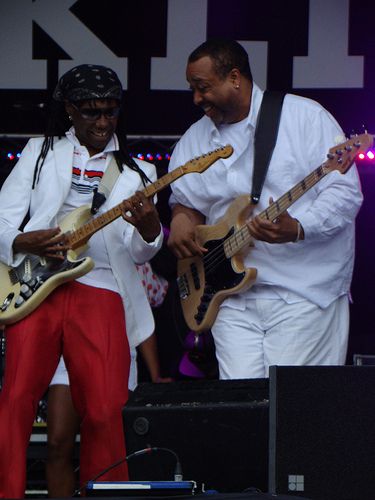 AAAAAAW FREAKOUT! Nile Rodgers and legendary bassist Jerry Barnes Photography - Joe Evans.
Highlights of Saturday's performances included CHIC, a band that's legacy spans nearly 40 years. Nile Rodgers was on top form after last appearing in Manchester for the Warehouse Project back in 2011.
In 4 decades of musical domination, Chic have seen 40 band members (yes, 40!) come and go, as well as producing singles for Sister Sledge, Diana Ross and Debbie Harry, to name a few.
Chic took us down memory lane as the first main act to brave the weather on the mainstage, with Dance, Dance, Dance (Yowsah Yowsah Yowsah!), I Want Your Love, Good Times and Everybody Dance before a surprise appearance from Smiths guitarist Johnny Marr in Le Freak.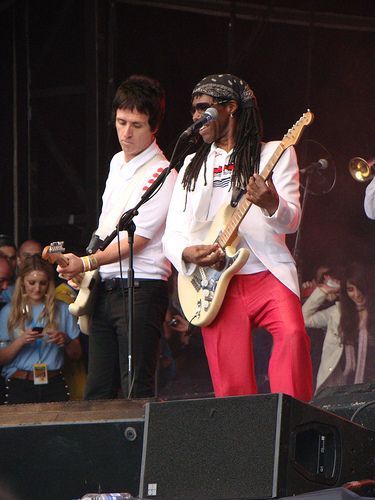 Smith's Guitarist Johnny Marr and Nile Rodgers on stage for "Le Freak" Photography - Joe Evans.
The band also got the crowd dancing with a few singles they had produced for other artists. "All these songs we are playing for you here today -" exclaimed Rodgers, "-we're not a cover band - we wrote them in the first place!". The band then burst into I'm Coming Out, a song which Nile wrote for Diana with his late bandmate Bernard Edwards, who passed away in 1996.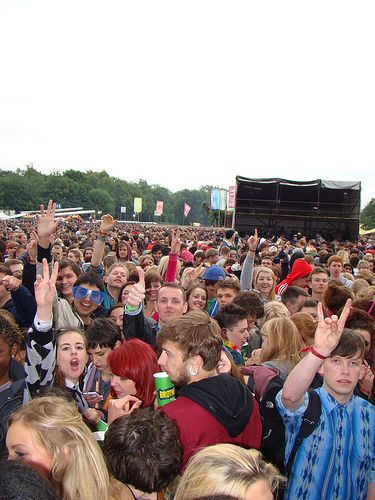 Still smiling - a happy crowd sing along with Chic despite the weather. Photography - Joe Evans.
Despite the wet weather there were no damp spirits in sight as CHIC closed with an epic version of Let's Dance by David Bowie and We Are Family by Sister Sledge, in which audience members and famous faces including Happy Monday's Rowetta were invited to dance on stage.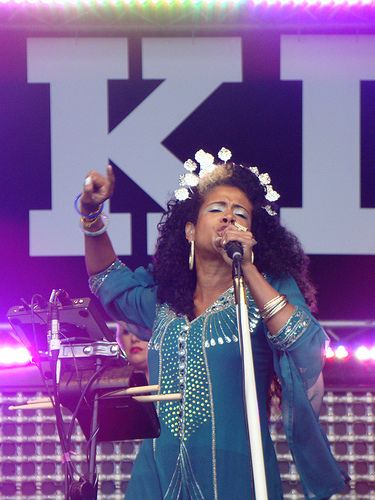 Visually stunning, aurally disappointing. Kelis opening her act on the mainstage. Photography - Joe Evans.
A quick set from Kelis - who was suffering from sound issues - included Calvin Harris's club classic Bounce and her 2010 number one hit Acapella. A rather forgettable set with the absence of her notorious 2003 hit Milkshake.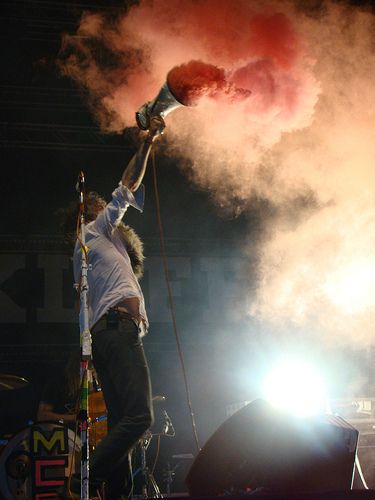 Eagle eyes will notice "MCA" emblazoned on their drum kit, in memory of the late Adam Yauch. Photography - Joe Evans
Darkness descended on Manchester and the rain ceased in time for the headline act the Flaming Lips, who burst onto stage in a blur of confetti and party streamers in true Lips form. After performing their legendary psychedelic set at Joddrell Bank last year, the show had clearly downsized on props to cater for their smaller slot. This took with it a lot of the magic that the Lips usually effervesce at gigs like these, and their atmospheric synthesizer experiments between songs were lost on the crowd without their traditional visual accompaniments.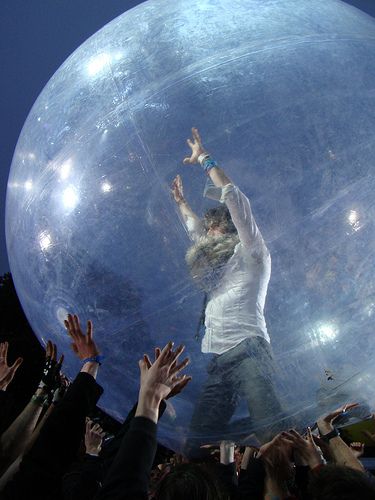 Ab-zorb-ing the atmosphere - Coyne in his infamous hamster ball. Photography - Joe Evans
After a lot of fun watching Coyne "Zorb" over a confused and excited crowd, the Flaming Lips descended into the Yeah Yeah Yeahs song, joined on stage by their usual saucy dancers and inflatable friends. This was followed by Yoshimi Battles the Pink Robots Part 1, before the traditional encore of Do You Realise? that put a romantic end to an unforgettable evening. A shower of confetti descended on the public once more, and that was lights out for day 1.
Wayne Coyne with his trusty bubble guitar. Photography - Joe Evans