Pay It Forward is about getting a music-based recommendation from an artist we like, then asking another artist we like to review it. The cycle will continue every two weeks until the end of the year.
Up first is the incredible East India Youth, who we featured in our Ones to Watch for 2013 list.

Art of The Memory Palace - 'WAALHAVEN'
I'd say that 'Kosmische' and 'Motorik' are pretty far up in the list of my favourite words and so it's always a joy when I can correctly assign them to a description of some new and exciting music. They're certainly two words that Dundee based duo Art of The Memory Palace have considered when thinking about their sound, something which they firmly acknowledge on their Facebook page. As is quite usual in these times of endless and overwhelming recommendation, I do not recall how I stumbled upon Art of The Memory Palace but I do remember being captivated by the kosmische instantly.
It was tough to pick between their three published youtube videos for this write up but I think that 'WAALHAVEN' accurately sums up their approach. Be it the pulsating analog synthesis over the sturdy motorik rhythmic bed, the slightly ethereal vocals sung an octave apart or the odd blast of some heavily filtered noise, everything in this soundscape feels meticulously crafted. There are no preset sounds here. Likewise, the psychedelic and symmetrical accompanying visuals of video feedback, oscilloscopes and a woman dancing all add to their already clearly defined aesthetic. They've only recently finished recording their debut album and just the other week performed their first gig inside a large on-stage pyramid that they built to project their videos onto. Obviously. I predict bigger and better things from them in 2013. Coming to a pyramid near you.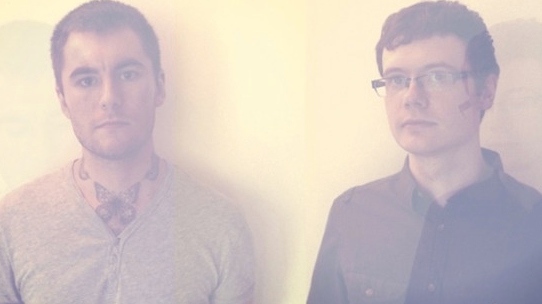 We asked the fantastic Ghosting Season to take a listen to East India Youth's track suggestion. Here's what they thought:
We listened to the track, and whereas there's definitely potential in there, we kinda thought they should've pushed it a bit further to be honest! We're also big fans of all things kraut/space/prog rock, and there are some nice elements to the tune, but also thought they were holding back a bit too much - don't be afraid to stray off the beaten track and do some pretty far out things guys! Jam a guitar through a tape player, stick your drums through phasers or something, run arpeggi's off out-of-tune, knackered old £50-off-ebay synths! Good to hear kraut is alive and kicking though - always ace to hear bands being influenced by that style, as it's one that has brought us much inspiration ourselves.
Remember to look out for the next installment of 'Pay It Forward', as Ghosting Season will be leaving a track behind for Luke from Stagecoach.