Pete Fowler
, a.k.a. the Monsterist (name win!) is an illustrator, musician, toymaker, manufacturer, or rather world creator, of a series of psychedelic creatures that inhabit what he calls 'Monsterism Island'. We've seen him associated with ATP before, when he exhibited work at The Fans Strike Back festival back in 2009. This was also where he drummed up an insane jam with DJ Cherrystones! So, given that ATP are all over us this week, we knew we had go to him for our art feature and find out a bit more about the world of Monsterism.
What skills are required to become a 'monsterist'?
Growing up watching cartoons, Star Wars, reading 2000AD, books about dinosaurs, mythical beasts and a general interest in the fantastic. Also having an interest in myth, folklore and the supernatural world helps and I think the most important thing is drawing and freeing your imagination, those are the essentials for me.
The World of Monsterism seems to be a form of folk art, through your mythical creatures, but also pop art because of the media and commodities that they become. Is it important to you that your art is made accessible in this way?
I never really design it to be accessible or think that, when I'm creating characters and worlds but I like to balance the sinister with the playful. I find people respond to that combination and balance in a positive way. I can't pretend that I don't want people to like my work so it is important to me.
What kind of stories do each of your characters carry with them?
Big question! A lot of them are based around a combination of friends, animals etc… One example is Sancho, he's a local expert of the woodlands and quite accident prone, luckily for him he's toxic to wildlife so if he tries to get eaten he's spat out very quickly. He also presents a cable TV show in the area call 'Keep it local with Sancho', that is watched purely for his disastrous adventures and mishaps.
Sometimes they are derived from real people, such as John Cale. Have you ever hoped that they might see your impressions of them?
That would be cool, as long as I didn't offend them! People always say never meet your heroes but they didn't say anything about illustrating them!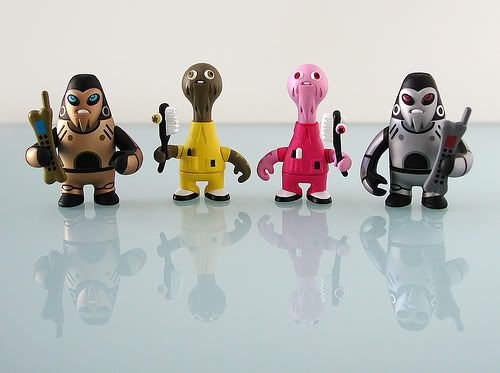 Has anyone ever told you that you look a bit like the actor, Mark Heap? (Spaced, Green Wing) Would you consider making a monster based on him?
That's funny, a few people have said that recently! If I do look like him then the monster would be a sort of strange self portrait!
How has working with ATP helped you further materialise Monsterism?
I think it brought my work to a different audience at the festival and it was great to be involved in the NY event. I really enjoyed illustrating Jim Jarmusch, so that was a highlight for me! Such a shame that I couldn't attend the festival though.
How did you benefit from your performance with DJ Cherrystones?
It was a free noise assault! I really like jamming with Cherrystones and was a delight to do it in the gallery where I was showing my work. I'd love to do something like that again in the future. Even the security guards were digging it! Perhaps's thats because they are ATP hardened!
Can we expect anything similar to this, or the Monsterism Island soundtrack in general, at your next show?
Unfortunately I have no plans for a show in the near future but have a load of ideas related to music that I'd love to incorporate into an exhibition or events that go on during the show. I'd love to merge the paintings with sonic devices that trigger sound. I'm part of Seahawks with Cap'n Jon and we make music incorporating the smooth and the noisy, releasing music through our own label Captains Log and Static Caravan. I'd love to merge that into an art exhibit or event, there's just not enough days in the week!
If the average ATP festival goer were a monster, what do you think would be their key traits?
Extra heavy duty eardrums, super tall so they could see over the crowds, very hairy with extra eyes to spot Nick Cave at 1000 metres!
This Artist Picks feature was brought to you as part of the ATP Takeover Week on The 405. Full details on the takeover can be found here