Since we last wrote we've been rushed off our feet, in between gigs we've been hopping on trains travelling to our next stop over. It's a hard life...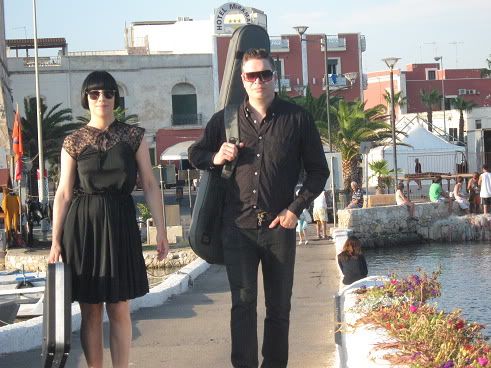 Porto Cesareo is a beautiful seaside town, the Calauluna Club is certainly the most unique venue setting we've ever played - and maybe ever will! The bar is on an isolated island off the coast you access by walking over a charming bridge. The stage is set on the island in what feels like the middle of the sea ( about 500 meters from the coast). Walking around the bay to the gig, a bizarre and un-seasonal occurrence as Phantom once again exert their influence on the weather: it starts raining! Furthermore, we keep seeing more flashes of light in the sky and we're told that it's St Elmos Fire, not a storm...an amazing spectacle against the orange moon.
Onto Porto Recanati next, again we're set against an unusual backdrop, overlooked by a church built in 1270. We met some cool people here involved in and part of a local experimental scene, in particular Aurelio Laloni , an early Italian punk pioneer, who tells us he proudly split his punk band a month before the Sex Pistols. He also happens to be a Lomo photographer (
www.lomography.com/homes/superlighter
) and snapped away during our gig.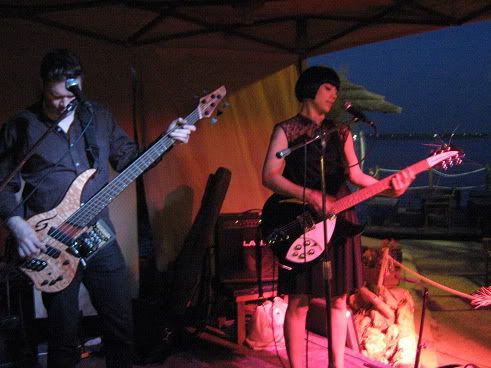 We also met local band Telemark (
www.myspace.com/telemarkspace
) who kindly lent us their backline. There's a very active group of artists based here who mention The Cranes and Miranda Sex Garden amongst their influences, so needless to say Phantom's set went down a storm....
http://www.myspace.com/thisisphantomuk