"You've got to say that though, haven't you? There's four of us, we could beat you up." I'm sitting outside Soup Kitchen in Manchester's Northern Quarter - for anyone unfamiliar, the name's a non-sequitur - and I've just told PINS, very honestly, how much I've been enjoying their debut record. We're in a public place, I protest, so they couldn't possibly beat me up (although I'm sure they could if they wanted to). "That doesn't matter, we know everyone round here. Not that we're trying to intimidate you."
PINS, to begin with at least, was the brainchild of vocalist Faith Holgate, who'd been trying - and failing - to put a band together in Manchester for a while. "I was looking to form a band and tried out with a few different ones. I met up with different musicians every single night for about three months. None of them really had anything about them that made me want to carry on playing with them, and then I met Anna through a mutual friend. We just took things from there, pretty slowly in the beginning." The current lineup is completed by Anna Donigan (bass), Lois McDonald (guitar) and new drummer Sophie Galpin.
Faith's lack of success in putting a band together with the male musicians she'd been playing with led to the decision to form PINS exclusively with other girls. "That wasn't the intention to start with. I think it was just through trial and error that it became apparent that I worked better with girls, and by the time it came to properly forming PINS, I'd made my mind up that it was going to be an all-girl thing."
The tag of 'Manchester band' is often used a little insincerely these days - I could think of a few groups who might have formed in the city, but don't actually hail from it. PINS, though, are the genuine article, and have already made serious strides since they started playing live in late 2011.
Before broaching the subject of how quickly the band have risen, I mention that I first saw them play across the road from where we're currently sitting, when they opened for Iceage at Kraak Gallery. Unfortunately, this particular revelation turns out to be nowhere near as impressive as I'd hoped, meeting instead with a chorus of groans. "The whole world was at that gig! And one of our worst as well." I want to point out that this might mean, in years to come, that it'll be looked back upon as our generation's answer to the Sex Pistols at the Free Trade Hall, but the almost violent response to my last piece of sycophancy makes me think twice. I do ask, though, if there was a specific point at which the band felt they could feel things starting to take off for them.
"Probably around that gig actually, since you've mentioned it," says Anna. "That was the first time we had people coming up from London to see us, and the first time we knew there was interest from people we hadn't met before."
"We got some good exposure from having (Mancunian promoters extraordinaire) Now Wave putting us on from the start, and we ended up playing our fifth show ever at the Deaf Institute, I think. The other big thing was when we first had something printed on vinyl. To have something like that, something physical, for your efforts was a pretty big deal for us."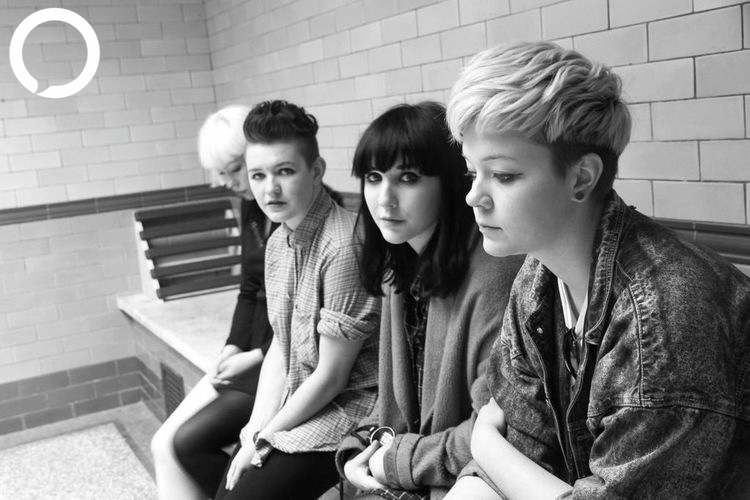 There was certainly no shortage of offers when the time came for the band to finally shed their 'unsigned' tag, and they ultimately plumped for Bella Union, sealing the deal recently ahead of the release of their debut record, Girls Like Us, in September. "We signed on the line, officially, this year," says Lois. "We did the LUVU4LYF EP with them back in October, but we weren't formally on board until a month ago.
"We met Simon from the label outside The Bunker in Salford (a delightfully seedy converted car repair workshop, a stone's throw from Strangeways prison) and we got on with him straight away," recalls Faith. "We wanted to work with genuine people, that we felt we could put our trust in, and it seems like it's worked out that way, with the team we've got now. They haven't asked us to do anything we didn't want to. They've been helpful when we've needed it, but there hasn't been any sort of pressure."
Girls Like Us was recorded earlier this year at Parr Street Studios in Liverpool, with Chris Taylor on production duties. It marks the culmination of a period of songwriting progression for the band, who have been moving towards a more collaborative creative style. "I suppose Faith was the main songwriter in the early days, but it tends to vary now," says Anna. "Sometimes she'll bring a song in to us and we'll take it from there, and other times we'll just start from the ground up in the practice room. We might try and build something around a riff, or if it's not working, we'll swap instruments and see what comes out. There isn't really a strict process to it."
They also confirm that many of the songs on the record have undergone constant evolution over the past year or so of playing live, with the final versions not readied until the time came to record. "It was mostly new stuff," says Faith. "There's one song on there that we'd written immediately after we did LUVU4LYF, but a lot of the songs we'd been playing live weren't really 100% finished until we got to the studio. A lot of the stuff is from since Sophie joined, which was what... February?" Sophie provides the affirmative nod. "So yeah... we managed to cram quite a bit of songwriting in there, because there really wasn't a lot of time between Sophie joining and going in to record."
The resources afforded by the deal with Bella Union have allowed PINS to expand sonically, although they're quick to stress that they don't feel they sounded particularly lo-fi in the first place. "There's definitely far more layers to it now," says Lois. "We had much more equipment to use this time. I don't want to say we'd never been in a proper studio before, because we'd recorded at Sways Records (also based at the bunker) in the past, and I think we'd described the stuff from those sessions as 'medium-fi' - it wasn't too primitive, but then again, it wasn't the £250,000 desk they had at Parr Street. The equipment made it sound more polished than anything we'd done before, but we're still using our own amps and our own gear."
"And we're doing it in the same way," adds Sophie, "which is recording everything live and then just overdub the handful of little things we can't quite manage at the same time, but it still comes out sounding pretty raw. You wouldn't be able to find much difference between the live show and the record - I think both represent us pretty well."
"Easy for her to say that, though." Anna notes. "She got to see us play before she joined. The rest of us probably wouldn't have a clue if that was true or not!"
Given that touring has been their bread and butter to this point - a couple of seven-inches and last year's EP comprise their recorded output so far - they've already played enough shows to be able to reflect on the ones that meant the most. "We just played a show in France with Bass Drum of Death," says Faith. "It wasn't so much the gig itself, because everything went wrong; we got there late, missed soundcheck... but it was just getting to hang out with those guys and get really drunk. The best gigs are always the ones you have a good time at. You can have the best technical show in the world and have everything go right, but if it doesn't feel great, it doesn't matter. You won't remember it if you didn't enjoy yourself."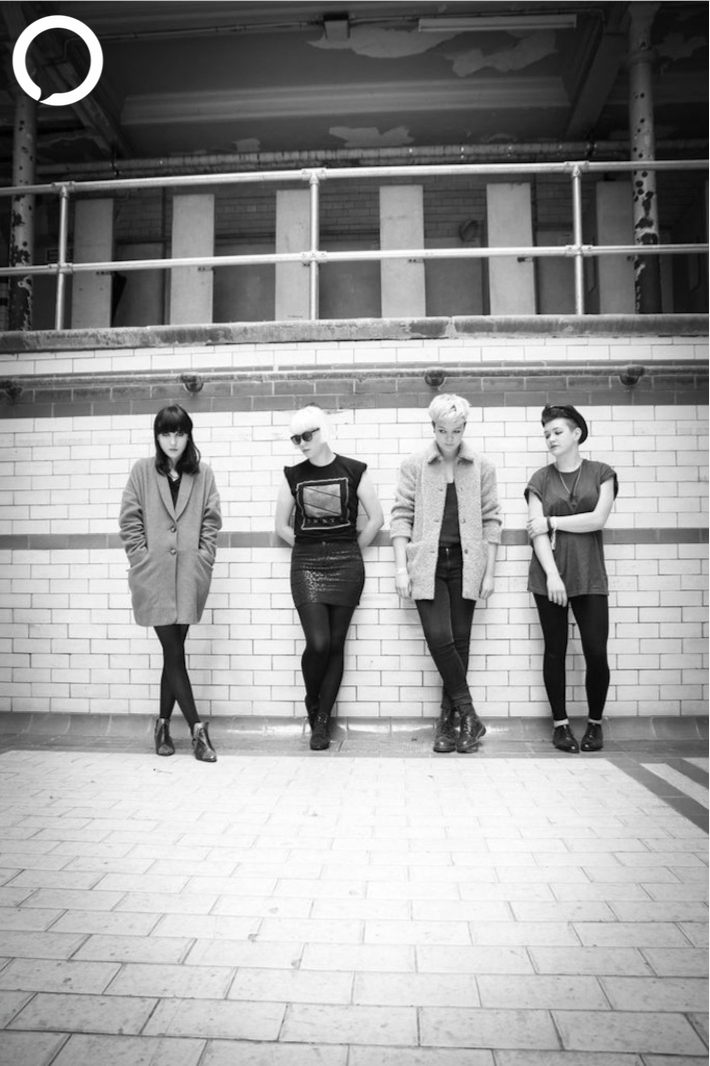 "Other than that, playing at The Ritz was a big deal for us all," recalls Lois. "We supported Best Coast and it seemed like a real milestone. It wasn't so much who we were playing with and more that we'd seen so many bands there when we were younger. I remember turning up and realising that we'd all forgotten how big it was. It was a little bit overwhelming to be playing to a room of that size."
Given the intensity of their live performances, I wondered if the relative playfulness of the titles of their releases so far - LUVU4LYF,Girls Like Us - were an attempt to project a balanced image of the band. "We're quite serious about what we do," says Faith, borderline reprimanding me for daring to suggest otherwise. "We're not doing it for a laugh, we're doing it because this is what we want to do. We do like to have fun as well, so hopefully some of that comes across too. We've done everything very naturally so far, I think. Whatever our image might be, I think we've given a genuine account of ourselves. We take what we do seriously, but we don't really take ourselves seriously."
It's a shame that I even have to raise this question, but any all-girl rock band is bound to encounter sexism, in whatever guise, at some point in their career. "Mostly it's just that they go out of the way to point out that we're all girls," says Lois. "We get asked this quite a lot, but I think it's more the press that talks about gender being a barrier in the music industry. We haven't experienced too much of it ourselves. There's less of it now than when we started out, and that wasn't a long time ago. Things seem like they're changing. I hope so, anyway."
In addition to their own material, the band have wasted no time in setting up a label, Haus of Pins, through which they've released music for some of their favourite new bands over the past year. "It's all cassettes at the moment. We'd like to do stuff on vinyl, once we can afford it," Lois explains. "We put out our first single on cassette ourselves, so it seemed like a natural progression to get other bands involved, and we've had a bit of spare time recently since we finished Girls Like Us, so we've been reaching out to a few bands, and we've got some of them lined up to release stuff now. It's nice that there's quite a few of them who seemed interested in what we were doing straight away."
"It's mainly been about supporting bands we like," adds Sophie, "and because everything we've done has been limited edition and handmade, they're like unique objects, which is nice. We really just want it to be fun for the acts involved."
The evening we spoke, the girls were preparing for a night that would serve as a label showcase in town that Friday; PINS are starting to sound less like a band and more like a movement. "It's a Manchester Scenewipe thing. They get different bands to curate a night each time, and now it's our turn," says Anna. "As with everything, we've ended up going to town with it. We've put a zine together for it, for one thing. Our next release on Haus of Pins, Abjects, are coming up from London to play and we're playing as well, because someone put it in the press release that we were, so we're gonna have to now."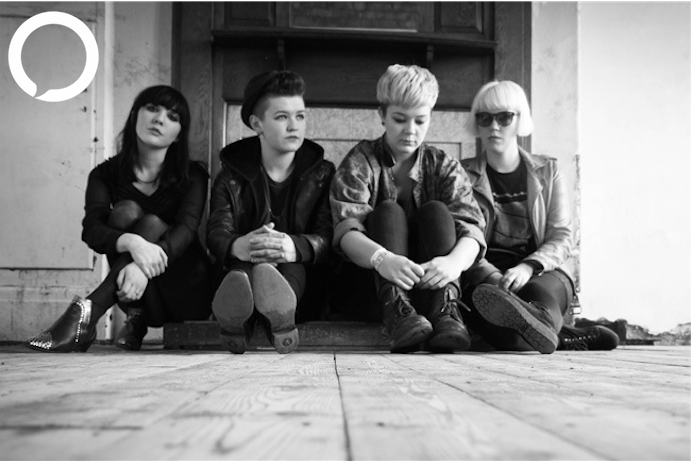 After schooling me on a slew of local bands they think I might have yet to pick up on - Bernard + Edith, Base Ventura, Temple Songs and Kult Country are all given the nod, Faith discusses how they come to find the bands that have been involved with Haus of Pins. "One of them we met when we played in Paris, and we just stayed in touch," says Faith. "Abjects actually asked us if they could support us at a show, and I had a listen to what they'd recorded and knew straight away we wanted to put something of theirs out."
It's probably safe to say that Manchester's days of churning out stadium-level bands are over, at least for now - Oasis proved the last of that dying breed - but the city's identity continues to permeate the vibrant underground scene, and the biggest acts from further afield still make it a priority stop on tour. "I think it's a very productive, full environment. There's a lot of great venues and promoters; it's a healthy place to be for a band starting out." says Lois. "There's places to play that suit every size of band now, whether you're in the back room of the Castle, the Deaf Institute, the Ritz or the Apollo... there's massive bands here and tiny bands here and everything in between."
"Besides, I think if we were going to move elsewhere, we'd go to New York," says Anna. "We'd need a drastic change. Better than being stressed out in London."
I have to press them, then, on why they've apparently omitted Manchester from their September tour, but I'm assured a show is in the works. As for their next recording plans, Faith says, "we're always coming up with ideas. The second album's probably gonna be the next thing. Imagine if we just released one and said, 'right, that's it!' One album, it's been nice... nope. We're sticking around for now."
Girls Like Us is available September 30 via Bella Union
30 August - End Of The Road, Dorset
10 September - The Social, London (Huw Stephens' Night)
5 October – Sheffield, Harley
7 October – Bristol, Louisiana
8 October – Brighton, The Hope
9 October – London, Birthdays
10 October – Norwich, Hog in Armour
11 October – Newcastle, Cluny
12 October – Glasgow, Broadcast
15 October – Liverpool, Leaf
16 October – Birmingham, Bull's Head
17 October – Leeds, Belgrave Music Hall
24 October – Lille (France), La Peniche
25 October – Paris (France), Point Ephemere
26 October – Lyon (France), Le Sonic